Promotion of Adventure Sports Activities – DoPT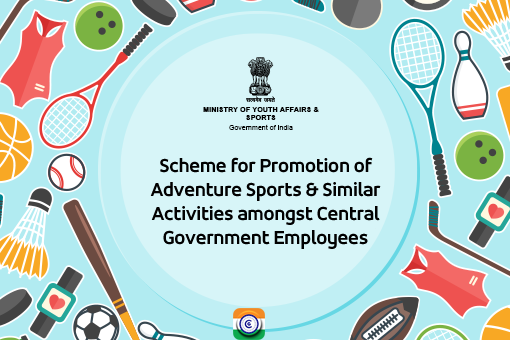 No.125/1/2019-20-CCSCSB
Government of India
Ministry of Personnel, Public Grievances & Pensions
(Department of Personnel & Training)
Date: 19-2-2021
CIRCULAR
Sub: Scheme for Promotion of Adventure Sports and Similar Activities amongst Central Government Employees – Programmes to be organised by Youth Hostels Association of India for the year 2021.
The undersigned is directed to refer to Department of Personnel & Training Office Memorandum No.125/1/2015-16/CCSCSB dated 04-12-2015 regarding Scheme for promotion of Adventure Sports & Similar Activities amongst Central Government Employees (Copy enclosed) and to inform that the Youth Hostel Association of India has offered the following programs for Central Government Employees eligible under the Scheme:
S.
N.
Programme Name
Programme
Date/ Date of Starting & reporting
Duration
Fee
Base
Camp
Region
1
Munsiyari – Khaliya Top
Trekking cum Training
Expedition 2021
13th to 25th April,
2021
5N/6D
Rs.7850/-
Kathgodam
Uttarakhand
2
Gangotri – Dayara Bugyal
Trekking cum Training
Expedition 2021
01st to 10th June,
2021
6N/7D
Rs.7850/-
Uttarkashi
Uttarakhand
The Programme fees are tentative which can be changed because of any unforeseen reason. If there is any change, the same would be informed to your good office.
I. TENTATIVE SCHEDULE OF ALL PROGRAMMES:-
Details available on the website www.yhaindia.org.
II. INCLUSIONS FOR THE PROGRAMME
Details available on the website www.yhaindia.org
III. TENTATIVE SCHEDULE OF MEALS
S.No. Particulars Timing Remarks
Breakfast 07.30am to 8.30 am Buffer Breakfast
Lunch 01.00pm to 2.00pm Packed Lunch during Trek day
Dinner 07.30pm to 8.30pm Buffer Dinner
IV. THINGS TO BE BROUGHT BY PARTICIPANTS:
Wearable items: Trekking shoes, T-shirts/Dry fit (3), Track pants (2), Tracksuit, Woollen/ Polyfill/Down Jacket (1), Wind Jacket (1), Monkey cap, Gloves, Thermals, Inner garments, Light raincoat with a hood, 3 pairs of woolen socks.
Accessories: Water bottle, lunch box, enameled, steel mug or tumbler, steel or plastic plate, spoon, water Purifying tablets, pen-knifes, needle, thread, spare buttons, goggles (other than blue glasses), cold cream or Vaseline, soap, toilet paper, towel, Medicines which are normally used at home.
V. CANCELLATION POLICY:
The cancellation policy is available on the website of YHAI, which may be checked while making an online booking.
Mr. Ankit Gupta, Marketing Officer of YHAI will be the Nodal Officer. If there is any query by your Department or other Central Govt. Department /employees, they may contact him as per the following contact details:
Phone : 011-45999026
Email : [email protected]
Detailed information is also available at : www.yhaindia.org.
4, The interested and eligible Central Government Employees may submit his/her application directly to YHAI and a copy of the same may be endorsed to Secretary, CCSCSB, Room No-361-B wing, Lok Nayak Bhawan, Khan Market, New Delhi. It is pertinent to mention that as per this
Department's O.M. No. 125/1/2015-16/CCSCSB dated 8th December 2016, Special Casual Leave may be granted for a period of 10 days for this purpose including the journey period. Advance payment for the programme has to be paid directly to the organiser and reimbursement as admissible will be made after successful completion of programme. On completion of said activity, the applicant may submit expenditure details (fee receipt & Tickets in original) along with Aadhar Number and Bank Details (Name of Bank, Account Number, IFSC Code, and Branch Code) for smooth reimbursement of claim.
It is mandatory to submit duly filled in check list along with proforma annexed herewith.
(Kulbhushan Malhotra)
Secretary (CCSCSB)
REQUIRED DOCUMENTS FOR ADVENTURE SPORTS REIMBURSEMENT
Application form duly forwarded by Welfare Officer
Special Casual leave order
Programme fee Receipt
Original Travel Ticket/ Boarding Pass
YHAI Admit Card
Completion Certificate
Programme Circular Copy
Copy of Aadhar Card
Copy of Office Identity Card.
Bank Details (Cancelled Cheque/ Photocopy of front page of Bank passbook)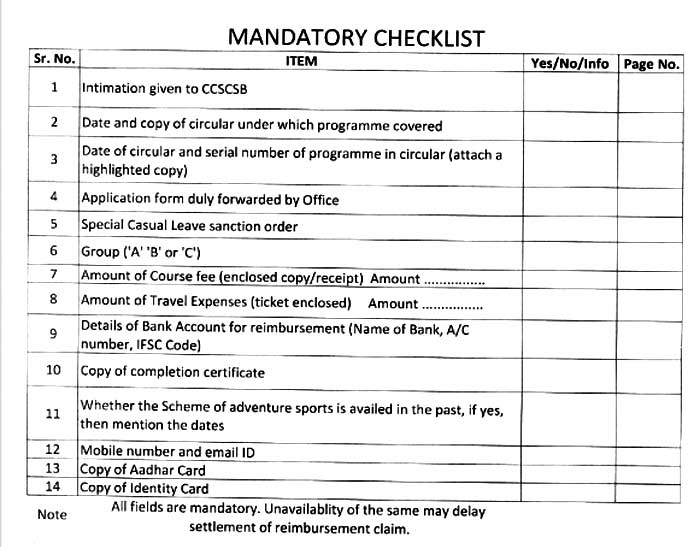 Related to Your Search: