Post office IFSC code for NEFT and RTGS: IPOS0000DOP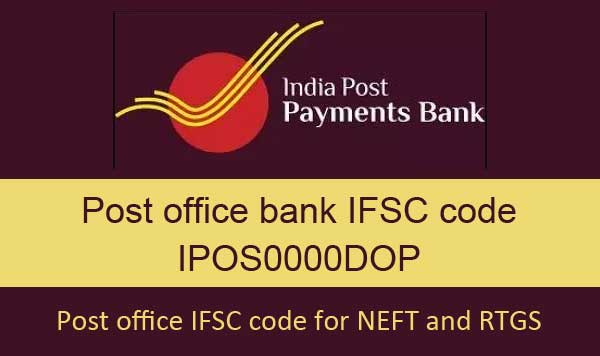 IPOS0000DOP is the IFS code for the post office savings bank. It is the IFSC code for a post office Savings Bank (Post office IFSC code). It's used to send money via NEFT and RTGS. One of RBI's payment services is NEFT (National Electronic Fund Transfer). The money are delivered to the Beneficiary the same or next day.
POSB (post office savings bank) account holders can now do online transactions in the same way that other banks can.
IFSC code Post Office (Post Office IFSC Code)
India Post Bank IFSC code for all branches is as under
| | |
| --- | --- |
| Post Office Savings Bank IFSC Code for all post office branches | IPOS0000DOP |
NEFT Charges and Limits at the Post Office
Outward NEFT transactions initiated through eBanking and mBanking channels, however, are free of charge. For NEFT Transaction across the counter, the minimum and maximum amount per transaction are Rs.1/- and Rs.15,00,000/-, respectively. Outward NEFT using eBanking and m-Banking channels has a transaction limit of Rs 2,00,000/- per transaction.
Post Office NEFT Charges list
| | |
| --- | --- |
| For transactions up to 10,000 | Rs. 2.50 + GST |
| For transactions above 10,000 to 1 Lakh | Rs. 5 + GST |
| For transactions above 1 Lakh to 2 Lakh | Rs. 15 + GST |
| For transactions above 2 Lakh and not exceeding the maximum limit | Rs. 25 + GST |
A maximum of five transactions are permitted each day. Outward NEFT launched through eBanking and m-Banking services has a daily transaction limit of Rs.10,000/-. To reduce the danger of fraud, eBanking and mBanking transactions have a time variable transaction capping. From 8 p.m. to 8 a.m., the maximum transaction limit for outward NEFT initiated through eBanking/mBanking is Rs.2,00,000/-. Charges and limitations are subject to change.
Requirements for NEFT transfers from a post office savings bank
To initiate outward NEFT remittance to other bank accounts, customers must have an active post office savings account. They must submit a NEFT mandate form as well as an SB -7/POSB check.
All India Post Office IFSC Code Branch List: – The Department of Posts has already started providing DOP internet banking to POSB subscribers, as we all know. Many consumers of India Post use internet banking, yet they are unfamiliar of the Post Office IFSC Code.
The customer is looking for the IFSC code for the Post Office Bank. They can now move funds from their bank accounts to their post office savings accounts. The India Post Office has introduced a new Post Office IFSC code for post office savings accounts, which is great news for all of you.
IFSC Code of post office savings bank is IPOS0000DOP.
Benefits of IFSC code of post office
Post office savings bank account customers can transfer money from their post office account to any bank account. Similarly, money can be transferred from the bank account to a post office SB account by using the India Post IFSC code (IPOS0000DOP).
Customers can also do NEFT and RTGS transactions by visiting the post office branch. They can also use internet banking and mobile banking for it.