Leave accumulation and encashment of leave for GDS has not agreed by MoF
Dated: 04.10.2021
No.17-31/2016-GDS
Government of India
Ministry of Communications
Department of Posts
GDS Section
Dak Bhawan, Sansad Marg,
New Delhi -110001
Dated: 04-10-2021
Subject – Recommendation of Kamlesh Chandra Committee on Gramin Dak Sevaks (GDS) Grant of 30 days leave and accumulation of unutilized leave up to 180 days.
Kindly refer to your letter no. GDS/CHQ/10/5/2021 dated 15.09.2021 on the above mentioned subject.
In this context, I am directed by Competent Authority to inform you that the recommendation of the Committee regarding enhancement of paid leave from 20 to 30 days per annum to GDS has not been agreed to by the Government. Further, a proposal for accumulation and encashment of leave upto 180 days for GDS was submitted to Department of Expenditure, Ministry of Finance. MOF on examining the proposal has not agreed to.
GDS Committee Report: Key Recommendations of Kamlesh Chandra Committee
Yours sincerely,
D.K.Tripathi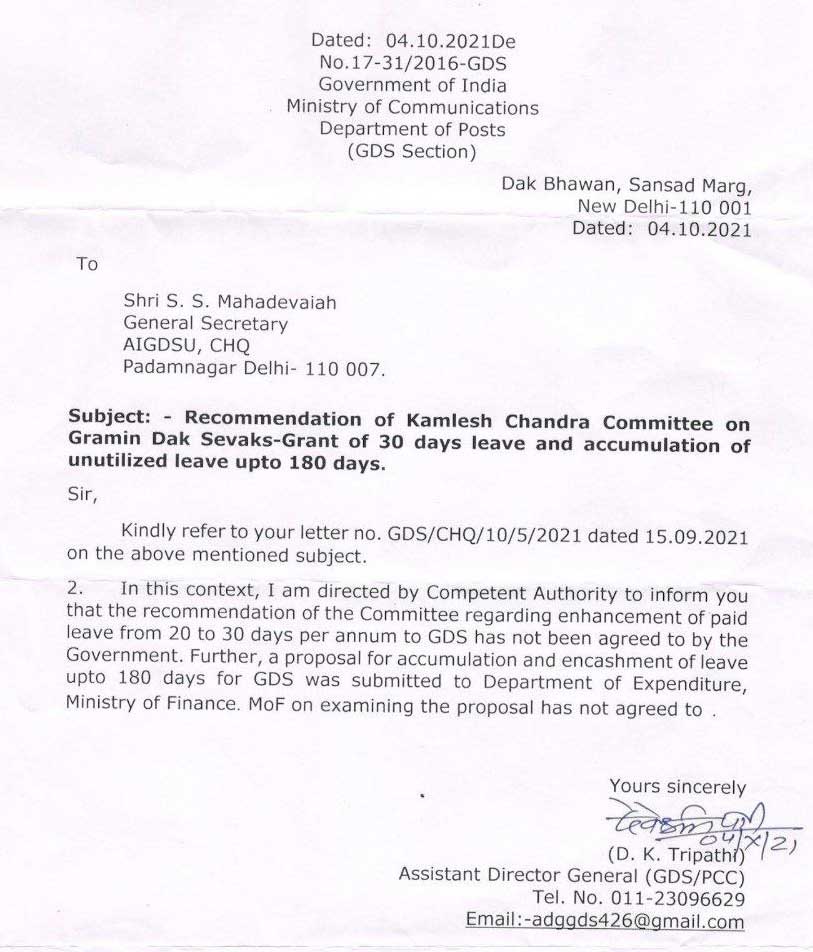 Related to Your Search: