KVS Admission Result 2022 – Kendriya Vidyalaya Admission Class 1 Merit List Result 2022 Date
KVS Class 1 Admission Selection List 2022 and Result Release Date
Check KVS Admission Result 2022 Class 1-12 – KVS Class 1st Admission Result 2022 will be released on 25 March 2022 and KV Admission List 2022-23 for Class II will be released on 21 April 2022.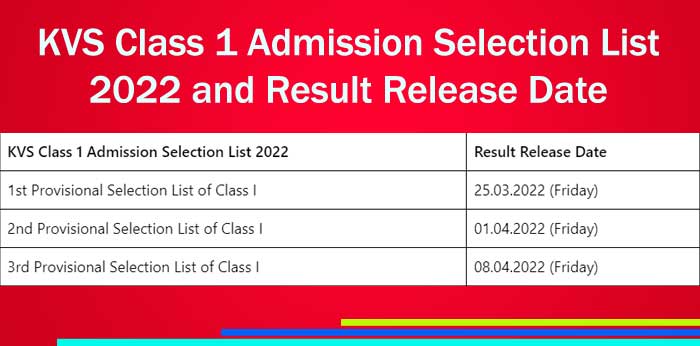 KVS Admission Class 1 Lottery Merit List Result 2022
Download from https://kvsonlineadmission.kvs.gov.in/
The official announcement of the releasing date of KVS Admission 2022 class 1 provisional selection list can be available from the KVS online admission portal kvsonlineadmission.kvs.gov.in. Parents are requested to check class 1 admission list 2022 from the official website of KVS on the first merit list date 25-03-2022. The second and third list will be published as per the schedule. The second and third lists will be released based on the availability of seats.
| | |
| --- | --- |
| KVS Class 1 Admission Selection List 2022 | Result Release Date |
| 1st Provisional Selection List of Class I | 25.03.2022 (Friday) |
| 2nd Provisional Selection List of Class I | 01.04.2022 (Friday) |
| 3rd Provisional Selection List of Class I | 08.04.2022 (Friday) |
RESERVATIONS IN ADMISSION CLASS I
For admission to Class 1, admission is conducted as per reservations for RTE, SC, ST, OBC, and PWD categories.
A. SCHEDULED CASTE, SCHEDULED TRIBE AND OTHER BACKWARD CLASSES CATEGORY
Out of the available seats of fresh admission 25% shall be reserved for Right To Education (Hereafter referred to as 'RTE'), 15% seats for Scheduled Caste, 7.5% seats for Scheduled Tribes and 27% seats for Other Backward Classes (OBC-NCL) shall be reserved in all fresh admissions in all Kendriya Vidyalayas.
B. DIFFERENTLY ABLED CATEGORY
3% seats of total available seats for fresh admission will be horizontally reserved for Differently Abled-children as per the provisions of RTE Act, 2009.
Read in conjunction with Persons with Disabilities (Equal Opportunities, Protection of Rights and Full Participation) Act, 1995.
The reservation norms shall be applicable within approved class strength 40 students per section
RTE 25%:10 seats
SC 15%: 06 seats
ST 7.5%: 03 seats
OBC27%: 11 seats
(3% seats for the differently-abled applicant would be reserved horizontally)
After closing of process of registration, the sequence of conduct of lottery by each Kendriya Vidyalaya will be as under:
(a) RTE Lottery
(b) All DA Lotteries
(c) CAT I
(d) CAT II
(e) SC
(0 ST
(g) OBC
(h) CAT III
(i) CAT IV
(j) CATV
(k) CAT VI (If applicable)
(I) Single Girl Child (Hereafter referred to as 'SGC')
The following sequence is to be adopted for the fresh admissions to Class-I in Kendriya Vidyalayas.
(I) First Lot: 10 seats (out of 40 seats) in Class I per section are to be filled as per RTE Provisions (25% of seats) and these 10 seats will be filled by draw of lots from all applications of SC/ST/EWS/BPL/OBC (Non-Creamy Layer) /Differently abled taken together who are the resident of Neighbourhood.
(II) Second Lot: Lottery for Differently Abled candidates of SC/ST/OBC- NCL/Unreserved is to be conducted as per Priority Category.
(III) Third Lot: Remaining seats (after deducting RTE and Differently Abled applicants, if any) wall be filled as per the existing Priority Category of Cat-i and Cat-2 (Cat-i to Cat-3 in case of Project/IHL KV) only up to the sanctioned strength or till all the registered candidates from Cat-i and Cat-2 (Cat-i to Cat-3 in case of Project/IHL KV) is filled.
(IV) Fourth Lot: The total number of SC/ST/OBC-NCL will be counted from the admitted summary of RTE, DA, Cat-i and Cat-2 (Cat-i to Cat-3 in case of Project/IHL KV) admissions done till third phase. Thereafter, the shortfall-in the seats reserved for SC/ST/OBC-NCL, if any, shall be covered by admitting SC/ST/OBC-NCL applicants as per the order of priorities of admission, irrespective of sanctioned strength.
(V) Fifth Lot: After all these processes, if sanctioned strength is not filled and seats are vacant, applicants from Priority Cat-3 (Cat-4 in Project/IHL KV) onwards will be taken up for admission as per existing priority list for unreserved seats only. The unfilled leftover reserved seats of RTE/SC/ST/OBC (NCL) should be kept vacant.
(VI) Filling of leftover vacant reserved seats, in case adequate number of candidates registered online are not available: For filling unfilled quota of reserved seats for RTE/SC/ST/OBC, a separate advertisement is to be given, in the month of April, as per schedule of Admission by the concerned Kendriya Vidyalaya, for offline registration of the candidates belonging to that particular category only to fill the shortfall of reservation quota. The candidates thus registered offline may be admitted based on their Priority Category to fulfil the shortfall of reservation quota. Even after going through the above exercise, if these seats remain vacant, then the following procedure may be adopted:
(a) In no case the seats reserved as per RTE will be de-reserved,
(b) In case of vacant seats of SC/ST:
SC/ST seat should be filled after interchanging the seat as per the availability of registered candidates from the available SC/ST social category priority list i.e. vacant SC seats may be filled with ST or vice versa, only if total SC and ST candidates admitted taken together fall short of total reserved seats of SC and ST taken together. This aggregation may be obtained by counting all the admitted SC and ST candidates of all the categories e.g. in a single section KV total SC and ST seats are 9 (6 SC + 3 ST). Now suppose 8 SC and 1 ST is already admitted and there are no more ST candidates available to admit, in this case these 2 seats of ST will not be given to SC as already 9 SC/ST candidates have been admitted. Clarification: OBC seats cannot be interchanged with SC/ST or RTE.
c) In case of vacant seat of OBC:
(i) Within the sanctioned strength: After going through the process mentioned in para 4(vi) still reserve seats for OBC (NCL) are unfilled, it may be filled with remaining waitlisted eligible candidates from Priority Categories within approved class strength.
(ii) Over and Above the Sanctioned Strength: No action is to betaken.
(d) The definition/eligibility criteria of Disadvantaged Group/Weaker Section/BPL/OBC (Non-creamy layer) wall be as per the notification of the concerned State Governments. (The—DC KVS RO Concerned may issue guidelines regarding BPL/EWS as per the latest notification of the concerned State Governments).
(e) Admission test will not be conducted for Class I.
How to Check KVS Class I Admission Result 2022?
Parents who are waiting for admission for class 1 in Kendriya Vidyalaya, go to the KVS online admission portal https://kvsonlineadmission.kvs.gov.in/
Parents can enter the login details in the required fields and click on the submit button
After clicking on the submit button, Class 1 result will be displayed.
Parents can download the Result of KVS Admission Class 1 PDF, take a print out and secure it for further admission reference.