NPS/APY stakeholders Functionalities released by CRAs during Quarter IV (FY 2022-23): PFRDA Circular dated 16.06.2023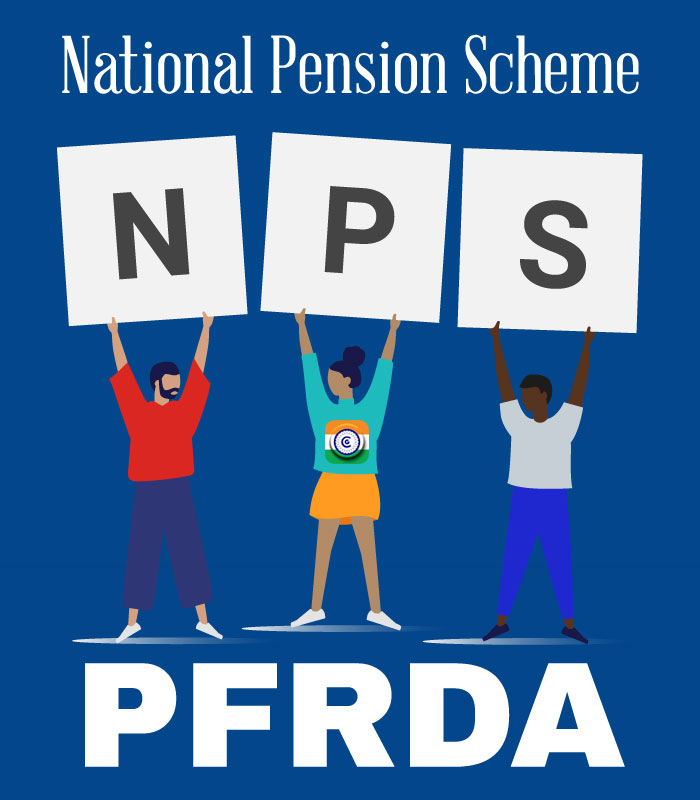 PENSION FUND REGULATORY AND DEVELOPMENT AUTHORITY
CIRCULAR
Circular No: PFRDA/ 2023/ 20/ Sup- CRA/06
16th June 2023
To
All stakeholders under NPS
Subject: NPS/APY Functionalities released by CRAs during Quarter IV (FY 2022-23)
The Central Record Keeping Agencies (CRAs) appointed by the Pension Fund Regulatory and Development Authority (PFRDA) are constantly developing and upgrading system-level functionalities to meet the evolving needs of NPS/APY stakeholders.
2. As part of their ongoing efforts to fulfill their obligations and benefit subscribers & stake holders, CRAs are responsible for developing new functionalities, establishing new processes, and offering multiple models of interfaces for the uploading offices. These initiatives provide maximum flexibility in terms of operation for the benefit of the stake holders.
3. Please find attached Annexure I, II, and III, which provide a comprehensive list of functionalities that have been developed and made available by the CRAs during Quarter IV of the fiscal year 2022-2023. These functionalities are aimed at improving the experience, enhance the convenience & ease the operation of subscribers and other stakeholders.
4. We have placed this circular in the intermediary section of the CRA on the PFRDA website to ensure that all NPS/ APY stakeholders have access to this important information
Yours sincerely,
Digitally signed by K MOHAN GANDHI
Chief General Manager
Annexure I – Functionalities released by Protean CRA during Q4 of FY 2022-23
S. No.
Functionality Name
Description
Impact / Benefit
Remarks, if any
1
My Withdrawal utility
My Withdrawal utility has been developed to resolve Fund Return cases through Penny Drop/ Document Upload.
1. Subscriber to visit limited access view of CRA website.
2. Subscriber to authenticate with PRAN, DOB and Withdrawal Ack ID.
3. Subscriber to provide revised bank details.
4. Subscriber to perform Penny Drop or upload bank proof if penny drop fails.
Facility to Subscribers to claim unclaimed withdrawal proceeds amount.
Link
2
Parallel processing of Exit and Annuity
Document Upload has been made mandatory for all types of Final Exit (Superannuation, Premature Exit, Death and Incapacitation) along with modification in proposer declaration for annuity processing.
Paperless exit processing.
–
3
Multiple PFM option
Option to select Multiple PFMs has been provided to Subscribers:
1. The option has been made available to select different fund manager for different Asset Class (E,C,G) under Active Choice.
2. However, for Asset Class A, any one of the selected 3 PFMs (for E,C,G) shall be selected.3. It is applicable for subscribers of Private Sector for Tier I and all subscribers for Tier II.
Subscribers having more options in asset class selection.
–
4
Retirement Advisor – On boarding
In addition to PAN/ offline Aadhaar xml, User (Individual) will be able to register as Retirement Adviser on the basis of:1. Online Aadhaar.2. Aadhaar VID.
Additional mode to the Individual to register as Retirement Adviser.
Link
5
Retirement Advisor –Validation
Email and Mobile Number being verified by OTP during online Registration of Individual Retirement Adviser.
OTP authentication of contact details of Retirement Adviser.
Link
6
Retirement Advisor – Fee Payment
Goods & Services Tax (GST) is applicable on the fees payable to PFRDA.
Link
7
Chatbot – Addition of features
Enabling Additional features in the KYNA Chatbot:
1. Subscriber Details View – Subscriber will be able to view Tier wise details such as Personal Details, Nomination, Bank, Address etc.
2. ePRAN Download – Subscriber will be able to download ePRAN Card through Chatbot.
Additional services enabled in chatbot.
npscra.n sdl.co.in/
cra-nsdl. com/CRA/
npslite-n sdl .com/ CRA lite/
8
Transaction Statement
1. Download of Transaction Statement (SOT) enabled through Digilocker.
2. Subscribers will be able to download Tier wise & Financial Year wise Transaction Statement (SOT) through their Digilocker account.
3. Subscriber is required to login to his/her Digilocker account on the basis of User ID/Aadhaar No or Mobile Number.
Additional mode through which Subscriber can access Transaction Statement.
accounts .digilocker .gov .in/ signin/ smart _v2/ 2ff50 6d3b8 e15973 83607 ef 80498a20e –en
9
NPS Lite / APY – Dashboard
System access to LDMs (Lead District Managers) for State/ District level Dashboard reports for monitoring purpose.
System access to Lead District Managers (LDMs)
–
10
Subscriber Shifting
At the time of Inter Sector Shifting, following set of Subscribers are allowed to shift to eNPS:
1. Govt. Sector Subscribers.
2. Direct Corporate Subscribers.
3. Subscribers who have opened their account through eNPS and presently mapped to Indirect Corporate.
Subscriber shifting allowed to eNPS.
–
11
Annuity Processing
Development of API for Confirmation of Online annuity requests by ASPs.
API based Annuity Confirmation by ASPs.
Ease of Annuit y issuance.
12
eNPS – Subscriber Registration
Subscriber registration through "CERSAI ID (KYC Identifier allotted by CERSAI) through eNPS.
Additional mode of Subscriber onboarding.
enps.ns dl.com/ eNPS/ O nline Subscriber Registration.html ?appType =main
13
NPS Lite – Withdrawal
1. Premature Exit has been enabled for NPS Lite Subscribers who have received Swavalamban Credit and the Subscriber age is more than 40 years.
2. Swavalamban credit received in Subscriber account is being transferred to Swavalamban Kosh Account.
Ease of exit option for Swavalamban Subscribers.
Ease of Withdrawal.
14
NPS Lite / APY – Subscriber Registration
Screen based registration of Lite subscribers (GDS) through eNPS module: 
1. Screen based registration facility has been made available to GDS Subscribers. 
2. Subscribers/ NLCC/ NLAO User can initiate registration request. 
3. NLAO has to verify & authorise the request through option available in CRA login.
Screen based onboarding facility for GDSSubscribers.
enps.ns dl.com/ eNPS/G DS Sub Registration.html
15
NPS Regular – Subscriber Details Modification
In addition to online/offline Aadhaar and Driving License (Digilocker), Subscribers through their login will be able to update address using CERSAI ID.
1. Subscriber to provide his/her CKYC ID, Date of Birth and PAN to update address.
2. To cater to set of subscribers who are unaware of their CERSAI (CKYC) ID, a feature has been provided to search their CKYC ID on the basis of PAN.
3. Based on the search criteria, CKYC can be searched in CERSAI records.
Another method through which Subscriber can update his/her address.
Ease of Addres s change.
16
Account Aggregator
Integration with One Money Account Aggregator for CRA as Financial Information Provider (FIP) for NPS where CRA to share balance under NPS with Account Aggregator (AA) after receipt of valid consent from User.
Empowers the Subscribers/ FIU to retrieve, collect financial information from Financial Information Providers (FIP) based on their explicit consent.
Data empowerment tool.
17
NPS Regular – NPS Prosperity Planner
NPS Prosperity Planner (NPP) has been made available as a mobile responsive web-based application in the login of the Subscriber on the CRA Portal. In the portal, actual Subscriber data from the CRA has been used to make it even more relevant & action-oriented Planner for the Users. Under NPP following three options are available to Subscribers:
1. How much Pension Subscriber will receive?
2. How much Pension Subscriber will need?
3. What Subscriber should do to achieve that?
Subscribers will be able ascertain how much pension he/she will receive at the time of retirement.
www.cra-nsdl.c om
Annexure II – Functionalities released by KFin Technologies CRA during Q4 of FY 2022-23
| | | | | |
| --- | --- | --- | --- | --- |
| S. No. | Functionality Name | Description | Impact / Benefit | Remarks, if any |
| 1 | Subscriber Contribution | Allowing the subscriber to contribute till the age of 75. | NPS Subscribers who have reached the age of 60 choose to continue investing beyond maturity. These subscribers can continue to contribute up to the age of 75. | Ease of contribution and convenience. |
| 2 | Exit & Withdrawal | Default Annuity Scheme for Death Exit in State Govt sector. | For State Government Subscribers, in case of unfortunate death of Subscriber, "NPS-Family Income option" (Default Annuity) as per Exit form shall be default annuity scheme. | Applicable for SG Sector subscribers. |
| 3 | Exit & Withdrawal | Default lump sum and annuity percentage. | This functionality has been developed for while initiating Normal withdrawal by default 60-40 for superannuation case and 80-20 for premature exit cases will be shown and accordingly system calculates and display in Lump sum and Annuity amount. | Facilitates the exit process. |
| 4 | Inter Sector Shifting (ISS) | Automatic change of DDO/ DTO mapping. | Functionality has been development for Govt. where PRAN get mapped with DDO who has uploaded the subscriber contribution. | Applicable for SG Nodal office. |
| 5 | Inter Sector Shifting (ISS) | Internal DDO shifting facility within Govt sector. | PRAN wise DDO shifting facility is provided to Govt. Nodal office login, where they can shift any PRAN from DDO to another DDO within DTA through ISS functionality. | Applicable for SG Sector. |
| 6 | Consent for inclusion of NPS in Consolidated Account Statement (CAS) | CAS Consent for NPS SOT. | Subscriber can view NPS Statement of transaction they hold DEMAT account with Depository. For this consent is required to be provided. | Applicable for AL/ CP/ SG Subscribers. |
| 7 | Account Aggregator | Account Aggregator Framework. | Account Aggregator Framework integration with One Money. | Applicable for AL/ CP/ SG Subscribers. |
| 8 | Exit & Withdrawal | System generated Exit Form_ Superannuation. | As per exit guidelines, system generated superannuation form has been enabled while initiating Superannuation exit cases. | Applicable for AL/ CP/ SG Sector Subscribers. |
| 9 | E Nomination | E nomination DDO verify and DTO authorize. | E-nomination cases initiated by State Govt Subscribers, in such a case, DDO will Verify the request and DTO shall the authorise the same. | Applicable for SG Nodal office. |
| 10 | Subscriber Maintenance | Date of Joining in NPS for State Government. | Date of Joining field in NPS has been profile modification, from which Date NPS applicable date for Govt subscriber and also same can be viewed under subscriber personal profile. | Applicable for SG Nodal office. |
| 11 | Exit & Withdrawal | PAN of Claimant in death exit cases. | PAN of Claimant field has been added in Exit and withdrawal for Death Exit cases. The PAN of the claimant is also printed in System generated withdrawal form also. | Applicable for AL/ CP/ SG Sector Subscribers. |
| 12 | Exit & Withdrawal | Photo space not defined in system generated Exit Form. | Provision of space to affix passport size photo of the subscriber has been provided on the system generated exit form. | Applicable for AL/ CP/ SGSubscribers. |
| 13 | Exit & Withdrawal | Ack ID and DDO Registration no. shown in Exit form. | Acknowledgement ID and Claim ID field has been added in system generated Exit form. | Applicable for SG Nodal office. |
| 14 | Exit & Withdrawal | Branch Name not Printing in Exit form. | We have enabled provision to display the Branch name on the exit form based on IFSC code. | Applicable for AL/ CP/ SG Subscribers. |
| 15 | Exit & Withdrawal | X DDO cannot initiate the exit case of Y DDO's subscriber for SG Nodal office. | This validation has been built in CRA System. Subscriber mapped to a particular DDO, another DDO cannot initiate exit request. | Applicable for SG Nodal office. |
Annexure III – Functionalities released by CAMS CRA during Q4 of FY 2022-23
| | | | | |
| --- | --- | --- | --- | --- |
| S.No. | Functionality Name | Description | Impact/ Benefit | Remarks, if any |
| 1 | Toll-free number made available | A new toll-free number 1800- 572-6557 was made available to CAMS NPS subscribers. | Subscribers can call the tollfree number to have their queries and clarifications resolved. | – |
| 2 | Statements Scheduler time reduced to 5 minutes | The amount of time, a subscriber had to wait before the statement requested by him/her was made available, is reduced to 5 minutes. | Lesser waiting time for subscribers. | – |