GDS Employees
ALL INDIA GRAMIN DAK SEVAKS UNION (AIGDSU)
Central Head Quarters,
Padam nagar, Delhi-110007.
President: B.V.Rao.
General Secretary: S.S.Mahadevaiah
Ref. No. GDS/CHQ/ 48/4/2020
Date 07-10-2020
To,
Shri P.K. Bisoi Ji,
Secretary,
Dept of Posts,
New Delhi-110001
Sub: Introduction of a new Service discharge benefit scheme for the Gramin Dak Sevaks in the Department of Posts.
Ref: your office No. 6-11/2009-PE II dated 1-09-2010.
Sir,
A kind reference is invited this unions letter of even no dated 01-08-2019 in which we had pointed out that those who did opt for NPS but were not found eligible for the pension scheme are to be paid amount of gratuity as well severance amount at the prescribed rate. But such persons even after years of their retirement are still looking for payment of the Gratuity and severance amount. While in some cases the payment of Gratuity has been ordered/ paid, the severance amount has not been paid to any of the retired GDS. We had requested that instructions should be issued for payment of these amounts we need not point out that the SDBS scheme has been introduced in lieu of the severance amount. Therefore, those not found eligible for SDBS have a right to be paid severance amount in addition to the Gratuity. But nothing appears to have been done.
Also check: GDS – Revision in Rule 4 of Gramin Dak Sevaks (Conduct and Engagement) Rules, 2020 – DoP
We, therefore, requested you kindly to look into the matter personally and get suitable instructions issued because it relates to cases of GDS employees, who have no other means to subsist than their amounts of gratuity and severance amount.
We shall be thankful for an early action.
Also read: Revised draft notification for the Posts of Gramin Dak Sevaks cycle-II/2019-2020 and subsequent cycle
With profound regards,
Yours faithfully
S.S.MAHADEVAIAH
General Secretary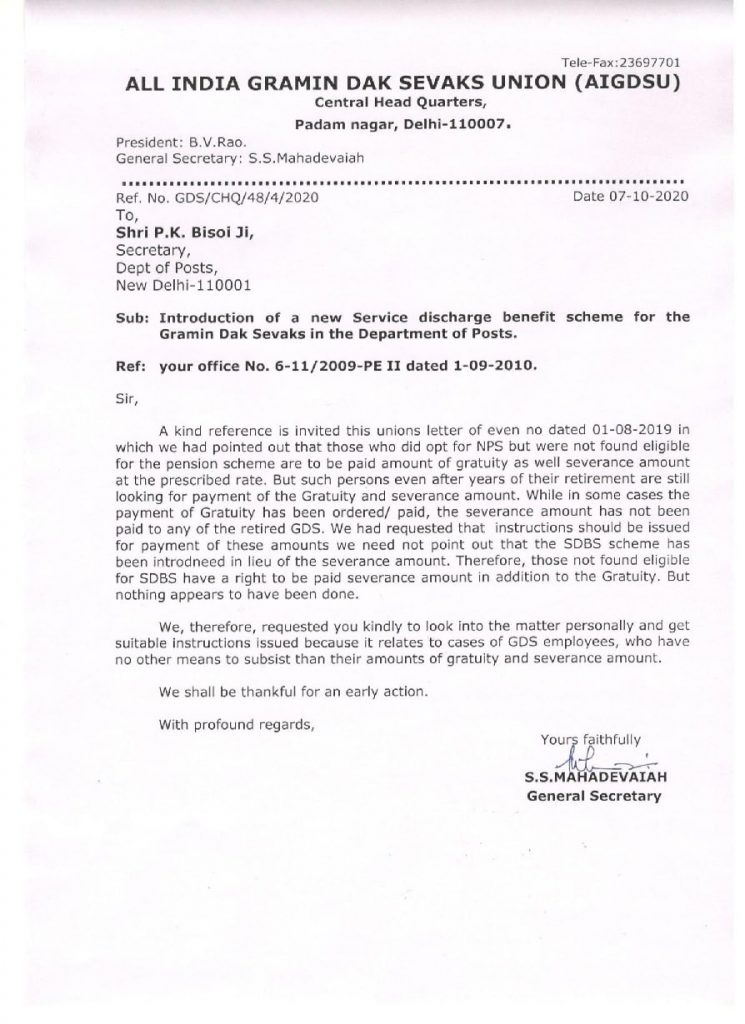 Source: AIGDSU