Government e Marketplace (GeM)
(A Section 8 Company under Ministry of Commerce & Industry)
3rd floor, Tower-2, B-Wing,
Jeevan Bharti Building,
Connaught Circus, New Delhi -110001
No. GEM/HR/ RECRUITMENT/ DOPT/2022/3A
Date: 26th May, 2022
VACANCY CIRCULAR
Subject: Filling up the post of Chief Buyer Officer in Government eMarketplace (GeM) on Deputation Basis
Government e-Marketplace (GeM) is a Section 8, not for Profit Company, under the administrative control of the Department of Commerce, Ministry of Commerce & Industry. As a National Public Procurement Portal, GeM provides an end-to-end online Marketplace for Central and State Government Ministries / Departments, Central & State Public Undertakings (CPSUs & SPSUs), Autonomous institutions and Local bodies for procurement of goods & services in a transparent and efficient manner. GeM offers a digitally enabled, challenging work environment for dynamic Government officers.
Government e Marketplace (GeM) invites applications for the position of Chief Buyer Officer (CBO) to be filled on deputation basis.
The job descriptions of the post and other details are given in Annexure-I. The initial period of deputation shall be for five years, further extendable by two years subject to approval of competent authority. The deputation shall be under Foreign Service terms and conditions.
Applications of eligible and interested candidates may be forwarded to GeM in the proforma at Annexure-II. The applications along with NOC of the competent authority, should reach GeM at the email [email protected] within 30 days of publication of this vacancy circular on DoP&T portal.
Annexure-I
Mode
Eligibility
Job Profile
Benefits /Allowances
Deputation through search cum selection process
For Deputation: Official at Level 14 or higher with previous experience in a business development (or procurement role within government)
(i) Responsible for managing all G2G relationships for GeM including drafting of all related communication and driving resolution of any issues that may arise

(ii) Driving the SCoGeM initiative i.e., the setting up of standing committee at the different Central Ministries and PSEs/ PSUs or State Government (as per role) to drive GeM adoption and understanding of the various challenges

(iii) Prepare regular reports of progress and forecasts of the managed account

(iv) Act as single point of contact for the different Government bodies i.e., Ministries / Departments etc.

(v) Oversee the facilitation of the upload of the annual procurement plan by the buyer account

(vi) Follow up with the assigned buyers to ensure that all procurement SLAs are met
(vii) Define metrics and KPIs to monitor performance, set goals and measure success of direct reports Any other responsibility as assigned by the competent authority from time to time

(viii) To work as Category Owner for a group of Products and / or Services, monitoring and managing the entire spectrum of activities related to such categories staring from Creation of category specifications framework
till maintenance of market health of such categories.

(ix) Category Owner Officers in charge of the categories will also be responsible for Monitoring of Litigation and Arbitration / Court cases related to their categories, consulting / advising / liaison with GeM / Govt. Counsel and attending hearings in various courts if required.

(x) Supervision of / furnishing of various reports / returns etc. related to their categories.
(xi) Attending to and replying to / preparing draft replies to MP / VIP references, Complaints etc. concerning their categories.
(xii) Providing relevant inputs to concerned nodal officers for RTI cases, Public Grievances, Parliament Questions, Audit Queries / Paras etc. related to their categories.

(xiii) Processing of complaints received in the matters related to their categories, issue of Show Cause Notice, evaluation of SCN replies, seeking approval of competent authorities and arranging formal / informal /
quasi-judicial hearings etc. in such cases if required.

(xiv) Management & review of Business Rules of GeM from time to time and updating the Business Rules, process flow etc., to comply with latest Govt. guidelines.
(xv) Management & review of the contracts, working and performance of various agencies / service providers engaged by GeM for handling operations related to satisfactory working of GeM Portal.
(xvi) Interacting, liaising with and conducting webinars / seminars / training sessions with various trade Associations throughout the country.

(xvii) Handling of Public Grievances, RTI, Parliament Questions etc.

(xviii) Monitoring GeM Portal functioning for arresting Buyer seller fraud and collusion

(xix) Monitoring, guiding and supervising GeM Portal integrations with various partner portals such as UIADAI, Udyog Aadhar, Income Tax, ERPs, Procurement portals and ERPs/ SAP etc of buyer organizations, Central Public Sector Enterprices etc.

Key Shared Accountabilities:
Coordinate with the respective Relationship Manager to address any Ministry/Government level issues Communicate the needs of the managed account effectively to strengthen the value proposition for the managed account – integrated payment systems, value added services etc.
The compensation admissible shall be the pay scale one level higher that what the officer is drawing (regular or Non-Functional) in the parent cadre on the date of joining on deputation after selection and will be done as per Government of India rules Sector Enterprises etc.
Annexure-II
Application for Deputation in Government e Marketplace (GeM) for the Position of Chief Buyer Officer (CBO)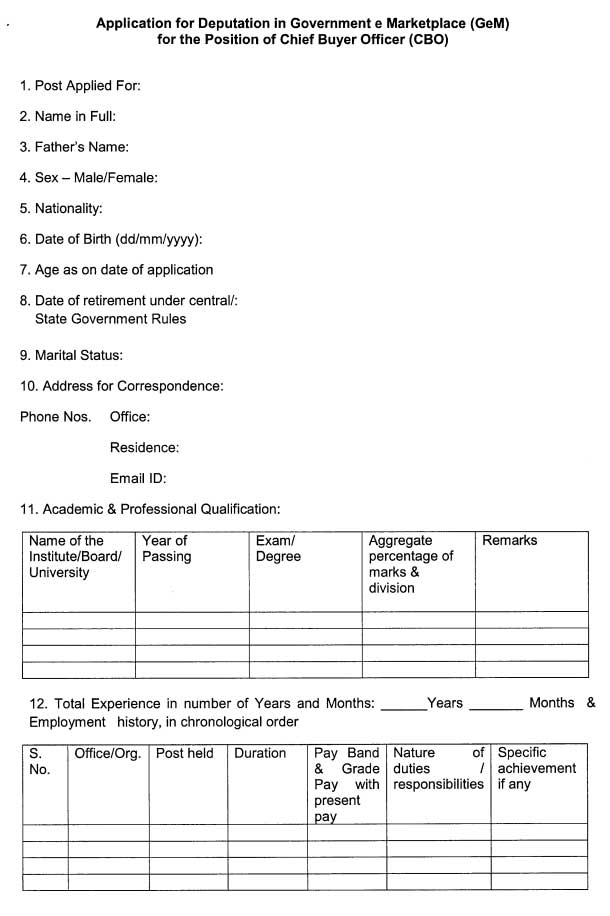 Download Filling up the post of Chief Buyer Officer in Government eMarketplace (GeM) on Deputation Basis PDF