Pension Adalats 2020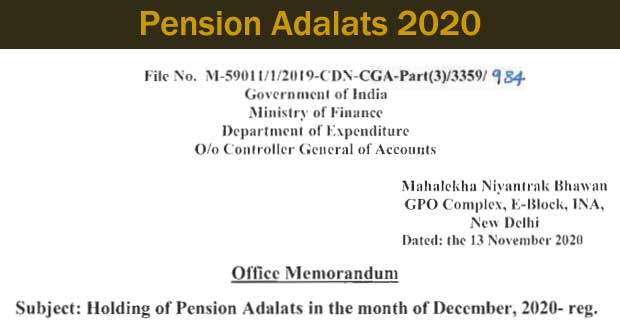 File No. M-59011/1/2019 -CDN-CGA- Part(3)/3359/984
Government of India
Ministry of Finance
Department of Expenditure
O/o Controller General of Accounts
Mahalekha Nivantrak Bhawan
GPO Complex, E-Block. INA,
New Delhi
Dated: the 13 November 2020
Office Memorandum
Subject : Holding of Pension Adalats in the month of December, 2020 – reg.
The undersigned is directed to refer to Secretary Ministry of Personnel, Public Grievances & Pensions, Department of Pension & Pensioner's Welfare D.O letter No. 1/39/2020-P&PW (E) dated: 21.10.2020 with a request to hold Pension Adalats in the month of December, 2020 with an objective of prompt resolution of Pensioner's grievance within the framework of extant policy guidelines. A copy of D.O letter which is self explanatory is enclosed.
2. It is needless to mention that Pay & Accounts Offices and Central Pension Accounts Offices (CPAO) have a pivotal role in Pension related matters. By organising Pension Adalats, grievances of the pensioner's can be minimized.
3. In view of above all the Pr.CCAs/CCAs/ CAs (Independent Charges) and Chief Controller (Pensions) are requested to ensure wide publicity of this OM for holding Pension Adalats and suitably instruct their field PAOs/RPAOs/ ZAOs to hold Pension Adalat in the month of December, 2020.
4. Outcome of the Pension Adalats organised by your Ministry /Departments may be intimated within one week of holding of Pension Adalats to this Office in the enclosed proforma.
End: As above
(Praveen Nandivana)
Joint Controller General of Accounts
Source: CGA
Related to Your Search: