Jeevan Pramaan / Digital Life Certificate now available at your nearest post office or at door step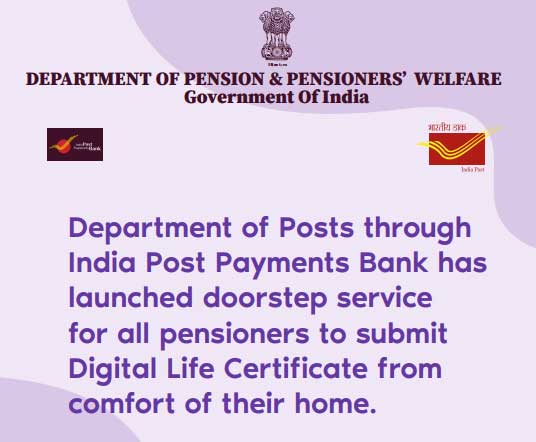 Ministry of Communications
Jeevan Pramaan / Digital Life Certificate now available at your nearest post office or at door step
13 NOV 2020
Digital Life Certificate is a biometric enabled digital service for pensioners. Pensioners of Central Government, State Government, EPFO or any other Govt. organizations can take benefit of this facility at doorstep or at any post offices.
The pensioners need not visit office of Pension department or pension disbursing agency for submission of Life Certificate
Completely paperless issuance of Digital Life Certificate with Aadhaar authentication.
Instant issuance of certificate.
Service available at nominal fee of Rs. 70 (inclusive of taxes)
Pensioner needs to carry the following information for the generation of the DLC:
1.Pension ID
2.Pension Payment order
3.Pension Disbursing department
4.Bank account details
5.Mobile Number and Email ID
6.Aadhaar Number
Digital Life certificate will be instantly generated with Pramaan ID sent to you on your mobile.
Your certificate details will be automatically updated with the pension department.
Pensioner can book doorstep request on post info mobile app or http://ccc.cept.gov.in/covid/request.aspx
Nodal officer Name: Shri Ramdas Tayde (OA DO Panaji)
Contact number: 9823910714
Source: PIB
Related to Your Search: