CPAO – Applications for engagement of Three Consultants on Contract Basis.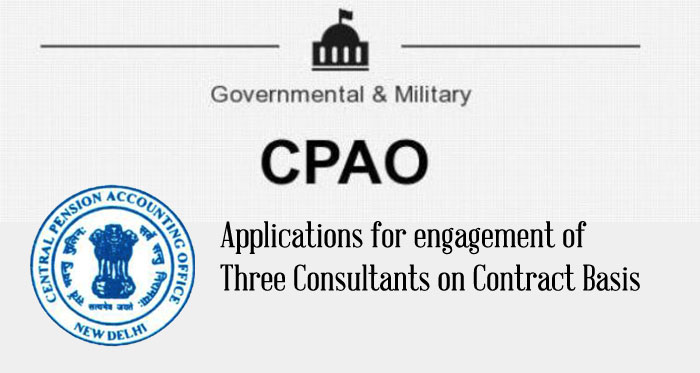 GOVERNMENT OF INDIA
MINISTRY OF FINANCE
DEPARTMENT OF EXPENDITURE
CENTRAL PENSION ACCOUNTING OFFICE
TRIKOOT -II, BHIKAJI CAMA PLACE,
NEW DELHI
F.No. CPAO/Admn./Pension Revision/2019-20/447
Dated 11/10/2019
CIRCULAR
Sub: Applications for engagement of 03 Consultants on Contract Basis.
Central Pension Accounting Office, Department of Expenditure, Ministry of Finance invites applications from willing and eligible individuals (retired Sr. AOs, ACA/DCA/CA etc.) for engagement of three consultants.
2. Apart from consolidated fee/ remuneration no other compensation will be admissible. The Consultant shall not be entitled to any allowance such as DA, transport facility, residential accommodation, CGHS/Medical Facility, Medical reimbursement etc. The Income Tax or any other tax will be deducted at source as per Government instructions. Necessary TDS Certificate will be issued to them.
3. The applicants must be enrolled with Office of CGA for appointment as consultant and the enrolment number should be specified in the application.
4. Applications should be addressed to Sr. Accounts Officer (Admin). The last date for receipt of application is 18.10.2019. Applications received after due date and without supporting documents will not be considered / entertained.
Also check: CPAO OM on 7th CPC Revision of Pre-2016 Pension in pursuance to DP&PW OM dt 12.05.17 and MoF OM 23.05.2017
5. The date and time of interview shall be notified subsequently. The decision of the Selection Committee shall be final.
Yashpal Gera
Sr.Accounts Officer (Admin)
To: Applicants enrolled with O/o CGA
Source: CPAO