Central government DA 2021
The Dearness Allowance hike will likely be paid to the Central government employees from September
The government has agreed to pay the instalment of the dearness allowance for January and July 2020 and January 2021, by adding it to the instalment for July this year, by the month of September, according to the central government employees union.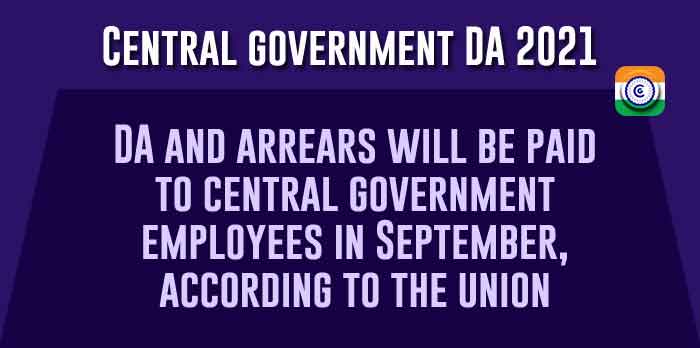 After speaking with the organization's representatives, Shiv Gopal Mishra, the organization's General Secretary, stated that a meeting of the National Council/JCM was held in the North Block on June 26 and 27, in which he, as well as the Cabinet Secretary of the Central Government and other leaders, participated. They discussed a total of 28 critical issues throughout the meeting.
The issue of dearness allowance and dearness relief for pensioners, which had been frozen by the government for the last one and a half years due to the corona pandemic, was also discussed at the meeting, according to Mr Mishra.
He stated that the Cabinet Secretary agreed that the three instalments of the dearness allowance/ dearness relief, namely January 2020, July 2020, and January 2021, which have been frozen by the government for the past year and a half, will be paid in September 2021, including the arrears of July and August 2021 by adding it to the instalment due in July 2021.
Central Government Employees DA Hike in Salary per Month from July 2021 – Expected DA 7th CPC Basic Pay
The Cabinet Secretary informed Mr Mishra that the payments would be made as soon as possible. He said that, despite the Corona pandemic, most central government personnel remained to work, placing their lives in danger and many of them losing their lives, and that, in such a situation, it was completely unreasonable for the government to deny them their legal entitlements.
He claimed that the government had failed to control inflation while, on the other hand, central government employees' dearness allowances had been frozen, making it impossible for them to manage their money and operate their houses.
Mr Mishra expressed his hope that the conclusion reached at this meeting will provide some relaxation to central govt employees and their families.
Input from uniindia.com