7th Pay Commission: Cabinet may clear higher increase tomorrow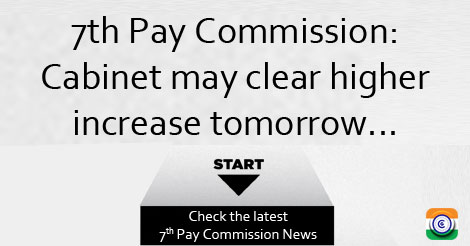 New Delhi: The Cabinet tomorrow is likely to approve higher increase in basic pay than the nearly 15 per cent recommended by the 7th Pay Commission for over 1 crore government employees and pensioners.
The pay panel had in November last year recommended 14.27 per cent hike in basic pay at junior levels, the lowest in 70 years. The previous 6th Pay Commission had recommended a 20 per cent hike which the government doubled while implementing it in 2008.
After considering the increase proposed in allowances, the hike in remunerations comes to 23.55 per cent.
"Considering the tight fiscal position this year, the government may improve upon the Pay Commission recommendation for basic pay to 18 per cent or at best 20 per cent," a senior official said.
The 7th Pay Commission report will be effective from January 1, he said, adding that the Cabinet will decide if the arrears for the six months have to be paid in one go or in installments.
A secretaries' panel, headed Cabinet Secretary P K Sinha, has already vetted the 7th Pay Commission recommendation and its report is being translated into a note for Cabinet.
"It in most likelihood will come up before the Cabinet tomorrow," the official said.
The government had in January set up the high-powered panel to process the recommendations of the 7th Pay Commission which will have bearing on the remuneration of nearly 50 lakh central government employees and 58 lakh pensioners.
The Commission had recommended 23.55 per cent overall hike in salaries, allowances and pension involving an additional burden of Rs 1.02 lakh crore or nearly 0.7 per cent of the GDP.
The entry level pay has been recommended to be raised to Rs 18,000 per month from current Rs 7,000 while the maximum pay, drawn by the Cabinet Secretary, has been fixed at Rs 2.5 lakh per month from current Rs 90,000.
The secretaries' panel may have recommended raising minimum entry level pay at Rs 23,500 a month and maximum salary of Rs 3.25 lakh.
While the Budget for 2016-17 fiscal did not provide an explicit provision for implementation of the 7th Pay Commission, the government had said the once-in-a-decade pay hike for government employees has been built in as interim allocation for different ministries.
Around Rs 70,000 crore has been provisioned for it, the official said.
PTI
Related to Your Search: