Azadi ka Amrit Mahotsav Women's Sports Meet
No. 211/1/2021-22-CCSCSB
Government of India
Ministry of Personnel, Public Grievances & Pensions
Department of Personnel & Training
CENTRAL CIVIL SERVICES CULTURAL & SPORTS BOARD
Room No.361, 'B' Wing, 3rd Floor
Lok Nayak Bhawan, New belhi-3
Dated the 16th November, 2021
CIRCULAR
Subject : Azadi ka Amrit Mahotsav – promoting women participation in sports
To mark 75 years of independence of India, Government of India is celebrating Azadi ka Amrit Mahotsav, The objective of the Mahotsav is to enhance interaction and promote mutual understanding between people of different States and Union Territories by conducting activities in the field of language and culture.
To commemorate the glorious history of Indian people and culture, Central Civil Services Cultural and Sports Board (CCSCSB) is organizing a Women's Sports Meet a Mega Event for Central Government Civilian Women Employees of all Ministries/Departments located in Delhi/New Delhi, on 22nd December 2021 (Wednesday) at Vinay Marg Sports Complex, Chankyapuri, New Delhi from 10.00 AM onwards.
All Civilian women employees of Government of India are invited to participate in the event to promote women's participation in sports. The entries for the event may be submitted in the prescribed proforma (annexed) to Secretary, Central Civil Services Cultural & Sports Board office, Room No 361, 'B' Wing, Lok Nayak Bhavan, Khan Market, New belhi – 110003 or through email at [email protected] The last date of submission of entries is 17th December 2021 (Friday).
The purpose of organizing this Women's Sports Meet is to create awareness and to enhance Women's participation in various cultural and sports activities organized by CCSCSB and also to inform them about the benefits, facilities and incentives provided to sportspersons by the Govt. This will also encourage Women employees to not only participate in sports events, but also help to adopt healthier lifestyle and increase their self-esteem, teamwork, confidence, improve their social skills and support positive mental health.
The following Events will be conducted on Women's Sports Meet:-
| Srl | Sport | Events to be conducted |
| --- | --- | --- |
| (a) | Athletics | 100 Mtr Race |
| | | Long Jump |
| | | Bali Throw |
| | | 4×50 Mtr Relay Race |
| (b) | Kho-Kho | 6 a side (Duration – 10 minutes) |
| (c) | Cricket | 6 overs, 6 a side |
| (d) | Football | 6 a side with rolling substitution (Duration- 15 minutes) |
| (e) | Basketball | Throw ball in the basket (Duration One Minute/30 Seconds) |
| (f) | Powerlifting | Lifting of weight from earth to knee |
| (g) | Kabaddi | 6 a side (Duration – 10 minutes) |
| (h) | Volleyball | |
Note : – The number of Events and Time duration are subject to receipt of entries
The following categories of employees are not eligible for participation in this competition:-
(a) Uniformed personnel in Defence Services/ Para Military Organisations/ Central Police Organisation/ Police/ RPF/ CISF/ BSF/ ITBP/ NSG etc.
(b) Employees of Autonomous bodies/ Undertakings/ Public Sector Banks/ Corporations even though administratively controlled by the Central Ministries.
(c) Casual/Daily wages workers.
(d) Employees attached to offices on temporary duty.
The winners (1st 2nd & 3rd place) will be awarded Medals Tea & Lunch, Participation certificates and a Souvenir will be awarded to all participants.
A short cultural programme will be held during the lunch break.
Only fully vaccinated employees shall be permitted to participate in the Meet. Final vaccination certificate shall be checked at entry point. Those with one vaccine only shall submit negative RT-PCR report done before 72 hours of the event.
The general instructions as per SOP! Guidelines of COVID-19 issued by Central/State Govt., are to be strictly followed by all players and supporting staff during the competition (Annexure-II). If it is found in case general instructions are not followed by any player/ official in the tournament, he/she shall be liable to be debarred from the tournament.
Participants shall be allowed to avail "special casual leave" as per Circular number F.No.6/1/85-Estt. (Pay-I) dated 16.7.1985. Welfare Officers are requested to allow women employees of their Ministries/Deptt to participate in this Mega Event liberally. They will submit a participation certificate to their Departments issued from CCSCSB. The participants must carry their official Identity Card for verification.
For any query and assistance, kindly contact the following persons:-
(a) Ms Kumutha N, Convener Volleyball -9560930194
(b) Ms Jyoti, Convener Wrestling – 7827653570
(c) Ms KavitaKumari, Convener Kabaddi – 9968626477
(d) Ms Malika Taneja, Convener Powerlifting – 9654870130
This circular may be given wide publicity.
(Kulbhushan Malhora)
Secretary (CCSCSB)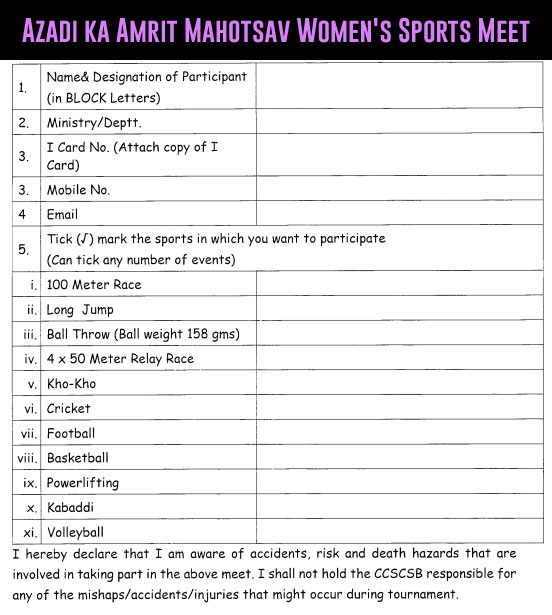 Related to Your Search: