Various Steps Taken to Safeguard Recruitment Examination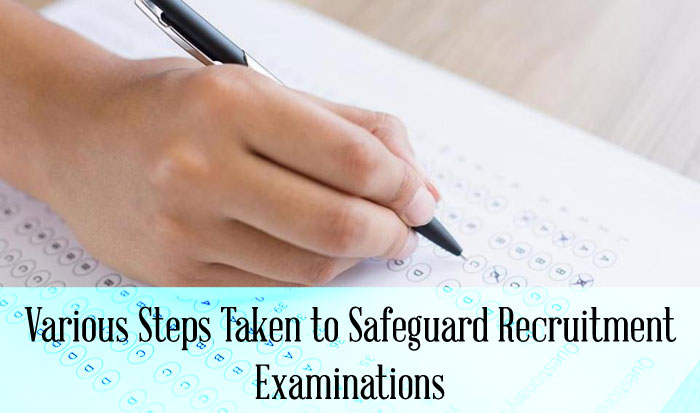 Ministry of Labour & Employment
Various Steps Taken to Safeguard Recruitment Examinations
18 NOV 2019
The steps taken by the major recruitment agencies for the Central Government viz. Union Public Service Commission (UPSC), Railway Recruitment Board (RRB) and Staff Selection Commission (SSC) to safeguard the examination processes are enumerated below :
UPSC has started deploying low powered Jammers at the examination venues to prevent adoption of unfair means during the examinations by using mobiles phones, blue-tooth and other communicating devices.
Since, 2015, Computer Based Test (CBT) has been introduced in all Railway examinations. The internet domain, on which online CBTs are conducted, has the approval of Indian Computer Emergency Response Team (CERT-In). After written examination, link of question paper and corresponding responses made by candidates with answer key is provided to their registered emails.
Staff Selection Commission(SSC) migrated from erstwhile Optical Mark Recognition(OMR(-) based examination to computer based examinations from June, 2016, and has taken comprehensive measures which, inter-alia, include audit of examination venues, conduct of mock-tests, deployment of its representatives as Inspecting Officers at the examination venues, comprehensive CCTV coverage of the examination venues, etc
Thorough checking & frisking of candidates with the help of Hand-Held Metal Detectors, registering of their bio-metric attendance, taking and matching of their photographs, etc., are also carried out at the examination centres.
This information was given by Shri Santosh Kumar Gangwar Union Minister of State (I/C) for Labour and Employment in written reply to a question in Lok Sabha today.
PIB