UTILISATION OF ECHS SERVICES VALIDITY OF ECHS CARDS and TEMPORARY SLIPS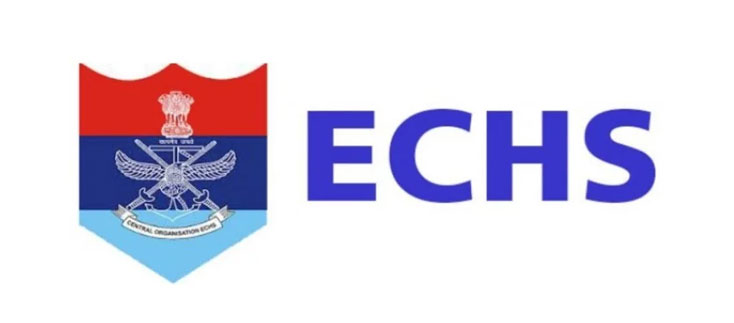 Tele : 25684645
Telefax: 011-25684946
Email: [email protected]
Central Organisation ECHS
Adjutant General's Branch
Integrated Headquarters of
MoD (Army), Thimayya Marg,
Near Gopinath Circle
Delhi Cantt – 110 010
B/49711-NSC/AG/ ECHS/Gen Corr
03 Dec 2020
IHQ of MoD (Air Force)
IHQ of MoD (Navy)
HQ West Comd (A/ECHS)
HQ South Comd (A/ECHS)
HQ East Comd (A/ECHS)
HQ Central Comd (A/ECHS)
Northern Comd (A/ECHS)
South West Comd (A/ECHS)
All Area Headquarters
All Regional Centres
UTILISATION OF ECHS SERVICES VALIDITY OF ECHS CARDS & TEMPORARY SLIPS
1. Refer Central Organisation, ECHS letter No. B/49711-NewSmart / AG/ ECHS dated 19 Dec 2018 (copy attached).
2. Detailed instructions were disseminated vide letter under reference for ECHS Beneficiaries to utilize ECHS facilities beyond 31 Dec 2018. To sensitize the environment on the present status of various documents and their utilisation/ expiry dates are given at succeeding paragraphs.
3. NEW 64 KB smart Card Holder.
(a) At present 15,20,138 lakh new 64 Kb ECHS Cards have been handed over to the beneficiaries out of 29,03,557 lakh new 64 Kb Cards so far delivered to various Station HQs for handing over to the beneficiaries. Necessary clarification to distribute cards from respective parent Polyclinics have been issued by CO ECHS. Issue of cards may be expedited.
(b) The new 64 Kb ECHS Cards are pre-activated cards with a universal PIN 123456. On reaching the Polyclinics for the first time beneficiaries are required to change the PIN on KIOSK to create a personal PIN.
(c) Following online facilities can be utilised by the ECHS beneficiaries:-
(i) Change of parent Polyclinic after collection of cards.
(ii) Change of registered mobile no. after collection of cards.
(iii) Change of data after collecting cards.
(iv) Blocking of card and apply for re-print of card in case of loss of card.
(v) Blocking of card in case of death and intelligibility of dependent.
(d) Mobile APP. A mobile application, "ECHS beneficiary' has been launched for both Android and IOS smart phones. All primary beneficiaries are advised to download "ECHS beneficiary'/ mobile application on their respective smart mobile phones and register themselves with respective parent Polyclinics. The mobile app provides following facilities at present.
(i) Booking online appointment before visiting Polyclinics.
(ii) Checking status of online ECHS application for 64 Kb Cards.
(ii) Details of Polyclinics, address, contact numbers, etc.
(iv) Details of referrals can be viewed.
(v) Approval details of extended stay/unlisted procedure details can be seen.
(vi) Notification from OIC parent Polyclinics can be viewed.
4. New 64 Kb ECHS Smart Card applied successfully but cards awaited.
(a) These category of beneficiaries have the facility to download temporary slip once they login using their login credentials. These temporary slips are valid for six months in the first stage and have to be authenticated by the OIC of their respective parent Polyclinic. However, for some reasons for veterans who have not received the new 64 Kb ECHS cards and getting entitled medical cover using online temporary slip, the validity of these temporary slips have been extended to 30 Jun 2021. Extension of validity by OIC Polyclinics is not mandatory to avail service at hospital. However, if such veterans reach Polyclinics, the same be extended by OIC Polyclinics.
(b) For beneficiaries who are already holding online temporary slip the validity was extended up to 31 Dec 2020. Due to COVID-19 the competent authority has now approved the validity of online temp slip up to 30 Jun 2021.
(c) These temporary slips enable the beneficiary to avail entitled treatment. After receipt of new 64 Kb ECHS Cards, the temporary slips will be invalid and these category of persons will utilize the facilities as per Para 3 above.
Unmarried disabled sons eligible for ECHS facilities even after attaining 25 years
5. 32 KB ECHS Smart Card holders
(a) All 32 Kb Kb ECHS cards are valid for a period of 10 years from the date of issue. This category will continue getting their entitled medical cover with 32 Kb cards till further orders.
(b) All beneficiaries under the category who have applied for new 64 Kb cards but not received will get their medical cover as under:-
(i) Incase online application is verified by respective Record office then the ESM/ Primary Beneficiary is advised to download online temporary slip and get it countersigned from the OIC Parent Polyclinic to continue getting entitled medical cover for existing online temporary slips holders the details already covered under Para 4 above.
(ii) Incase online application is under observation from Records then the beneficiary will get entitled medical cover with 32 Kb ECHS cards.
(iii) Incase online application is pending verification with Record office then the beneficiary to continue getting entitled medical cover with 32 Kb ECHS cards.
(c) 32 Kb ECHS card holders are adviced to apply online for new 64 Kb ECHS cards at the earliest to enable even distribution of load, at respective Record office for verification of online application and to avail the services offered by the new software and mobile application.
6. NRI who have yet to apply for new 64 KB ECHS Cards.
The ESM who is NRI/OCI will initially itself select the category of NRI/OCI. The ESM/Beneficiary will have to fill email ID which will be a mandatory field and will receive OTP on this registered email address. Once the OTP is verified, he/she will fill the application and will get Aadhar number exempted. The payment will be made online in INR. Once the payment is made the application will be visible to the respective Record Office for verification. On verification the cards will be printed and forwarded to the Station HQs affiliated to the parent Polyclinic. The cards once ready for collection then an OTP will be sent on the registered email. Then the cards can be collected from the respective station HQ's.
7. ECHS beneficiaries who could not apply due to non registration with UIDAI (Aadhar card not possible to be made).
A suitable software has been implemented to handle Aadhar exception owing to age related issues or medical condition of the beneficiary. A detailed instructions have been issued vide Central Organization letter No B/49711-DBT/AG/ECHS dated 13 Feb 2019 (copy attached).
8. Offline temporary slip holder and not applied for new 64 Kb cards.
Offline temporary slip holders to apply for new 64 Kb ECHS card on priority. All offline temporary slips can be extended up to 01 Apr 2021 by the OIC parent Polyclinic. Beyond 01 Apr 2021, any ESM/Primary Beneficiary approaching Polyclinics for medical treatment will be required to first fill the online application for 64 Kb ECHS Card at the facilitation centre of the Polyclinic and then avail the facility. In case of emergency then necessary medical cover be provided by endorsing 'VALIDITY EXTENDED BY ONE MONTH UP TO……" on the temporary slip in red. Similar extension for 15 days duly endorsing on the temporary slip in red ink can be given in case of emergency for the second time. However, individual be advised that no more extension can be given and he should apply online for new 64 Ko ECHs Card. Observation in online application if any should be cleared by 30 Sep 2020.
9. 16 Kb ECHS Card holder and not yet applied for new 64 Kb ECHS Card
16 Kb ECHS Cards have expired on 31 Dec 2018. However, it is seen that still few application, Polyclinic will assist in getting the online temporary slip downloaded which will be valid for six months. This temporary slip is being generated before the online application is verified by respective Record Office. Hence, OIC parent Polyclinic to ensure only medical cover to those beneficiaries' whose 16 Kb ECHS Card is already held by the ESM/Primary beneficiary. Any additional beneficiary who is already not an existing ECHS beneficiary can only get medical cover once the online application is Verified by Respective Record Office. The process of filling up of online application and clearing the observation if any should be completed latest by 31 Mar 2021.
10. Applied for new 64 Kb ECHS Card but application under observation
These categories of beneficiary will fall under the following categories:-
(a) 32 Kb Card holder will keep getting his/her entitled medical benefits based on his 32 Kb Card.
(b) Offline temporary slip holder to get his temporary slip extended by another three months from the OIC parent Polyclinic to get entitled medical benefits. However, the beneficiary should get the observations cleared on priority. They will be ineligible if observations are not rectified by 31 Mar 2021.
(c) 16 Kb ECHS Card holder can download temporary slip online which will be valid for six months. This temporary slip has to be validated by the OIC parent Polyclinic. However, the beneficiary to get all observations settled by 31 Mar 2021.
11. Incase medical emergencies, services will not be denied on the pre text of validity of temporary slips/cards. OIC Polyclinics and. Dir Regional centre will engage practically with empanelled facilities-to ensure the same.
12. A summary of above mentioned updates is attached as Appx 'A'. The content of Appx A be disseminated to the environment for information of all ECHS beneficiaries. All Regional Centres will ensure that all Policlinics under them are informed on priority.
(Rakesh Kakar)
Col (Retd)
Jt Dir (Stats & Automation)
for MD ECHS
Source: ECHS