Railway Holiday List 2022: Holidays to be observed in Railway Board Administrative Offices during the year 2022
Railway Holiday Calendar 2022 PDF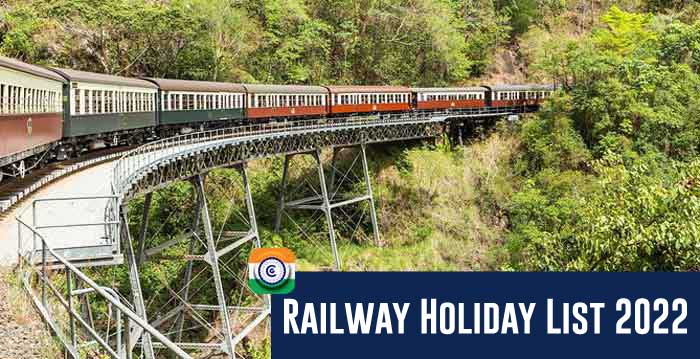 Holidays on Indian Railways in 2022 | Railway Board Holidays in 2022
The Government of India declared a new holiday list for its offices and employees during the year 2022. Almost the same pattern of holiday system has been followed by the Railway Board. The detailed list of holidays during the year 2022 is given below for your ready reference.
The DoPT has issued an order for Central Government Holidays in 2022 for all Central Government Offices in India. All state government offices, banks, post offices, and railway boards, among others, usually always adhere to this holiday schedule.
Central Government Holiday List 2023 PDF Download
In the year 2022, the following holidays will be celebrated in Central Government Offices: Order of the Railway Board dated November 1, 2021
Railway National Holiday List 2022 | Railway Office Holiday List 2022
GOVERNMENT OF INDIA(BHARAT SARKAR)
MINISTRY OF RAILWAYS(RAIL MANTRALAYA)
(RAILWAY BOARD)
No.2020/E(LR)III/HL1/1
New Delhi, dt 01.11.2021
The General Managers,
All Indian Railways & Production Units,
DG/RDSO and Metro Railway, Kolkata.
(as per standard mailing list)
Sub: Holidays to be observed in Central Government Offices during the year 2022.
A copy of Department of Personnel and Training's O.M No. 12/5/2021-JCA-2 dated 08/06/2021, with a list of holidays to be observed in Central Government Offices during the year 2022, is enclosed for information and necessary action.
DA: Copy of DOP&T's O.M.
(R.K.Sinha )
Director, Estt(IR)
Room No. 533D
List of Central Govt Holidays to be observed in Indian Railways during the year 2022
List of Central Government Gazetted Holidays 2022
Republic Day – 26 January 2022 – Wednesday
Maha Shivratri – 01 March 2022 – Tuesday
Holi – 18 March 2022 – Friday
Mahavir Jayanti – 14 April 2022 – Thursday
Good Friday – 15 April 2022 – Friday
Id-ul-Fitr – 03 May 2022 – Tuesday
Budha Purnima – 16 May 2022 – Monday
Id-ul-Zuha (Bakrid) – 10 July 2022 – Sunday
Muharram – 09 August 2022 – Tuesday
Independence Day – 15 August 2022 – Monday
Janmashtami – 19 August 2022 – Friday
Mahatma Gandhi's Birthday – 02 October 2022 – Sunday
Dussehra – 05 October 2022 – Wednesday
Milad-un-Nabi or Id-e-Milad – 09 October 2022 – Sunday
Diwali (Deepavali) – 24 October 2022 – Monday
Guru Nanak's Birthday – 08 November 2022 – Tuesday
Christmas Day – 25 December 2022 – Sunday
List of Central Government Restricted Holidays 2022
New Year's Day – January 01, 2022 – Saturday
Guru Gobind Singh's Birthday – January 09, 2022 – Sunday
Lohri – January 13, 2022 – Thursday
Makar Sankranti/Magha Bihu/ Pongal – January 14, 2022 – Friday
Basant Panchami / Sri Panchami – February 05, 2022 – Saturday
Hazarat Ali's Birthday – February 15, 2022 – Tuesday
Guru Ravi Das's Birthday – February 16, 2022 – Wednesday
Shiva ji Jayanti – February 19, 2022 – Saturday
Swami Dayananda Saraswati Jayanti – February 26, 2022 – Saturday
Holika Dahan – March 17, 2022 – Thursday
Dolyatra – March 18, 2022 – Friday
Chaitra Sukladi / Gudi Padava / Ugadi / Cheti Chand – April 02, 2022 – Saturday
Ram Navami – April 10, 2022 – Sunday
Vaisakhi / Vishu/ Meshadi – April 14, 2022 – Thursday
Vaisakhadi (Bengal) / Bahag Bihu (Assam) – April 15, 2022 – Friday
Easter Sunday – April 17, 2022 – Sunday
Jamat-Ul-Vida – April 29, 2022 – Friday
Guru Rabindranath's Birthday – May 09, 2022 – Monday
Rath Yatra – July 01, 2022 – Friday
Raksha Bandhan – August 11, 2022 – Thursday
Parsi New Year's day/Nauraj – August 16, 2022 – Tuesday
Janmashtami (Smarta) – August 18, 2022 – Thursday
Vinayaka Chaturthi / Ganesh Chaturthi – August 31, 2022 – Wednesday
Onam or Thiru Onam Day – September 08, 2022 – Thursday
Dussehra (Saptami) – October 02, 2022 – Sunday
Dussehra (Mahashtami) – October 03, 2022 – Monday
Dussehra (Mahanavmi) – October 04, 2022 – Tuesday
Maharishi Valmiki's Birthday – October 09, 2022 – Sunday
Karaka Chaturthi (Karwa Chouth) – October 13, 2022 – Thursday
Naraka Chaturdasi – October 24, 2022 – Monday
Govardhan Puja – October 25, 2022 – Tuesday
Bhai Duj – October 26, 2022 – Wednesday
Pratihar Shashthi or Surya Shashthi (Chhat Puja) – October 30, 2022 – Sunday
Guru Teg Bahadur's Martyrdom Day – November 24, 2022 – Thursday
Christmas Eve – December 24, 2022 – Saturday
Guru Gobind Singh's Birthday – December 29, 2022 – Thursday