PLI-IPPB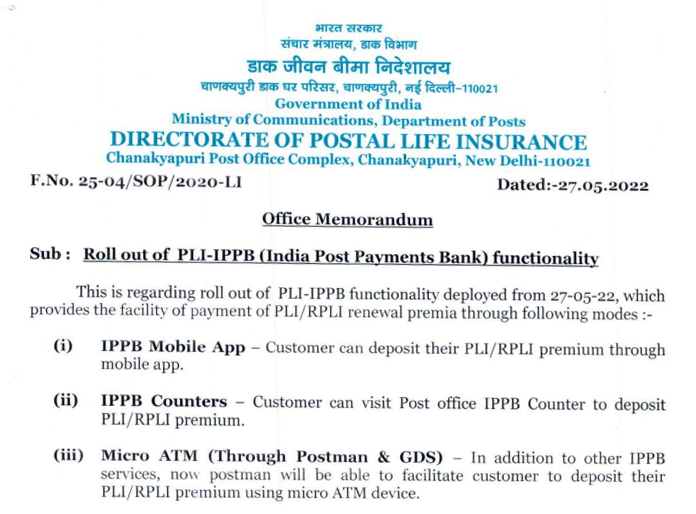 Government of India
Ministry of Communications, Department of Posts
DIRECTORATE OF POSTAL LIFE IN SURANCE
Chanakyapuri Post Office Complex, Chanakyapuri, New Delhi-11 0021
F.No. 25-04/SOP/ 2020-LI
Dated: 27.05.2022
Office Memorandum
Sub: Roll out of PLI-IPPB (India Post Payments Bank) functionality
This is regarding roll out of PLI-IPPB functionality deployed from 27-05-22, which provides the facility of payment of PLI/RPLI renewal premia through following modes:-
(i) IPPB Mobile App – Customer can deposit their PLI/RPLI premium through mobile app.
(ii) IPPB Counters – Customer can visit Post office IPPB Counter to deposit PLI/RPLI premium.
(iii) Micro ATM (Through Postman & GDS) – In addition to other IPPB services, now postman will be able to facilitate customer to deposit their PLI/RPLI premium using micro ATM device.
(iv) Standing Instructions through IPPB Account – Customer can register for Standing Instruction either by visiting IPPB counters or using IPPB mobile app every month, PLI/RPLI premium will be debited automatically from their IPPB account.
2 It is further informed that Standard Operating Procedure (SOP) for the above functionality will be circulated separately by IPPB team.
3 Standard Accounting Procedure (SAP) as received from PAF Division, Postal Directorate containing roles of different offices is being enclosed for reference & necessary action by the respective offices.
4 It is, therefore, requested that the above information may widely be disseminated among all administrative offices, operational staff & marketing staff for wide publicity & also for sensitizing our valuable customers about the functionality.
Encls: SAP
(Hariom Sharma)
Deputy Divisional Manager-II
Download Roll out of PLI-IPPB (India Post Payments Bank) functionality PDF