PwBDs category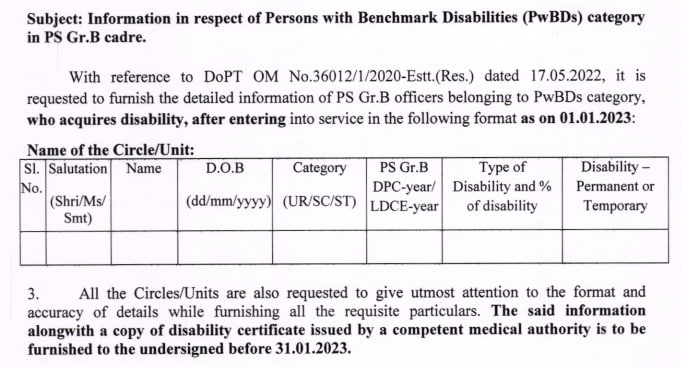 No. 9-12/2022 -SPG-II
Government of India
Ministry of Communications
Department of Posts
(SPG-II Section)
Dak Bhavan, New Delhi – 110001
Dated: 18th January, 2023
OFFICE MEMORANDUM
Subject: Information in respect of Persons with Benchmark Disabilities (PwBDs) category in PS Gr.B cadre.
With reference to DoPT OM No.36012/1/2020-Estt.(Res.) dated 17.05.2022, it is requested to furnish the detailed information of PS Gr.B officers belonging to PwBDs category, who acquires disability, after entering into service in the following format as on 01.01.2023:
Name of the Circle/Unit:
Sl.
No
Salutation
(Shri/ Ms/
Smt)
Name
D.O.B
(dd/ mm/ yyyy)
Category
(UR/ SC/ ST)
PS Gr.B
DPC-year/
LDCE-year
Type of Disability and % of disability
Disability –
Permanent or
Temporary
All the Circlesfunits are also requested to give utmost attention to the format and accuracy of details while furnishing all the requisite particulars. The said information alongwith a copy of disability certificate issued by a competent medical authority is to be furnished to the undersigned before 31.01.2023.
This issues with the approval of the competent authority.
(Hemant Kumar)
Assistant Director General (SPG)