Paramilitary chiefs meet Rajnath, discuss 7th Pay Commission report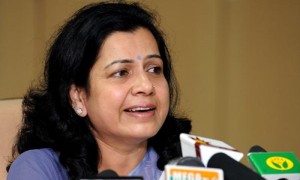 New Delhi: Concerned over increasing pay disparity between Paramilitary personnel and their defence and civilian counterparts, the five paramilitary chiefs on Wednesday met Union Home Minister Rajnath Singh and discussed issues related to "anamolies and shortcomings" in the Seventh Pay Commission report.
Five chiefs, including Krishna Chaudhary (ITBP), K Durga Prasad (CRPF), Archana Ramasundaram (SSB), Surender Singh (CISF) and O P Singh (NDRF), met the Singh at his office in South Block here and before discussion, they presented a memorandum to him.
The government in January had set up a 13-member Empowered Committee of Secretaries (CoS) headed by the Cabinet Secretary for processing the recommendations of the 7th Pay Commission, which has bearing on remuneration of 48 lakh central government employees and 52 lakh pensioners.
The Empowered Committee of Secretaries is functioning as a Screening Committee to process the recommendations with regard to all relevant factors of the Commission in an expeditious detailed and holistic fashion.
TST
Related to Your Search: