Pre-paid Railway Catering Charges
Onboard charges for Catering Services in Pre-paid trains: Railway Board Order
IRCTC Latest Food Menu Rates in Trains and at Stations
भारत सरकार GOVERNMENT OF INDIA
रेल मंत्रालय MINISTRY OF RAILWAYS
(रेलवे बोर्ड RAILWAY BOARD)
No. 2015/TG-III/631/4
New Delhi, Dated: 15.07.2022
Chairman & Managing Director,
IRCTC Ltd., 11th floor,
Statesman House, Barakhamba Road,
New Delhi- 110001.
Sub: Onboard charges for Catering Services in Pre-paid trains.
Ref:- (i) Commercial Circular No. 60 of 2019.
(ii) Board's letter of even number dated 13.03.2018 and 27.06.2018. ·
The onboard charges for catering services in pre-paid trains for passengers who did not opt for catering services at the time of booking and demanding onboard, applicable onboard charges would be are as under: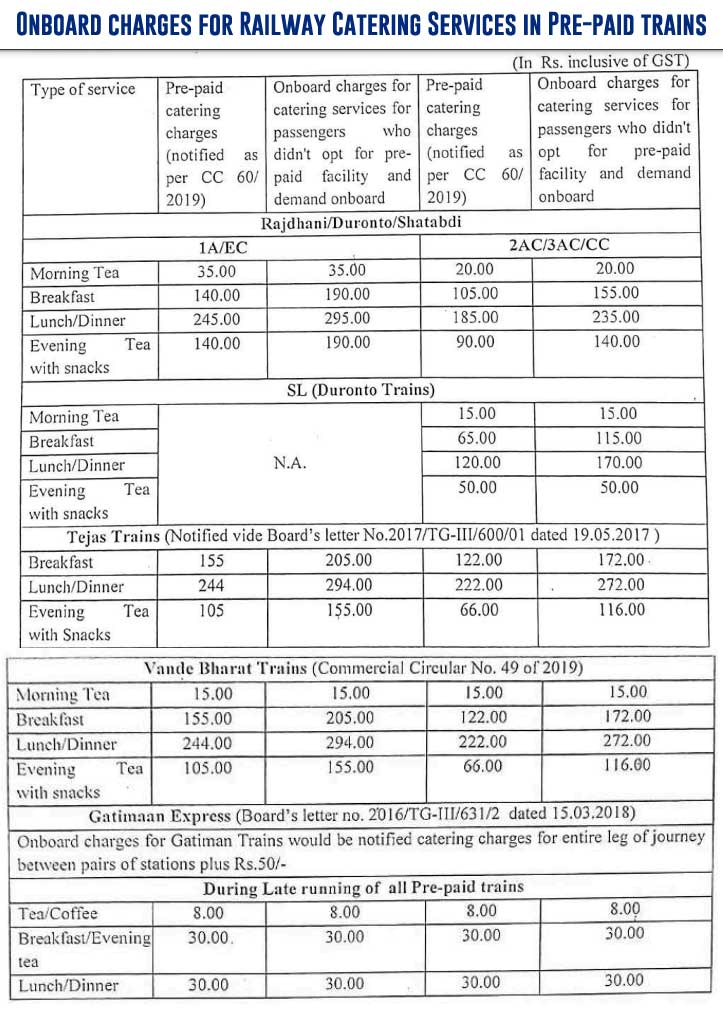 2. Service-wise menu will remain the same as already notified for the respective Pre-paid trains.
3. Electronic invoice will be generated clearly reflecting the tax details and seat no/ pnr no/ mob Prior information regarding menu and onboard charges to such passengers shall be provided.
4. Wide publicity in this regard shall also be given for information of passengers.
IRCTC is advised to charge accordingly.
(Sumeet Singh)
DTCG as Dir(T&C)
Railway Board
Related to Your Search: