PNM MEETING HELD BETWEEN RAILWAY BOARD AND NFIR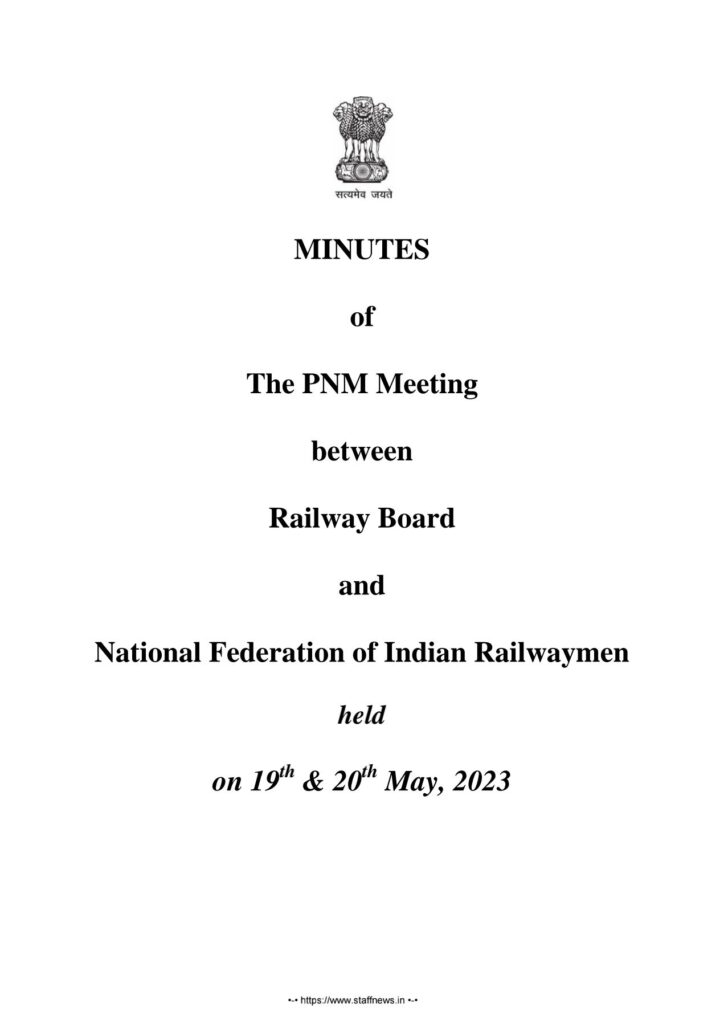 MINUTES
of
The PNM Meeting
between
Railway Board
and
National Federation of Indian Railwaymen
held
on 19th & 20th May, 2023
MINUTES OF THE PNM MEETING HELD BETWEEN RAILWAY BOARD AND NFIR ON 19TH & 20TH MAY, 2023
Section A- Introduction:
CRB & CEO as Chairman of the meeting addressed the gathering.
Shri Guman Singh, President/ NFIR, Shri M. Raghavaiah, General Secretary/ NFIR, other representatives of NFIR, members of the Official Side and my other colleagues in Railway Board, I extend a hearty welcome to all of you. I hope that the Agenda items of PNM with NFIR will be discussed and resolved fruitfully in this meeting.
I would like to mention that:-
In recognition of importance attached by Government of India to Ministry of Railways, highest ever Capital allocation of Rs.2.40 lakhs cr has been made for infrastructure development during FY-2022-23 as against 2.15 lakhs cr during the previous year. It shows Government's faith in Indian Railways.
Indian Railways has transported 1512 MT of freight during FY 2022- 23 as compared to 1418 MT in FY 2021-22, thereby registering a significant growth of 6.63% in freight loading. This is the highest ever freight traffic carried by Indian Railways in a single financial year. For the month of April, 2023 also, we have recorded loading of 126.46 MT which is an increase over the April, 2022 figures.
Indian Railways is making rapid progress to meet the 'Mission 100% Electrification' and has become the largest green railway network in the world. A record electrification of 6,542 RKM has been done during 2022-23 in the history of Indian Railways. The previous record during 2021-22 was of 6,366 RKM, thereby registering a growth of 2.76%.
In case of new lines (laying of new lines/doubling/gauge conversion), 5243 kms have been achieved during 2022-23 as against 2909 kms in 2021-22. Thus, on an average, 14.4 km of track is laid every day. It is also the highest commissioning ever.
Real-Time Train Information System (RTIS) associated with ISRO is being enforced by the Indian Railways for computerised chart preparation and passenger train data. A large number of digitally interlocked stations have been built, from old lever frames to computer based operating systems. To take advantage of digital technologies in train operations and to enhance safety, electronic interlocking is being adopted on a large scale.
Indian Railways has upgraded 530 Kms with automatic signalling as compared to 218 Kms during 2021-22, registering an increase of 143.12%. It is also the best figures achieved in automatic signaling in the history of Indian Railways.
Electronic interlocking has been provided at 538 stations during 2022-23 as compared to 421 stations in 2021-22, showing an increase of 27.79%.
1065 flyovers/underpasses have been made available during 2022-23 registering an increase of 7.14% as compared to 994 flyovers/underpasses in 2021-22 to facilitate the public to cross the tracks on the roads.
375 FOBs have been constructed during 2022-23 as against 373 FOBs in 2021-22 to facilitate the crossing of commuters/pedestrians.
Safety of people at level crossings (level crossing or LC gates) has been a major concern. 880 level crossing gates to be removed during 2022-23 as against 867 level crossing gates in 2021-22.
Indian Railways is giving priority to the development of 'Gati Shakti Freight Terminals' to increase its modal share in freight traffic. 30 freight terminals to be built during 2022-23 as against 21 freight terminals in 2021-22.
Under the 'Accessible India Campaign, Indian Railways is installing lifts and escalators at railway stations across the country to make movement on rail platforms accessible to physically challenged persons, old people and children. 215 lifts and 184 escalators have been installed during 2022-23 as against 208 lifts and 182 escalators in 2021-22.
Indian Railways makes every effort to make optimum use of resources by mobilizing scrap material and selling it through e-auction. Scrap sale during 2022- 23 is Rs.5736 crore as compared to Rs.5316 crore in 2021-22, showing a growth of 7.90%.
Yard remodelling was done in 414 stations during 2022-23 in Indian Railways.
I would also like to mention a few initiatives taken for HR Management and Staff Welfare:-
On boarding of employees is being done through HRMS from February onwards and physical service records have been dispensed with.
Implementation of BOS, Post Master, Seniority modules which are part of the Cadre Management modules is nearing completion in field units.
Development of Reservation, MPP modules of Cadre Management module has been completed and currently undergoing testing.
As part of our endeavour to bring in transparency in the system, for the first time in the history of Indian Railways Centralised Computer based examinations (CBT) for promotion to Group 'B' posts in Organised Services were introduced to reduce human interference and time taken for holding these selections.

30% LDCE was successfully conducted through centralized CBT in November, 2022 against 249 vacancies and 164 candidates have since been empanelled.
70% Selection for the vacancy cycle 2023-24 has also been conducted against 936 vacancies and finalization of results is under process. Similarly, preparations are in full swing for conducting its corresponding LDCE by mid- 2023 for approximately 350 vacancies.
In the period from April, 2022 to February, 2023, 1,497 Selections, 6,126 Suitability tests, 3,220 Trade Tests, 725 LDCEs and 36 GDCEs have been completed. As a result of large number of Selection and Non-selection tests conducted, 131649 staff were promoted by the end of February, 2023.
5,619 Compassionate Ground cases have been given out of 6,287 pending cases i.e. around 90% cases have been finalised. Further 574 cases are less than 3 months old.
2,021 cases of medical de-categorization out of 2,217 cases have been finalized, which is more than 91% of the pendency and accrual.
Directions for speedier disposal of mutual transfer and own request transfer cases have been issued. Resultantly, 5,297 case which is roughly 74% cases of mutual transfer have been implemented so far in the last financial year. 3,951 cases of own request transfer also have been considered along with 4,828 cases of inter- divisional transfer i.e. within the same Railway.
Scout/Guide & Cultural quota recruitment was started this financial year after a gap of 2-3 years.
Major policy directions/clarifications on reservation in promotion of PwBD staff, compassionate appointment in Level 7, waiver of type test requirement in ministerial categories for medically de-categorized staff, instructions on type test requirement for PwBD staff, revision in APARs of Level 1 staff etc have been issued.
Railway Recruitment Boards (RRBs) and Railway Recruitment Cells (RRCs) have taken special efforts to complete the ongoing recruitments namely CEN 01/2019 (NTPC categories), CEN RRC 01/2019 (Level 1) and CEN 03/2019 (Ministerial & Isolated categories).
More than 80,000 candidates have been empanelled and more than 70,000 candidates are in process of being empanelled in various categories including safety categories of Station Masters, Train Managers, Track Maintainers, Poinstman and Assistants in various departments.
The empanelment exercise of CEN-2/2018 was finally concluded this financial year and 61,524 numbers of candidates against 63,202 number of vacancies were empanelled.
Further against the empanelment of candidates against CEN-RRC-01/2019, a record number of 50,000 candidates have been empanelled.
Zonal Railways have done a good job of conducting PET, Document Verification and Medical Examination in record time of two months.
More than 5500 ALPs, 3500 JEs, 6000 Technicians and 250 para medical staff have also been empanelled by RRBs filling up vacancies in critical categories.
CCAAs candidates who have got training in Railway Establishments have been accorded benefit of giving one third weight age to NCVT marks while deciding merit as well as exemption from PET for recruitment to Level 1 posts.
I once again thank NFIR for their continued cooperation and also congratulate all Railwaymen for their performance and hard work.