Delay in handing over physical possession of GPRA and physical possession of the accommodation to allottee even after 8-10 months of allotment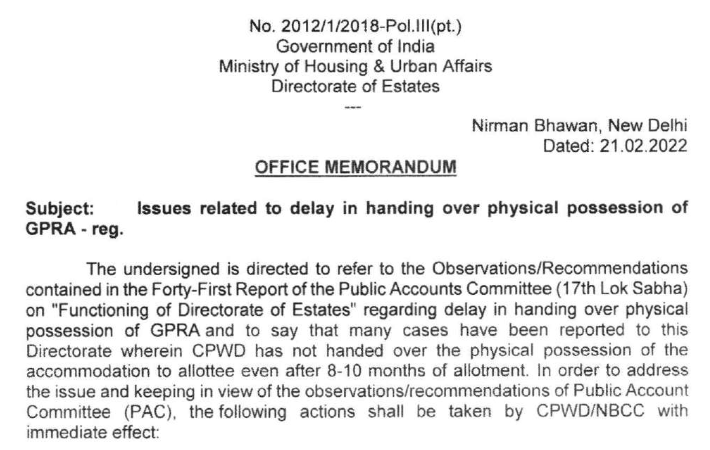 No. 2012/1/2018-Pol.III(pt.)
Government of India
Ministry of Housing & Urban Affairs
Directorate of Estates
Nirman Bhawan, New Delhi
Dated: 21.02.2022
OFFICE MEMORANDUM
Subject: Issues related to delay in handing over physical possession of GPRA – reg.
The undersigned is directed to refer to the Observations/ Recommendations contained in the Forty-First Report of the Public Accounts Committee (17th Lok Sabha) on "Functioning of Directorate of Estates" regarding delay in handing over physical possession of GPRA and to say that many cases have been reported to this Directorate wherein CPWD has not handed over the physical possession of the accommodation to allottee even after 8-10 months of allotment. In order to address the issue and keeping in view of the observations/ recommendations of Public Account Committee (PAC), the following actions shall be taken by CPWD/ NBCC with immediate effect:
(i) Once a house is vacated, CPWD/NBCC may immediately assess its habitability and the house may be reflected as vacancy in e-Sampada immediately on vacation for allotment by DoE. CPWD/NBCC shall take necessary action to make it habitable at the earliest. Under no circumstances, it shall be taken for more than 75 days for making it habitable.
(ii) CPWD/NBCC may adhere to the timeline strictly in letter and spirit as mentioned above to handover the houses.
(iii) Once the house is made habitable for Physical Occupation, CPWD/NBCC shall generate Habitability Certificate and communicate the same to DoE on e-Sampada portal and to the allottee directly. If allottee fails to take Physical Occupation of the house within 5 working days from the date of issue of Habitability Certificate, the allotment shall be cancelled automatically and the allottee shall be debarred as per Rule 17 of CGGPRA Rules, 2017.
(iv) In case CPWD fails to make the house habitable for Physical Occupation within 73 days from the date of Technical Occupation, CPWD may take action as per their OM No. 7/13/2015-WIl/DG/695 dated 25.07.2015. NBCC may develop similar mechanism to fix responsibility by issuing an OM in case of delay in handling over of houses for more than 75 days.
(v) In such cases i.e. para (4) above, allottee will be offered option either to continue or cancel the Technical Occupation in e-Sampada. If the allottee opted for cancellation, he will not be debarred but will be allowed to apply in the next bidding cycle. NIC, DoE will carry out necessary changes in e-Sampada portal, accordingly.
(vi) Once a house is declared unsafe /dangerous/ uninhabitable, necessary action shall be taken at the earliest to vacate the allottee and the house be repaired/ renovated.
2. This issues with the approval of Competent Authority.
Sd/-
(M.C. Sonowal)
Deputy Director of Estates (Policy)