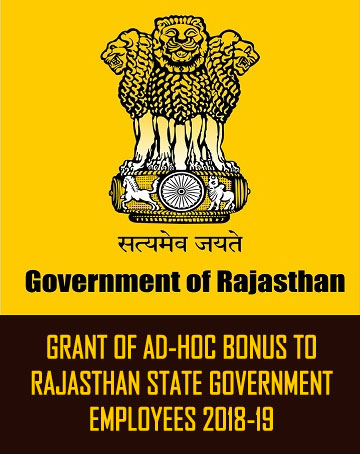 Rajasthan State Government Employees Ad-Hoc bonus 2018-19
As per the orders employees of state government to receive an ad hoc bonus of 30 days emoluments for 2018-19.
Government servants who were in service on 31-03-2019 and remained in service on 1 April 2019, drawing pay at or below the pay level under Pay Matrix 1-12 Rules of Procedure for the Revised Payment Services Rules 2017 or Grade Pay Rs. 4800 or below the payroll in Rajasthan Civil Services Rules, 2008 (excluding State Services Officers) are entitled to an ad hoc bonus. Ad-hoc salary deduction is available.
The Ad-hoc bonus payable to eligible employees for the 2018-19 financial year is determined according to the existing emoluments as at 31 March 2019 and is limited to Rs.7000/- per month for the purposes of calculating the ad-hoc bonus.
In cases of retrospective pay allowing in pay level of the Pay Matrix 1-13 Rajasthan Civil Services (Revised Pay) Rules, 2017 or Rs. 5400/- Grade Pay of Rajasthan Civil Services (revised Pay) Rules, 2008 and above, in p, where in the Notice from the Head of Office, the ad hoc bonus eligible servant will definitely be unavailable for ad hoc bonus.
Also read: Non-Productivity Linked Bonus (Ad-hoc Bonus) granted to Central Government Employees for the year 2018-19