Government may hike service tax to 16%: Budget 2016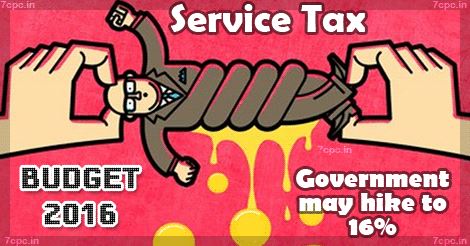 To shore up its revenues in order to spend more, the government may increase service tax to 16 percent from the current 14 percent, a move that would make many services costlier, according to a report by business news channel CNBC-TV18.
"In addition to the Swachh Bharat Cess of 0.5 percent already levied, sources say the service tax rate is projected to rise by 2 percent to 16 percent," the channel reported.
If the government does raise the service tax rate, one would have to pay higher for restaurant bills, air tickets, mobile phones, to name a few, as the tax is collected from the end user.
The Swachh Bharat cess of 0.5 percent was levied with effect from 15 November, 2015, on all services that attract service tax.
The government is hard pressed to shore up its revenues for a probable hike in social welfare spending in view of the upcoming state assembly polls in Kerala, Puducherry, West Bengal, Tamil Nadu and Assam, which are crucial for the ruling BJP at the Centre to increase its tally in the Rajya Sabha.
On Wednesday, the government estimated a shortfall of about Rs 40,000 crore in direct tax collections, though it said that the same would be managed by a rise in indirect tax collections. The total taxes collected stood at Rs 10.66 lakh crore, 73.5 percent of the budgeted estimates of Rs 14.49 lakh crore for FY2016, it said in a statement.
The government has utilised the fall in crude oil prices to raise excise duty on petrol and diesel during the past three months to mop up an additional Rs 17,000 crore during the current fiscal.
The Union Budget for FY2016-2017 will be presented by union Finance Minister Arun Jaitley on Feb. 29, 2016. The budget session of Parliament commences on Feb. 23, 2016.
Related to Your Search: