7th CPC DA Table 2021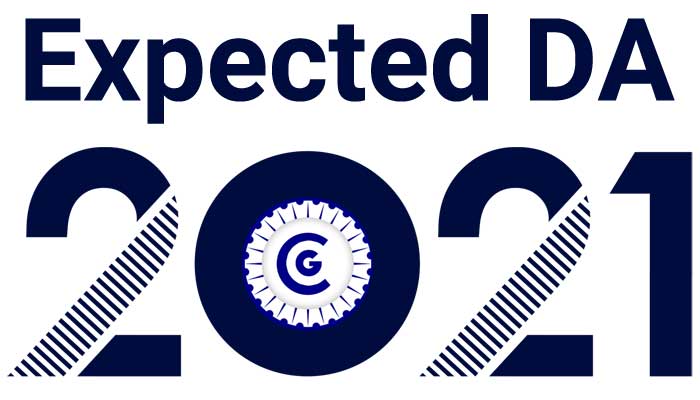 From July 2021, the Expected DA for central government employees will not exceed 31%
The All India Consumer Price Index for Industrial Workers (AI CPI-IW) for the month of May 2021 has been released by the Labour Bureau. The rate increased by 0.5 points to 120.6 points (one hundred twenty and point six). On a one-month percentage change basis, it climbed by 0.42 percent over the previous month, compared to a 0.30 percent gain between the same months a year earlier.
If the June AICPIN is not reduced to 1 point, the Expected DA from July 2021 will be less than 31%, almost 31%.
The rise is tiny, but it has a significant influence on predicted Dearness Allowance. From July 2021, the CPI-IW up to May 2021 will be used to calculate the Dearness Allowance, and another figure will be needed to minimise the 'exact'. The DA has been put on hold by the government until June 2021. As a result, the Hike DA is projected to be available starting in July 2021.
The following table shows that the DA/DR ratio is predicted to reach 31% by July 2021. If the CPI (IW) drops to 1.0 point at 119.6 point in the coming months, the DA/DR from July 2021 can be set at 30%, and if the CPI (IW) rises to 10 points at 130.6 point, which appears unlikely, the DA/DR from July can be set at 32 percent.
With this five-month figure, it is now confirmed that the DA rate from July 2021 will be 31% if the index is not dropped to 1.0 points next month.
Expected DA Table from July 2021 @ 31%
| | | | | | | | |
| --- | --- | --- | --- | --- | --- | --- | --- |
| Month | Base Year 2001 = 100 | Base Year 2001 = 100 | Total of 12 Months | Twelve monthly Average | % increase over 115.76 for 6CPC DA | % increase over 261.42 for 7CPC DA | 7CPC DA announced or computed |
| Aug,19 | | 320 | 3710 | 309.17 | 167.08% | 18.26% | |
| Sep,19 | | 322 | 3731 | 310.92 | 168.59% | 18.93% | |
| Oct,19 | | 325 | 3754 | 312.83 | 170.24% | 19.67% | |
| Nov,19 | | 328 | 3780 | 315.00 | 172.11% | 20.50% | |
| Dec,19 | | 330 | 3809 | 317.42 | 174.20% | 21.42% | 21% |
| Jan,20 | | 330 | 3832 | 319.33 | 175.86% | 22.15% | |
| Feb,20 | | 328 | 3853 | 321.08 | 177.37% | 22.82% | |
| Mar,20 | | 326 | 3870 | 322.50 | 178.59% | 23.36% | |
| Apr,20 | | 329 | 3887 | 323.92 | 179.82% | 23.91% | |
| May,20 | | 330 | 3903 | 325.25 | 180.97% | 24.42% | |
| Jun,20 | | 332 | 3919 | 326.58 | 182.12% | 24.93% | 24% |
| Jul,20 | | 336 | 3936 | 328.00 | 183.34% | 25.47% | |
| Aug,20 | | 338 | 3954 | 329.50 | 184.64% | 26.04% | |
| Sep,20 | 118.1 | 340 | 3972 | 331.00 | 185.94% | 26.62% | |
| Oct,20 | 119.5 | 344 | 3991 | 332.58 | 187.30% | 27.22% | |
| Nov,20 | 119.9 | 345 | 4008 | 334.00 | 188.53% | 27.76% | |
| Dec,20 | 118.8 | 342 | 4020 | 335.00 | 189.39% | 28.15% | 28% |
| Jan,21 | 118.2 | 340 | 4030 | 335.83 | 190.11% | 28.47% | |
| Feb,21 | 119.0 | 343 | 4045 | 337.08 | 191.19% | 28.94% | |
| Mar,21 | 119.6 | 344 | 4063 | 338.58 | 192.49% | 29.52% | |
| Apr,21 | 120.1 | 346 | 4080 | 340.00 | 193.71% | 30.06% | |
| May,21 | 120.6 | 347 | 4097 | 341.42 | 194.93% | 30.60% | |
| Jun,21 | 120.6 | 347 | 4112 | 342.67 | 196.01% | 31.08% | 31% |
The Dearness Allowance Table of the 7th Central Pay Commission has been announced or computed
| | | | |
| --- | --- | --- | --- |
| Month | CPI (IW) Base Year 2016 = 100 | CPI (IW) Base Year 2001 = 100 | 7CPC DA announced or computed |
| Jan,16 | | 269 | 0% |
| Jul,16 | | 280 | 2% |
| Jan,17 | | 274 | 4% |
| Jul,17 | | 285 | 5% |
| Jan,18 | | 288 | 7% |
| Jul,18 | | 301 | 9% |
| Jan,19 | | 307 | 12% |
| Jul,19 | | 319 | 17% |
| Jan,20 | | 330 | 21% [approved] |
| Jul,20 | | 336 | 24% [confirm] |
| Jan,21 | 118.2 | 340 | 28% [confirm] |
| Jul,21 | 120.1 | 346 | 31% [expected] |
Related to Your Search: