Filling up of one vacant post of Section Officer of CSS (Administrative Officer) in Indian Institute of Legal Metrology, Ranchi – regarding
Immediate
No.4/17/2015-CS-II(A)(part-II)
Government of India
Ministry of Personnel, Public Grievances and Pensions
Department of Personnel & Training
3rd Floor, LokNayakBhawan,
New Delhi -110 003.
Dated the 08th July, 2016
Circular
Subject:- Filling up one post of Private Secretary (PS) in the office of Chief Commissioner of Railway Safety (CCRS), Lucknow under Ministry of Civil Aviation-reg
One post of PS of CSSS is likely to be vacant at the % Chief Commissioner of Railway Safety (CCRS), Lucknow, an attached office of Ministry of Civil Aviation very shortly.
2. All the cadre units of .CSSS are requested to give publicity of the vacancy circular and applications of willing officers for filling up the outstation post of PS, as indicated above, as received may be, forwarded along with personal particulars in the enclosed proforma immediately but not later than 22.07.2016. The officers who have already served in the said office will not be considered for transfer.
3. Before forwarding the application(s), the vigilance status of the officer(s) concerned may also be ascertained and a certificate to that effect may also be forwarded along with the application. It should also be ensured that the data in respect of officer applying for the post is completed/updated in all respects in the web based cadre management system i.e.cscms.nic.in.
(Kameshwar Mishra)
Under Secretary to the Govt. of India
Encl:- as above.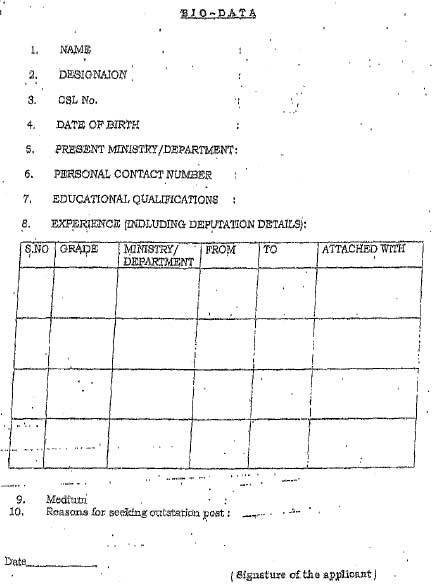 Related to Your Search: