Sports Injury Centre (SIC)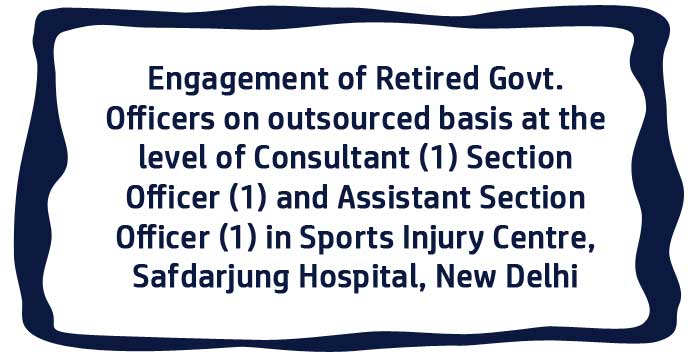 No.21/01/2021 -CS-I (Coord)
Ministry of Personnel, Public Grievances Pension
Department of Personnel & Training
(C.S.I Division)
2nd Floor, 'A' wing,
Lok Nayak Bhawan,
Khan Market, New Delhi
Dated 15th February, 2021
OFFICE MEMORANDUM
Subject:- Engagement of Retired Govt. Officers on outsourced basis at the level of Consultant (1) Section Officer (1) and Assistant Section Officer (1) in Sports Injury Centre, Safdarjung Hospital, New Delhi
The undersigned is directed to circulate the Vacancy Circular No. 2-2- SIC/SJH/FMs/ 2012/Outsourced Staff (Vol (along with enclosures) received from the Ministry of Social Justice and Empowerment who have invited application from eligible retired candidates for three posts of Consultants to monitor the PM-DAKSH Yojna.
In case of any further clarification, applicants are requested to contact the concerned Ministries/ Departments.
( Amit Ghosal)
Deputy Secretary to the Government of India
Tele:- 24629412
All Ministries/ Departments (through DOPT's website)
---
2-2-S1C/S11-1/FMS/ 2012/Outsourced Staff (Vol.)
Sports Injury Centre
Safdarjung Hospital
New Delhi-110029
Dated the 4th February, 2021
Circular
Sub: Engagement of Retired Govt. Officers on the outsourced basis at the level of Consultant (1), Section Officer (1), and Assistant Section Officer (1) in Sports Injury Centre, Safdarjung Hospital, New Delhi.
Sports Injury Centre (SIC) invites applications from retired Under Secretary as Consultant, Section Officer or equivalent or higher level and retired Assistant Section Officer or equivalent, well versed with establishment administration work and procedures who have served in Central Govt. Offices, for engagement as Consultant, S.O., and A.S.O on outsourced basis initially for a period of one year or till posting of new manpower in the Expansion Project, whichever is earlier. Detailed terms & conditions for their engagement are at Annexure-II. The maximum Age limit for the above posts is 62 years on the date of submitting the application.
Interested candidates who possess good health and are in a position to join immediately may submit their application in the enclosed Format along with relevant documents as per Annexure-I to Deputy Director Administration; SIC, Safdarjung Hospital, New Delhi-110029 on or before 05.03.2021.
(Dr. Kamlesh Kumar)
Dy.Director
---
Annexure-II
Terms and Conditions for engagement as Consultant, Section Officer and Assistant in Sports Injury Centre (SIC) on outsourced basis

1. The Consultant/ Section Officer/ Assistant shall perform the services as assigned to him/her by his/her controlling officer/ Administration Division.
2. The normal working hours would be from9.00 a.m. to 4.00 p.m. with a lunch break of 30 minutes from 1.30 p.m. to 2.00 pm. from Monday to Friday and 9am to 1 pm on Saturday. The Consultant/ Section Officer/ Assistant will mark his/her attendance in Aadhar Enabled Biometric Attendance System.
3. In special circumstances, the Consultant/ Section Officer/Assistant could be called for services on holidays or beyond normal working hours for which no compensatory leave will be granted.
4. The consultancy will start from the date he/she joins initially for a period of one year.
5. They will be paid a monthly remuneration of Rs. 45000/- for Consultant, Rs. 30-000/- for Section Officer and Rs. 25000/- for Assistant. The remuneration for services rendered in a month shall be payable in the subsequent month.
6. SIC shall have the right lo examine/ review the services provided by him/her at any time.
7. They shall perform his/her obligations under his/her consultancy with all necessary skills, diligence, efficiency and economy.
8. No other facility whatsoever except monthly remuneration be provided to them by SIC in his/her capacity.
9. SIC shall not be responsible for any loss, accident, damages/injury suffered by him/her whatsoever arising in or out of the execution of his/her work, including travel.
10. During the terms of the consultancy, he/she shall not be engaged in any private business or professional activity which could conflict with the interest of the Government.
11. They shall treat all official information as confidential and use the same only for purpose of the performance of the services.
12. The consultancy can be terminated by either side by giving at least 15 days prior notice.
13. They will be allowed to avail 8 days leave in a period of one year.
Source: DoPT