Postal Employees DA Jan 2022
Dearness Allowance – Revised Rates effective from 01.01.2022 – Department of Posts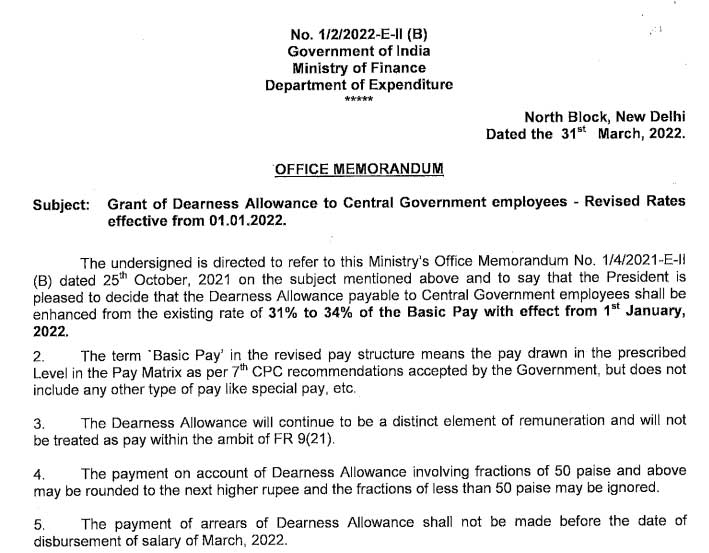 F.No.PP-08/2/2021-PAP
Government of India
Ministry of Communications
Department of Posts
PAP Section/(Establishment Division)
Dak Bhawan, Sansad Marg,
New Delhi -110001.
Dated: 4th April, 2022.
To
1. All Chief Postmasters General/ Postmasters General
2. Chief Genera] Manayer, BD Dte/Parce] Dte/ PLI Directorate
3. Director RAKNPA/ GM CEPT Directors of All PTCs.
4, Addl. Director General. Army Postal Service. R.K. Puram. New Delhi
5. All General Managers (Finance)/ DAP/ DDAP
Sub: Grant of Dearness Allowance to Central Government employees – Revised Rates effective from 01.01.2022.
Sir/Madam,
Tam directed to forward herewith a copy of the Ministry of Finance, Department of Expenditure's Office Memorandum No. OM No. 1/2/2022-E.II (B) dated 31.03.2022 on the subject cited above for information and further necessary action.
Also check: DA to Railway employees from the existing rate of 31% to 34% of the Basic Pay with effect from 1st January 2022
2. This issue with the approval of the competent authority.
(Sapna)
Assistant Director General (Estt.)