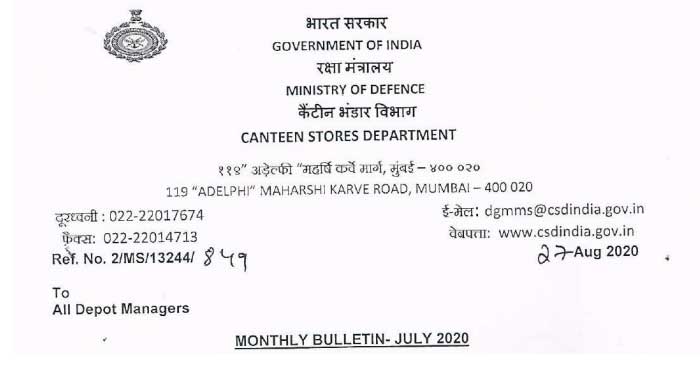 GOVERNMENT OF INDIA
MINISTRY OF DEFENCE
CANTEEN STORES DEPARTMENT
119 "ADELPHI" MAHARSHI KARVE ROAD, MUMBAI – 400 020
Ref, No. 2/MS/13244/849
27 Aug 2020
To
All Depot Managers
MONTHLY BULLETIN – JULY 2020
1. The monthly bulletins are issued covering various activities taken place in our organisation during the month for the benefit of URC's & for the beneficiaries. The monthly Bulletin covers:-
New Introduction of Items in CSD Inventory – JULY 2020
One to One Replacement of Items – JULY 2020
Change in Case Pack of Items – JULY 2020
Deleted Items – JULY 2020
Items under Non – Supply/ Short Supply – JULY 2020
Price Revision – JULY 2020
Consumer Promotion Scheme (CPS) – JULY 2020
2. Monthly bulletin for the month of July 2020 is enclosed herewith with a request to disseminate the same to all URC's and also inform the URC's that the monthly bulletins of our department can also be viewed on our CSD website www.csdindia.gov.in. No hard copy will be given to any URC.
Also check: CSD 2020 – List of Four Wheeler Listed in CSD as on 13 July 2020
3. This letter is not being sent by post to save expenditure on post age and stationery. You are also requested to avoid taking print outs to save stationary please.
(V Sivaprakasam)
For General Manager
Encl: a/a
Related to Your Search: