Budget 2023 – New tax regime
Smt Nirmala Sitharaman provides major relief in the personal income tax. The indirect tax proposals contained in the budget aim to promote exports enhance domestic value addition, encourage green energy and mobility.
Personal Income Tax
There are five major announcements relating to the personal income tax. The rebate limit in the new tax regime has been increased to ₹ 7 lakh, meaning that peons in the new tax regime with income upto ₹ 7 lakh will not have to pay any tax. The tax structure in the new personal tax regime has been changed by reducing number of slabs to five and increasing the tax exemption limit to ₹ 3 lakh. This will provide major relief to all tax payers in the new regime.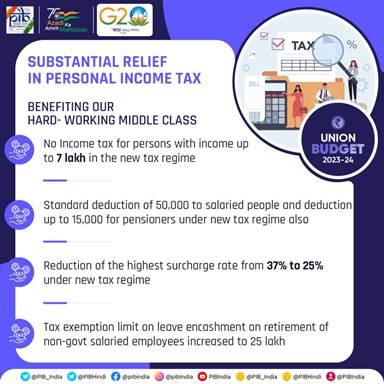 The benefit of standard deduction has been extended to the salaried class and the pensioners including family pensioner under the new tax regime. Salaried individual will get standard deduction of ₹ 50,000 and pensioner ₹ 15,000 as per the proposal. Each salaried person with an income of ₹ 15.5 lakh or more will thus gain ₹ 52,500, from the above proposals.
The highest surcharge rate in personal income tax has been reduced from 37% to 25% in the new tax regime for income above ₹2 crore. This would result in maximum tax rate of personal income tax come down to 39% which was earlier 42.74%.
The limit of tax exemption on leave encashment on retirement of non-government salaried employees has been increased from ₹3 lakh to ₹25 lakh.
The new income tax regime has been made the default tax regime. However, the citizens will continue to have the option to avail the benefit of the old tax regime.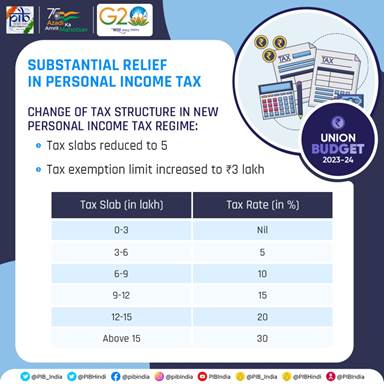 Indirect Tax Proposals
The indirect tax proposals announced in the budget by the Union Minister for Finance & Corporate Affairs, Smt Nirmala Sitharaman emphasized on simplification of tax structure with fewer tax rates so as to help in reducing compliance burden and improving tax administration. The number of basic customs duty rates on goods, other than textiles and agriculture, has been reduced from 21 to 13. There are minor changes in the basic customs duties, cesses and surcharges on items including toys, bicycles, automobiles and naphtha.
To avoid cascading of taxes on blended compressed natural gas, excise duty on GST-paid compressed bio-gas contained in it has been exempted from excise duty. Customs duty exemption has been extended to import of capital goods and machinery required for manufacture of lithium-ion cells for batteries used in electric vehicles.
To further deepen domestic value addition in manufacture of mobile phones, the Finance Minister announced relief in customs duty on import of certain parts and inputs like camera lens. The concessional duty on lithium-ion cells for batteries will continue for another year. Basic customs duty on parts of open cells of TV panels has been reduced to 2.5%. The Budget also proposes changes in the basic customs duty to rectify inversion of duty structure and encourage manufacturing of electrical kitchen chimneys.
Denatured ethyl alcohol has been exempted from basic customs duty. Basic customs duty has also been reduced on acid grade fluorspar and crude glycerin. Duty is being reduced on key inputs for domestic manufacture of shrimp feed. Basic customs duty on seeds used in the manufacture of Lab Grown Diamonds has also been reduced. The import duty on silver dore, bars and articles has been increased to align them with that on gold and platinum. The basic customs duty rate on compounded rubber has been increased. National Calamity Contingent Duty on specified cigarettes has been revised upwards by about 16%. The basic customs duty on crude glycerin for use in manufacture of epicholorhydrin is proposed to be reduced from 7.5% to 2.5%.
Common IT Return Form
The Union Budget also proposes to roll out a next-generation common IT return form for tax payer convenience. It also stipulates a plan to strengthen the grievance redressal mechanism for direct taxes. The Finance Minister also announced deployment of about 100 Joint Commissioners for disposals of small appeals in direct tax matters. She also said that the department will be more selective in taking up cases for scrutiny of returns already received this year.
Better targeting of tax concessions
For better targeting of tax concessions and exemptions, deduction from capital gains on investment in residential house has been capped at ₹ 10 crore. Income tax exemption from proceeds of insurance policies with very high value will also have limit. There are a number of proposals relating to rationalization and simplification of direct taxes in the Union Budget.
Other major proposals in the Budget relate to Extension of period of tax benefits to funds relocating to IFSC, GIFT City till 31.03.2025; Decriminalisation under section 276A of the Income Tax Act; Allowing carry forward of losses on strategic disinvestment including that of IDBI Bank; and Providing EEE status to Agniveer Fund.
Proposals relating to MSMEs
Describing MSMEs as growth engines of our economy, the Budget proposes enhanced limits for micro enterprises and certain professionals for availing the benefit of presumptive taxation. To support MSMEs in timely receipt of payments, the Budget allows deduction for expenditure incurred on payments made to them only when payment is actually made.
Cooperation
The Budget has a slew of proposals for the cooperative sector. New cooperatives that commence manufacturing activities till 31st March next year shall get the benefit of a lower tax rate of 15%. The Budget provides an opportunity to sugar cooperatives to claim payments made to sugarcane farmers for the period prior to assessment year 2016-17 as expenditure. A higher limit of ₹ 2 lakh per member has been provided for cash deposits to and loans in cash by Primary Agricultural Cooperative Societies and Primary Cooperative Agriculture and Rural Development Banks. The Budget proposes a higher limit of ₹ 3 crore for TDS on cash withdrawal for cooperative societies.
Start-ups
The Budget proposes to extend the date of incorporation for income tax benefits to start-ups from 31.03.2023 to 31.03.2024. It also provides the benefit of carry forward of losses on change of shareholding of start-ups from 7 years of incorporation to 10 years.
Amendments in CGST Act
The Budget provides for amending the CGST Act so as to raise the minimum threshold of tax amount for launching prosecution under GST from ₹ 1 crore to ₹ 2 crore, except for the offence of issuance of invoices without supply of goods and services or both. The compounding amount will be reduced from the present range of 50 to 150% of tax amount to the range of 25 to 100%. It will also decriminalize certain clauses of the Act like obstruction and preventing of any officer from discharge of his duties, deliberate tempering of evidence or failure to supply the information.
Implications of tax changes
Announcing the changes in the direct and indirect taxes, the Finance Minister said that revenue of about ₹ 38,000 crore will be foregone as a result of these proposals, while revenue of about ₹3,000 crore will be additionally mobilised. She said thus the total revenue foregone is about ₹35,000 crore annually on account of these proposals.
PIB