Security Deposits in the Government contracts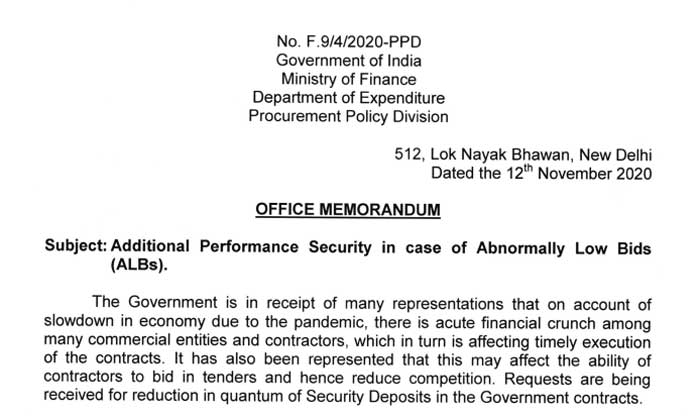 No. F.9/4/2020 -PPD
Government of India
Ministry of Finance
Department of Expenditure
Procurement Policy Division
512, Lok Nayak Bhawan, New Delhi
Dated the 12th November 2O2O
OFFICE MEMORANDUM
Subject: Additional Performance Security in case of Abnormally Low Bids (ALBs).
The Government is in receipt of many representations that on account of slowdown in economy due to the pandemic, there is acute financial crunch among many commercial entities and contractors, which in turn is affecting timely execution of the contracts. It has also been represented that this may affect the ability of contractors to bid in tenders and hence reduce competition. Requests are being received for reduction in quantum of Security Deposits in the Government contracts.
2. In this context, it is noted that Additional Performance Security in case of Abnormally Low Bids (ALBs) is being taken from the contractors by various Ministries/ Departments though there is no provision for the same in General Financial Rules (GFRs) 2017 or the Manuals for Procurement issued by this Department.
3. As per para 7.5.7 of the Manual for Procurement of Goods 2017 issued by this Department, an Abnormally Low Bid is one in which the bid price, in combination with other elements of the Bid, appears so low that it raises material concerns as to the capability of the bidder to perform the contract at the offered price. Procuring Entity may in such cases seek written clarifications from the bidder, including detailed price analyses of its bid price in relation to scope, schedule, allocation of risks and responsibilities, and any other requirements of the bids document. If, after evaluating the price analyses, Procuring Entity determines that the bidder has substantially failed to demonstrate its capability to deliver the contract at the offered price, the Procuring Entity may reject the bid/ proposal. However, it would not be advisable to fix a normative percentage below the estimated cost, which would be automatically be considered as an abnormally low bid. Due care should be taken while formulating the specifications at the time of preparation of bid document so as to have a safeguard against the submission of abnormally tow bid from the bidder.
4. In view of above, it is reiterated that no provisions should be kept in the Bid Documents regarding Additional Security Deposit / Bank Guarantee (BG) in case of Abnormally Low Bids.
5. Wherever, there are compelling circumstances to ask for Additional Security Deposit Bank Guarantee (BG) in case of ALBs, the same should be taken only with the approval of the next higher authority to the authority competent to finalise the particular tender, or the Secretary of the Ministry/ Department, whichever is lower.
6. These instructions will be applicable for all kinds of procurements viz. Goods, Consultancy, Works, non-consulting Services etc.
Kotluru Narayana Reddy
Deputy Secretary to the Govt. of India
Tel:24621305
Email: [email protected]
Source: DoE