7th CPC leave encashment order – MSP – PCDA (O) advisory regarding elements to be taken into account for the purpose of Encashment of Leave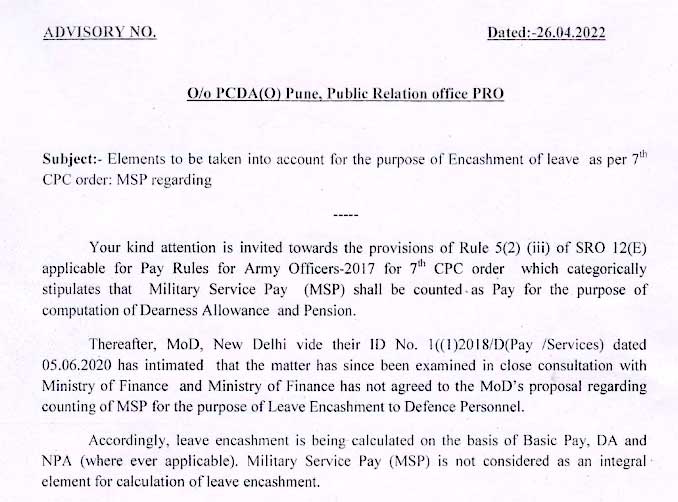 ADVISORY NO.
Dated:-26.04.2022
O/o PCDA(O) Pune, Public Relation office PRO
Subject:- Elements to be taken into account for the purpose of Encashment of leave as per 7th CPC order: MSP regarding
Your kind attention is invited towards the provisions of Rule 5(2) (iii) of SRO 12(E) applicable for Pay Rules for Army Officers-2017 for 7th CPC order which categorically stipulates that Military Service Pay (MSP) shall be counted as Pay for the purpose of computation of Dearness Allowance and Pension.
Thereafter, MoD, New Delhi vide their ID No. 1((1)2018/D(Pay /Services) dated 05.06.2020 has intimated that the matter has since been examined in close consultation with Ministry of Finance and Ministry of Finance has not agreed to the MoD's proposal regarding counting of MSP for the purpose of Leave Encashment to Defence Personnel.
Accordingly, leave encashment is being calculated on the basis of Basic Pay, DA and NPA (where ever applicable), Military Service Pay (MSP) is not considered as an integral element for calculation of leave encashment.
This is for your kind information please.
This is issued with kind approval of PCDA (O), Pune.
Regards,
Jai Hind
Encl: As above
(Smt. Arati Ray Chaudhury, IDAS)
ACDA & PRO