7th CPC anomaly committee latest news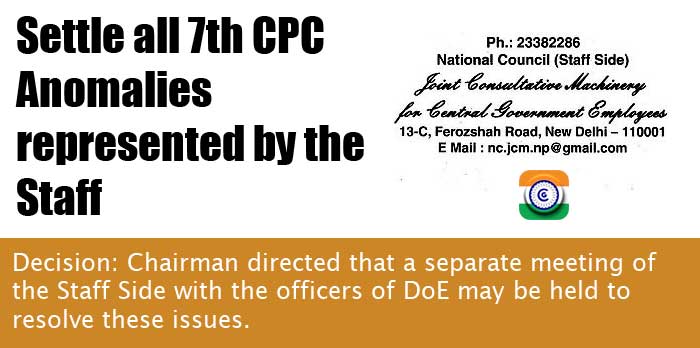 5.14 Item No. NC-48/8/21: Settle all 7th CPC Anomalies represented by the Staff.
Staff Side representatives raised issues such as
Removal of Condition of 3% stipulated to grant Bunching benefits
Fixation of Pay on Promotion
Removal of anomaly in the Pay Matrix Lesser pay in Higher Level of Pay Matrix
Bunching of steps in the revised pay structure
parity in pay scales between Assistants/ Stenographers in field/ Subordinate Offices and Assistant Section Officers and Stenographers in CSS
Additional Secretary (Pers.), DoE stated that there seems to be a difference of perception insofar as these points are concerned. Hence, a separate meeting of the Staff Side with the officers of D/ o Expenditure is required to be held to arrive at some amicable solution.
As regards grant of Grade Pay of 5400 to Senior Section Officers of Railways, AAOs of IA&AD, and Organised Accounts (Civil Accounts, Postal Accounts, and Defence Accounts), she stated that Orders in this regard have already been issued and the matter is resolved.
Decision: The chairman directed that a separate meeting of the Staff Side with the officers of DoE may be held to resolve these issues.
Related to Your Search: