Implementation of 6th CPC recommendations to Private Sector employees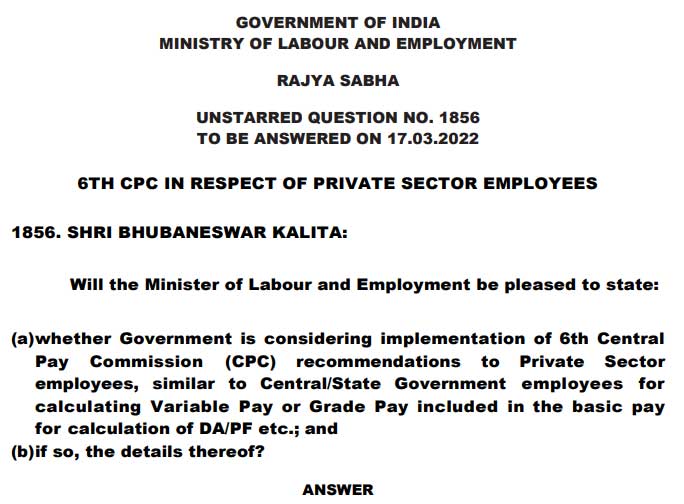 GOVERNMENT OF INDIA
MINISTRY OF LABOUR AND EMPLOYMENT
RAJYA SABHA
UNSTARRED QUESTION NO. 1856
TO BE ANSWERED ON 17.03.2022
1856. SHRI BHUBANESWAR KALITA:
Will the Minister of Labour and Employment be pleased to state:
(a)whether Government is considering implementation of 6th Central Pay Commission (CPC) recommendations to Private Sector employees, similar to Central/State Government employees for calculating Variable Pay or Grade Pay included in the basic pay for calculation of DA/PF etc.; and
(b)if so, the details thereof?
ANSWER
MINISTER OF STATE FOR LABOUR AND EMPLOYMENT (SHRI RAMESWAR TELI)
(a) & (b): No, Sir. However, under the provisions of the Minimum Wages Act, 1948, both the Central and the State Governments are mandated to fix, review and revise the minimum wages of the employees employed in the scheduled employments in public and private sector under their respective jurisdictions. In order to protect the minimum wages against inflation, the Central Government revises the Variable Dearness Allowance (V.D.A) on basic rates of minimum wages every six months effective from 1st April and 1st October every year on the basis of Consumer Price Index for Industrial workers and accordingly it was last revised w.e.f. 01.10.2021. Statement showing increased rates of wages on account of revision in VDA from 01.04.2021 to 01.10.2021 is at Annexure.