Periodic Review of Central Govt Employees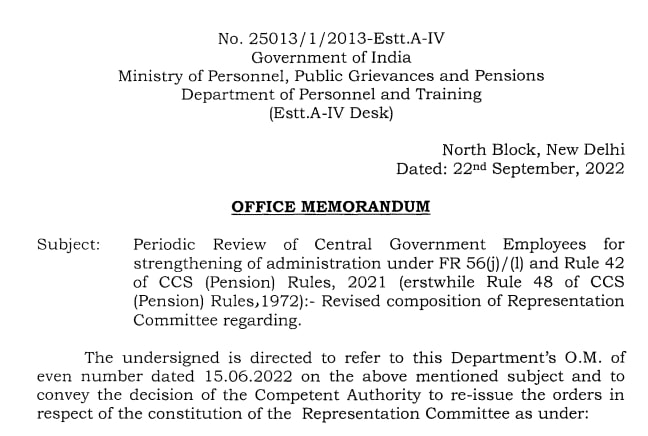 No. 25013/1/2013 -Estt.A-IV
Government of India
Ministry of Personnel, Public Grievances and Pensions
Department of Personnel and Training
(Estt.A -IV Desk)
North Block, New Delhi
Dated: 22nd September, 2022
OFFICE MEMORANDUM
Subject: Periodic Review of Central Government Employees for strengthening of administration under FR 56U)/(l) and Rule 42 of CCS (Pension) Rules, 2021 (erstwhile Rule 48 of CCS (Pension) Rules, 1972) :- Revised composition of Representation Committee regarding.
The undersigned is directed to refer to this Department's O.M. of even number dated 15.06.2022 on the above mentioned subject and to convey the decision of the Competent Authority to re-issue the orders in respect of the constitution of the Representation Committee as under:
i. Ms Arti Ahuja, Secretary, Ministry of Labour & Employment;
ii. Shri Puneet Kansal, Additional Secretary, Cabinet Secretariat; and
iii. One member nominated by Cadre Controlling Authority.
(Satish Kumar)
Under Secretary to the Govt. of India
To
All Secretaries of Ministries/Departments
(As per Standard List)
Download Periodic Review of Central Government Employees for strengthening of administration under FR 56U)/(l) and Rule 42 of CCS (Pension) Rules 2021 – DoPT PDF