Ministry of Defence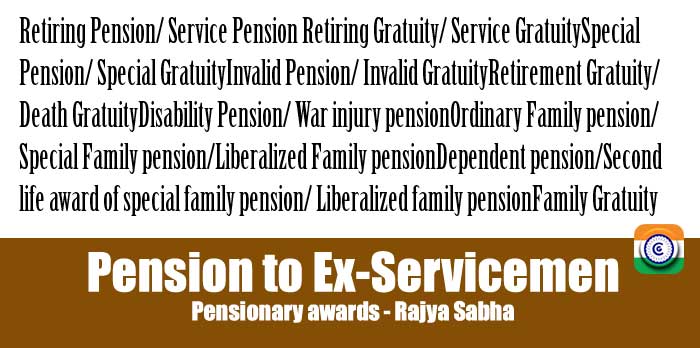 Pension to Ex-Servicemen
09 AUG 2021
As per the current pension structure applicable to Armed Forces personnel, the following pensionary awards are given:
Retiring Pension/ Service Pension
Retiring Gratuity/ Service Gratuity
Special Pension/ Special Gratuity
Invalid Pension/ Invalid Gratuity
Retirement Gratuity/ Death Gratuity
Disability Pension/ War injury pension
Ordinary Family pension/ Special Family pension/Liberalized Family pension
Dependent pension/Second life award of special family pension/ Liberalized family pension
Family Gratuity
Pension is calculated at 50% of the last emoluments drawn by the individual. The minimum qualifying service for earning a service pension is 20 years in the case of Commissioned Officers and 15 years in the case of Personnel Below Officer Rank.
Pension in respect of Armed Forces personnel has increased from time to time on the basis of recommendations of various Central Pay Commissions. In addition, various Government policy letters have been issued from time to time which resulted in an increase in pension/family pension.
This information was given by Raksha Rajya Mantri Shri Ajay Bhatt in a written reply to Shri Tiruchi Siva in Rajya Sabha today.
PIB News
Related to Your Search: