Jharkhand Government Holidays 2021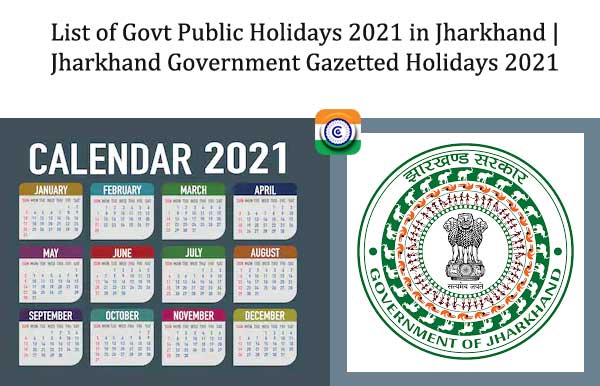 Government of Jharkhand has released the following days to be Gazetted and Restricted Holidays for the Government offices in Jharkhand during the year 2021.
Governor Draupadi Murmu has released the official calendar for the year 2021. In the year 2021, 22 days leave granted under the NI Act and 16 days leave under executive order have been given. Government employees will get 38 holidays on new year.
Governor Draupadi Muramu has released the calendar for the year 2021 holidays. According to this calendar, government workers will get only 38 days of holidays this year. At the same time, four holidays of Holika Dahan, Mahavir Jayanti, Independence Day, and Raksha Bandhan have been cut off because they are occurring on Sundays. No separate leave has been announced for the same
The first government holiday in the New Year 2021 will be for Sohrai on January 13, 2021. At the same time, employees will not get the benefit of the annual closure of bank accounts on 1 April Thursday.
List of Govt Public Holidays 2021 in Jharkhand | Jharkhand Government Gazetted Holidays 2021
26 January 2021 – Tuesday – Republic Day
11 March 2021 – Thursday – Mahashivratri
29 March 2021 – Monday – Holi
2 April 2021 – Friday – Good Friday
14 April 2021 – Wednesday – Ambedkar Jayanti
15 April 2021 – Thursday – Sihul
21 April 2021 – Wednesday – Ram Navami
14 May 2021 – Friday – Eid-ul-Fitr
26 May 2021 – Wednesday – Buddha Purnima
21 July 2021 – Wednesday – Eid-ul-Zuha (Bakra Eid)
19 August 2021 – Thursday – Muharram
30 August 2021 – Monday – Janmashtami
17 September 2021 – Friday – Vishwakarma Puja
02 October 2021 – Saturday – Gandhi Jayanti
13 October 2021 – Wednesday – Mahamashtami
14 October2021 – Thursday – Mahanavami
15 October 2021 – Friday – Vijaya Dashmi
19 October 2021 – Tuesday – Milad-ul-Nabi
04 November 2021 – Thursday – Deepavali
10November 2021 – Wednesday – Surya Shashthi
19 November 2021 – Friday – Shri Guru Nanak Jayanti
25 December 2021 – Saturday – Christmas
झारखंड सरकार के राजपत्रित अवकाश 2021
26 जनवरी 2021 – मंगलवार – गणतंत्र दिवस
11 मार्च 2021 – गुरुवार- महाशिवरात्रि
29 मार्च 2021 – सोमवार- होली
2 अप्रैल 2021 – शुक्रवार- गुड फ्राइडे
14 अप्रैल 2021 – बुधवार- अंबेडकर जयंती
15 अप्रैल 2021 – गुरुवार – सरहुल
21 अप्रैल 2021 – बुधवार – रामनवमी
14 मई 2021 – शुक्रवार – ईद-उल-फितर
26 मई 2021 – बुधवार – बुद्ध पूर्णिमा
21 जुलाई 2021 – बुधवार – ईद-उल-जुहा (बकरीद)
19 अगस्त 2021 – गुरुवार – मुहर्रम
30 अगस्त 2021 – सोमवार – जनमाष्टमी
17 सितंबर 2021 – शुक्रवार – विश्वकर्मा पूजा
2 अक्टूबर 2021 – शनिवार – गांधी जयंती
13 अक्टूबर 2021 – बुधवार – महाष्टमी
14 अक्टूबर 2021 – गुरुवार – महानवमी
15 अक्टूबर 2021 – शुक्रवार – विजयादशमी
19 अक्टूबर 2021 – मंगलवार – मिलाद-उल-नबी (पैगंबर मो. का जन्मदिवस)
4 नवंबर 2021 – गुरुवार – दीपावली
10 नवंबर 2021 – बुधवार – सूर्य षष्ठी (सायं अर्घ्य)
19 नवंबर 2021 – शुक्रवार – श्री गुरु नानक जयंती
25 दिसंबर 2021 – शनिवार – क्रिसमस
Executive leave
Sohrai – 13 January 2021 – Wednesday
Makar Sankranti – 14 January 2021 – Thursday
Subhash Chandra Bose Jayanti – 23 January 2021 – Saturday
Basant Panchami – 16 February 2021 – Tuesday
Sant Ravidas Jayanti – 27 February 2021 – Saturday
Labour Day – 1 May 2021 – Saturday
Hool Divas – 30 June 2021 – Wednesday
Rath Yatra – 12 July 2021 – Monday
World Aboriginal Day – 9 August 2021 – Monday
Ganesh Chaturthi – 10 September 2021 – Friday
Navratri – 7 October 2021 – Thursday
Dussehra (Maha Saptami) – 12 October 2021 – Tuesday
Govardhan Puja – 5 November 2021 – Friday
Chitragupta Puja-Bhaiya Dooj – 6 November 2021 – Saturday
Chhath Morning Argh – 11 November 2021 – Thursday
Bhagwan Birsa Munda Jayanti – State Foundation Day – 15 November2021 – Monday
कार्यपालक अवकाश
सोहराय-13 जनवरी 2021 – बुधवार
मकर संक्राति-14 जनवरी 2021 – गुरुवार
सुभाषचंद्र बोस जयंती-23 जनवरी 2021 – शनिवार
बसंत पंचमी-16 फरवरी 2021 – मंगलवार
संत रविदास जयंती-27 फरवरी 2021 – शनिवार
मजदूर दिवस-1 मई 2021 – शनिवार
हूल दिवस-30 जून 2021 – बुधवार
रथयात्रा-12 जुलाई 2021 – सोमवार
विश्व आदिवासी दिवस-9 अगस्त 2021 – सोमवार
गणेश चतुर्थी-10 सितंबर 2021 – शुक्रवार
शारदीय नवरात्र-7 अक्टूबर 2021 – गुरुवार
12 अक्टूबर 2021 – मंगलवार- दशहरा (महासप्तमी)
5 नवंबर 2021 – शुक्रवार- गोवर्धन पूजा
6 नवंबर 2021 – शनिवार- चित्रगुप्त पूजा-भैया दूज
11 नवंबर 2021 – गुरुवार – छठ प्रात: अर्घ्य
15 नवंबर 2021 – सोमवार – भगवान बिरसा मुंडा जयंती-राज्य स्थापना दिवस
The holiday which will not be declared because of Sunday
Holika Dahan – March 28, 2021
Mahavir Jayanti – 25th April, 2021
Independence Day – August 15, 2021
Raksha Bandhan – August 22, 2021
रविवार को पड़ने वाले त्‍योहारों पर अवकाश घोषित नहीं होगा
28 मार्च को होलिका दहन
25 अप्रैल को महावीर जयंती
15 अगस्‍त को स्वतंत्रता दिवस
22 अगस्त को रक्षाबंधन
Jharkhand Govt Holiday List 2021 pdf