Haryana Government Holidays 2021 | Haryana Govt Gazetted Holidays 2021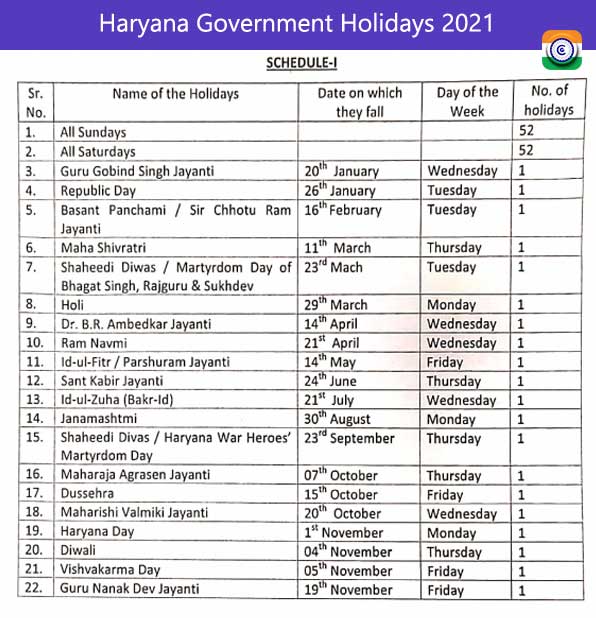 The Government of Haryana declares the following days to be Gazetted and Restricted Holidays for the Government offices of Haryana during the year 2021.
HARYANA GOVERNMENT
GENERAL ADMINISTRATION DEPARTMENT
NOTIFICATION
No. 28/67/2018-3GSII
Dated, Chandigarh the 03.12.2020
It is hereby notified that the holidays enumerated in the schedule below shall be observed as public holidays in the public offices under the Haryana Government during the Calendar Year 2021.
List of Govt Public Holidays 2021 in Haryana | Haryana Govt Compulsory Holiday List 2021
SCHEDULE-1
All Saturdays and Sundays are Holidays – Total No. of Holidays – 104 Days
Guru Gobind Singh Jayanti – 20 January 2021 – Wednesday
Republic Day – 26 January 2021 – Tuesday
Basant Panchami / Sir Chhotu Ram Jayanti – 16 February 2021 – Tuesday
Maha Shivratri – 11 March 2021 – Thursday
Shaheedi Diwas / Martyrdom Day of Bhagat Singh, Rajguru & Sukhdev – 23 March 2021 – Tuesday
Holi – 29 March 2021 – Monday
Dr. B.R. Ambedkar Jayanti – 14 April 2021 – Wednesday
Ram Navmi – 21 April 2021 – Wednesday
Id-ul-Fitr/ Parshuram Jayanti – 14 May 2021 – Friday
Sant Kabir Jayanti – 24 June 2021 – Thursday
Id-ul-Zuha (Bakr-ld) – 21 July 2021 – Wednesday
Janamashtmi – 30 August 2021 – Monday
Shaheedi Divas / Haryana War Heroes' Martyrdom Day – 23 September 2021 – Thursday
Maharaja Agrasen Jayanti – 07 October 2021 – Thursday
Dussehra – 15 October 2021 – Friday
Maharishi Valmiki Jayanti – 20 October 2021 – Wednesday
Haryana Day – 1 November 2021 – Monday
Diwali – 04 November 2021 – Thursday
Vishvakarma Day – 05 November 2021 – Friday
Guru Nanak Dev Jayanti – 19 November 2021 – Friday
Note: The following festivals and occasions which fall on closed day have been excluded from the list of Public Holidays:
Guru Ravidas Jayanti – 27th February 2021 – Saturday
Mahavir Jayanti – 25th April 2021 – Sunday
Maharana Pratap Jayanti – 13th June 2021 – Sunday
Shaheed Udham Singh Martyrdom Day – 31st July 2021 – Saturday
Independence Day – 15th August 2021 – Sunday
Raksha Bandhan – 22nd August 2021 – Sunday
Mahatama Gandhi Jayanti – 2nd October 2021 – Saturday
Christmas – 25th December 2021 – Saturday
CHECK ALSO: CGEWCC Chandigarh – List of Compulsory and Restricted Holidays 2021
SCHEDUIE-II
Haryana Govt Restricted Holiday List 2021
Note: Besides the above holidays nil the employees Including outsourced employees/persons may be allowed to avail any three holidays to be chosen out of the Restricted Holidays as mentioned below:
Maharishi Dayanand Saraswati Jayanti (with Stale celebrations) – 08 March 2021 – Monday
Good Friday – 02 April 2021 – Friday
Budh Purnima – 26 May 2021 – Wednesday
Guru Arjan Dev Shaheedi Diwas / Martyrdom Day – 14 June 2021 – Monday
Haryali Teej – 11 August 2021 – Wednesday
Muharram – 20 August 2021 – Friday
MIlad-un-Nabi or Id-E-Milad (Birth of Prophet Mohammad) – 19 October 2021 – Tuesday
Karwachauth – 24 October 2021 – Sunday
Goverdhan Puja – 05 November 2021 – Friday
Chhath Puja – 10lh November 2021 – Wednesday
Guru Teg Bahadur Shaheedi Diwas – 24 November 2021 – Wednesday
Shaheed Udham Singh Jayanti – 26 December 2021 – Sunday
It is also hereby notified that the holidays enumerated in the schedule below shall be observed as public holidays In the State of Haryana (Except Judicial Courts, In the State of Haryana) during the Calendar year 2021 within the meaning of Section 25 of Negotiable Instruments Act, 1881: –
SCHEDULE-III
All Sundays are Holidays – Total No. of Holidays – 52 Days
Republic Day – 26 January 2021 – Tuesday
Guru Ravidas Jayanti – 27 February 2021 – Saturday
Maha Shivratri – 11 March 2021 – Thursday
Holi – 29 March 2021 – Monday
Annual closing of Bank Account (1st working day of April) – 1 April 2021 – Thursday
Mahavir Jayanti – 25 April 2021 – Sunday
Dr. B.R. Ambedkar Jayanti – 14 April 2021 – Wednesday
Budh Purnima – 26 May 2021 – Wednesday
Id-ul-Fitr – 14 May 2021 – Friday
Id-ul-Zuha (Bakr-ld) – 2 July 2021 – Wednesday
Janamashtmi – 30 August 2021 – Monday
Independence Day – 15 August 2021 – Sunday
Mahatama Gandhi Jayanti – 2 October 2021 – Saturday
Dussehra – 15 October 2021 – Friday
Maharishi Valmiki Jayanti – 20 October 2021 – Wednesday
Diwali – 04 November 2021 – Thursday
Guru Nanak Dev Jayanti – 19 November 2021 – Friday
Christmas – 25 December 2021 – Saturday
Dated Chandigarh
the 03.12.2020
(Vijay Vardhan)
Chief Secretary to Government, Haryana
Central Government Holidays 2021 in Haryana
Central Government released dopt orders on Holidays during the year 2021
Central Government Gazetted Holiday List during the year 2021
Republic Day – 26 January 2021 – Tuesday
Holi – 29 March 2021 – Monday
Good Friday – 2 April 2021 – Friday
Ram Navami – 21 April 2021 – Wednesday
Mahavir Jayanti – 25 April 2021 – Sunday
Id-ul-Fitr – 14 May 2021 – Friday
Budha Purnima – 26 May 2021 – Wednesday
Id-ul-Zuha (Bakrid) – 21 July 2021 – Wednesday
Independence Day – 15 August 2021 – Sunday
Muharram – 19 August 2021 – Thursday
Janmashtami – 30 August 2021 – Monday
Mahatma Gandhi's Birthday – 02 October 2021 – Saturday
Dussehra – 15 October 2021 – Friday
Milad-un-Nabi or Id-e-Milad [Birthday of Prophet Mohammad] – 19 October 2021 – Tuesday
Diwali (Deepavali) – 04 November 2021 – Thursday
Guru Nanak's Birthday – 19 November 2021 – Friday
Christmas Day 25- December 2021 – Saturday
Central Government Restricted Holiday List during the year 2021
(Vijay Vardhan)
Chief Secretary to Government, Haryana
Central Government Holidays 2021 in Haryana
Central Government released dopt orders on Holidays during the year 2021
Central Government Gazetted Holiday List during the year 2021
Central Government Restricted Holiday List during the year 2021
New Year's Day – 01 January 2021 – Friday
Lohri – 13 January 2021 – Wednesday
Makar Sankranti/Magha Bihu/ Pongal – 14 January 2021 – Thursday
Guru Gobind Singh's Birthday – 20 January 2021 – Wednesday
Basant Panchami / Sri Panchami – 16 February 2021 – Tuesday
Shivaji Jayanti – 19 February 2021 – Friday
Hazarat Ali's Birthday – 26 February 2021 – Friday
Guru Ravi Das's Birthday – 27 February 2021 – Saturday
Swami Dayananda Saraswati Jayanti – 08 March 2021 – Monday
Maha Shivaratri – 11 March 2021 – Thursday
Holika Dahan/Dolyatra – 28 March 2021 – Sunday
Easter Sunday – 04 April 2021 – Sunday
(Jhaitra Sukladi / Gudi Padava / Ugadi / Cheti Chand / Vaisakhi /Vishu – 13 April 2021 – Tuesday
Mesadi Tamil New Year's Day – 14 April 2021 – Wednesday
Vaisakhadi (Bengal) / Bahag Bihu (Assam) – 15 April 2021 – Thursday
Jamat-Ul-Vida – 07 May 2021 – Friday
Guru Rabindranath's birthday – 09 May 2021 – Sunday
Rath Yatra – 12 July 2021 – Monday
Parsi New Year's day/Nauraj – 16 August 2021- Monday
Onam or Thiru Onam Day – 21 August 2021 – Saturday
Raksha Bandhan – 22 August 2021 – Sunday
Janmashtami (Smarta) – 30 August 2021 – Monday
Vinayaka Chaturthi/ Gancsh Chaturthi – 10 September 2021 – Friday
Dussehra (Saptami) – 12 October 2021 – Tuesday
Dussehra (Mahashtami) – 13 October 2021 – Wednesday
Dussehra (Mahanavmi) – 14 October 2021 – Thursday
Maharishi Valmiki's Birthday – 20 October 2021 – Wednesday
Karaka Chaturthi (Karwa Chouth) – 24 October 2021 – Sunday
Naraka Chaturdasi – 03 November 2021 – Wednesday
Govardhan Puja – 05 November 2021 – Friday
Bhai Duj – 06 November 2021 – Saturday
Pratihar Shashthi or Surya Shashthi (Chhat Puja) – 10 November 2021 – Wednesday
Guru Teg Bahadur's Martyrdom Day – 24 November 2021 – Wednesday
Christmas Eve – 24 December 2021 – Friday