Covid-19 treatment to CSMA Personnel
Extension of facilities for treatment of Covid-19 related treatment to CSMA covered Personnel
Bharatiya Pratiraksha Mazdoor Sangh
(AN ALL INDIA FEDERATION OF DEFENCE WORKERS)
(AN INDUSTRIAL UNIT OF B.M.S)
(RECOGNISED BY MINISTRY OF DEFENCE, GOVT. OF INDIA)
CENTRAL OFFICE : 2-A,
NAVIN MARKET, KANPUR-1
Dated: 09.08.2020
Ref: Covid-19_ CSMA/NCC(4/1/L)
To,
The Secretary (H&FW)
Government of India,
Ministry of Health & Family Welfare,
Nirman Bhavan, New Delhi- 110011
Sub : Extension of facilities for treatment of Covid-19 related treatment to CSMA covered Personnel.
Sir,
Your attention is invited to the letter cited under reference above wherein beneficiaries under CGHS have been extended the facility to avail Covid-19 related treatment in private hospitals empanelled under CGHS.
The pandemic is spreading rapidly with the passage of every day and it is observed that those personnel who are covered under the CSMA scheme are finding it extremely difficult to avail timely and proper treatment in the absence of guidelines.
Also check: Grant of Permission for treatment of COVID-19 infected Central Government Employees in all Hospitals
It is also observed that at most of the occasion, beds in Government hospitals are not available as a result of which CSMA governed employees are forced to avail treatment at private hospitals at enormous rates.
In view of the above, you are requested to kindly examine the matter and issue necessary directives at the earliest.
Thanking You,
Sincerely Yours
(SADHU SINGH)
Vice President Member
National Council (JCM)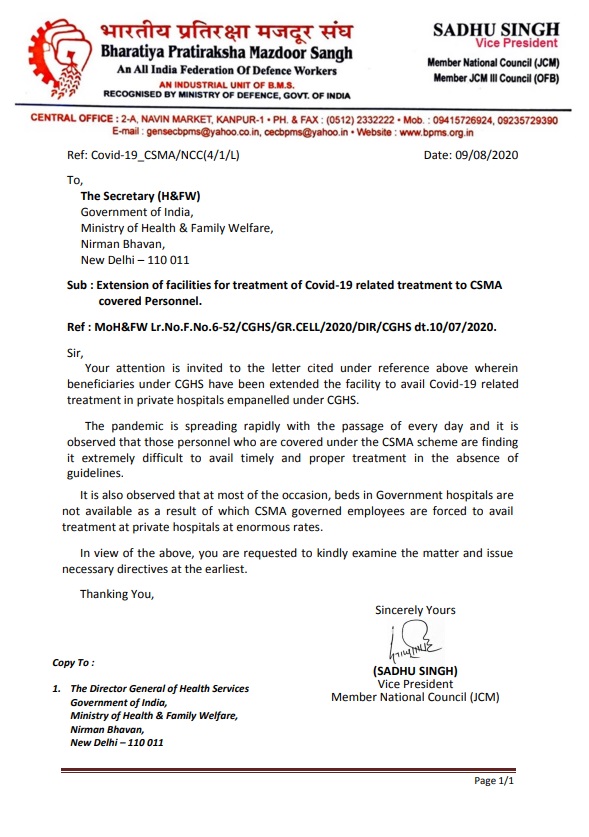 Related to Your Search: