CSD AFD Online Portal Registration Login Shopping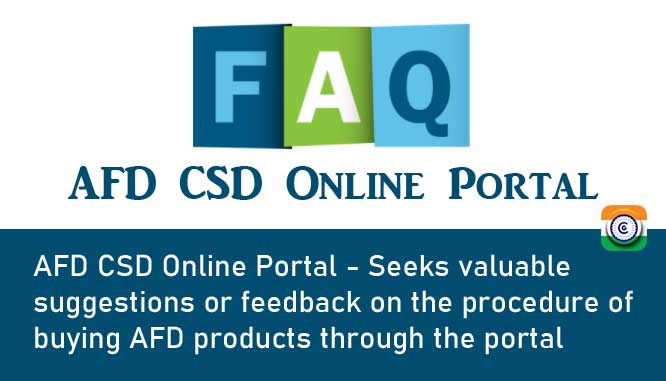 CSD – A new online marketplace for the procurement of AFD-I goods for Armed Forces personnel and retired servicemen has recently been created and introduced by the Canteen Stores Department.
The link to the CSD AFD Website Portal is afd.csdindia.gov.in
Registration is mandatory for all CSD customers on the CSD AFD Web Site. Only a CSD user can log in to this portal after registration approval. Remember that the service number can not be used when signing up.
The CSD AFD Portal Registration is afd.csdindia.gov.in/register
CSD AFD Online Portal Registration Login Shopping
How can I make payments through the CSD AFD Online Portal?

You can press the 'Checkout' button after choosing color, dealer, depot, and URC canteen items. You may be led to the next payment option if you are eligible to purchase the items. In any digital mode, like debit card, credit card, bank online payment, etc., you can pay the number.

How to get the LS Order from the CSD AFD Platform after buying it?

You will get the alert on your registered cell phone after a good purchase on the CSD AFD portal. And within a week, you will receive a message from the chosen URC Canteen to collect the local supply order.

How to close the AFD CSD Portal order?

You can cancel the order with the alternative available on this portal, even after paying the amount charged online. You will not, however, cancel the transaction after creating the LS Order.