Green Book – Compendium of instructions/ guidelines issued by the Office of the Director (Canteens) – DoPT
No.15/4/2007-Dir. (C)
Government of India
Department of Personnel, P.G. and Pensions
(Department of Personnel & Training)
3rd Floor, Lok Nayak Bhawan, Khan Market,
New Delhi dated 13/09/2022
OFFICE MEMORANDUM
Subject: Compendium of instructions/ guidelines issued by the Office of the Director (Canteens) – regarding.
Office of the Director (Canteens) being the nodal authority has issued various instructions/ guidelines on various aspects of Non-Statutory Departmental Canteens and its employees. The Orders issued by Office of Director (Canteens) from time to time had been brought together in the compilation "Administrative Instructions on Departmental Canteens in Government Office and Industrial Establishments" (Known as "Green Book"). Since then, certain instructions / orders have been revised and new instructions have also been issued by this Department.
2. It may be mentioned here that the instructions/ guidelines issued by this Department are to be implemented by the administrative Ministries/ Departments of the respective departmental canteens. With a view to provide complete gist of functioning of departmental canteens, the orders issued by this Department till date have been compiled and enclosed herewith for ready reference. All the orders mentioned herein available on DoPT's website (www.dopt.gov.in => Notification => OM & Orders => Canteen).
3. All the Ministries/ Departments are requested to bring the instructions/ guidelines to the concerned Establishments/ Attached/ Subordinate Offices under their jurisdiction.
Encl.:- As above
(Kulbhushan Malhotra)
Under Secretary to the Government of India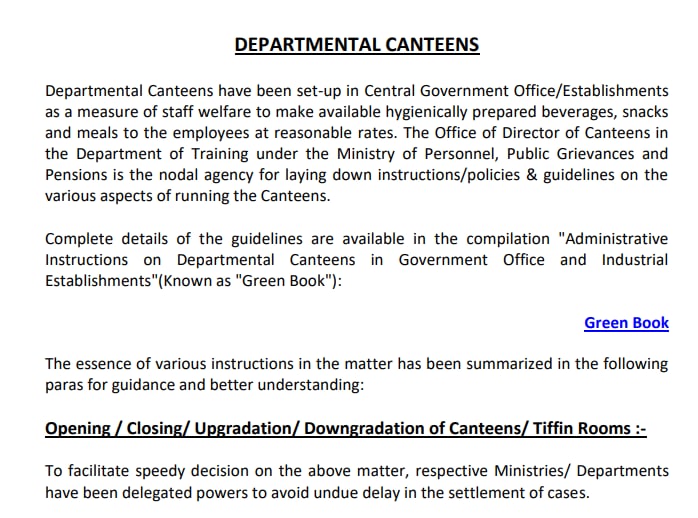 Download Compendium of instructions/guidelines issued by the Office of the Director (Canteens) PDF