KVS Office Holiday List 2021 Bangalore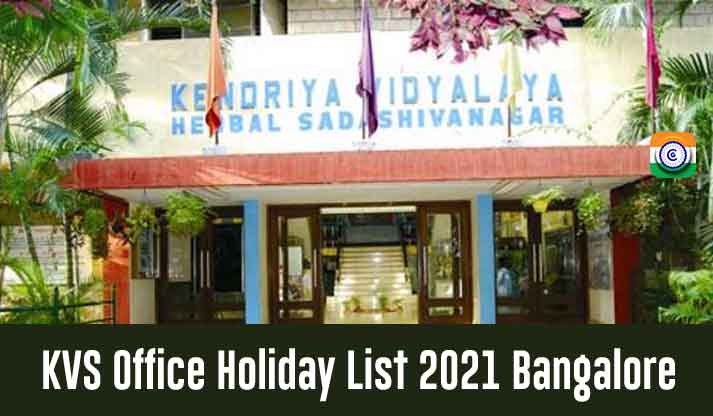 The latest list of Holidays observed the General Holidays during the year 2021 for Kendriya Vidyalaya in Bengaluru, Regional Office, Karnataka.
KEKDRIYA VIDYALAYA SANGATKAN, REGIONAL OFFICE
[Autonomous Body Under Ministry of Education, Government of India]
K. Kamaraja Road, Bengaluru – 560042
Website: https://robangalore.kvs.gov.in/
Email: [email protected]
F. (Circular)Gen / 2020-21 / RO / BGR / Admn. / 5320
Date: 04.01.2021
The Principal
Kendriya Vidyalayas
Bengaluru Region
Sub: Holidays to be observed by Central Government Offices in Karnataka during the year 2021-reg.
Madam/Sir,
Please find enclosed herewith, the approved list of General Holidays and Restricted Holidays to be observed by all Central Government offices in the State of Karnataka for the year 2021, received from the Treasurer Central Government Employees Welfare Co-ordination Committee (CGEWCC), Karnataka, for information and necessary action.
Regional Office / Kendriya Vidyalayas of Bengaluru Region will observe the General Holidays during 2021 as per the enclosed list.
Yours faithfully,
sd/-
(S.SAMBANNA)
DEPUTY COMMISSIONER
KV School Vacation and Breaks 2021 – 2022
Kendriya Vidyalaya Sangathan has announced the summer vacation holidays and winter breaks for the academic session 2021-22
Summer Vacation: 10.05.2021 (Monday) to 18.06.2021 (Friday) – 40 Days
Autumn Break: 11.10.2021 (Monday) to 20.10.2021 (Wednesday) – 10 Days
Winter Break: 21.12.2021 (Tuesday) to 09.01.2022 (Sunday) – 20 Days [Click here to read more]
ANNEXUHE-I
HOLIDAYS TO BE OBSERVED IN CENTRAL GOVERNMENT OFFICES IN KARNATAKA DURING THE YEAR 2021
Makar Sankaranti / Pongal – 14/01/2021 – Thursday
Republic Day – 26/01/2021 – Tuesday
Good Friday – 02/04/2021 – Friday
Ugadi – 13/04/2021 – Tuesday
Mahavir Jayanti – 25/04/2021 – Sunday
ld-ul-Fitr – 14/05/2021 – Friday
Buddha Purnima – 26/05/2021 – Wednesday
Id-ul-Zuha – 21/07/2021 – Wednesday
Independence Day – 15/08/2021 – Sunday
Muharram – 19/08/2021 – Thrusday
Ganesh Chaturthi / Vinayak Chaturthi – 10/09/2021 – Friday
Mahatma Gandhi's Birthday – 02/10/2021 – Saturday
Dussehra (Vijay Dashmi) – 15/10/2021 – Friday
Prophet Mohammad's Birthday (Id-e- Milad) – 19/10/2021 – Tuesday
Diwali (Deepavali) – 04/11/2021 – Thursday
Guru Nanak's Birthday – 19/11/2021 – Friday
Christmas Day – 25/12/2021 – Saturday
ANNEXURE -II
LIST OF RESTRICTED HOLIDAYS FOR THE CALENDAR YEAR 2021 FOR CENTRAL GOVERNMENT OFFICES IN KARNATAKA
New Year's Day – 01/01/2021 – Friday
Lohri – 13/01/2021 – Wednesday
Guru Govind Singh's Birthday – 20/01/2021 – Wednesday
Basant Panchami / Sri Panchami – 16/02/2021 – Tuesday
Shivaji Jayanti – 19/02/2021 – Friday
Hazarat Ali's Birthday – 26/02/2021 – Friday
Guru Ravi Das's Birthday – 27/02/2021 – Saturday
Swami Dayananda Saraswati Jayanti – 08/03/2021 – Monday
Maha Shivratri – 11/03/2021 – Thursday
Holika Dahan/ Dolyatra – 28/03/2021 – Sunday
Easter Sunday – 04/04/2021 – Sunday
Mesadi Tamil New Year's Day – 14/04/2021 – Wednesday
Vaisakhadi (Bengal)/ Bahag Bihu(Assam) – 15/04/2021 – Thursday
Ram Navami – 21/04/2021 – Wednesday
Jamat-UI- Vida – 07/05/2021 – Friday
Guru Rabindranath's Birthday 09/05/2021 – Sunday
Rath Yatra – 12/07/2021 – Monday
Parsi New Year's day/ Nauraj – 16/08/2021 – Monday
Onum or Thiru Onam Day – 21/08/2021 – Saturday
Raksha Bandhan – 22/08/2021 – Sunday
Janmashtami (Smarta) – 30/08/2021 – Monday
Mahalaya Amavasye – 06/10/2021 – Wednesday
Dussehra (Saptami) – 12/10/2021 – Tuesday
Dussehra (Mahashtami) – 13/10/2021 – Wednesday
Dussehra (Mahanavmi) – 14/10/2021 – Thursday
Maharishi Valmiki's Birthday – 20/10/2021 – Wednesday
Karaka Chaturthi (Karwa Chouth) – 24/10/2021 – Sunday
Kannada Rajyothsava – 01/11/2021 – Monday
Naraka Chaturdasi – 04/11/2021 – Thursday
Govardhan Puja – 05/11/2021 – Friday
Bhai Duj – 06/11/2021 – Saturday
Pratihar Shashthi or Surya Shashthi (Chhat Puja) – 10/11/2021 – Wednesday
Guru Teg Bahadur's Martyrdom Day – 24/11/2021 – Wednesday
Christmas Eve – 24/12/2021 – Friday
(MURAUDHAR RAJU G)
Income Tax Officer (HQ)(PR)
& Treasurer CGEWCC,
Karnataka