KVS DIRECT RECRUITMENT 2023
The OMR sheet and answer key are now available for download from the website for applicants who took part in the KVS Direct Recruitment Competitive Examination from 12.02.2023 to 01.03.2023, for the positions of PGTs, TGTs, PRTs, Assistant Engineers, Financial Officers, and Hindi Translators. If a candidate is not happy with the answer key, they can submit their challenge by following a certain process and clicking on a link on the website. KVS has extended the deadline for viewing and contesting the answer key until Wednesday, March 12, 2023, at 11:59 p.m. this is because several candidates had trouble downloading their tried question papers.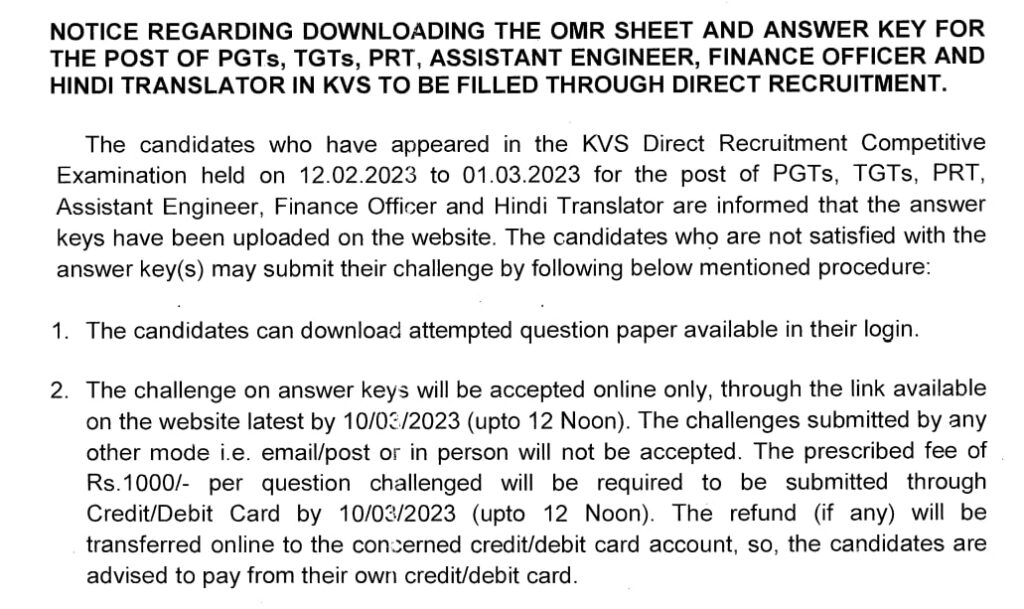 KENDRIYA VIDYALAYA SANGATHAN (HQ)
18, INSTITUTIONAL AREA, SHAHEED JEET SINGH MARG,
NEW DELHI-110016
Email: www.kvsangathan.nic.in
No.11053/1/2022KVS/RPS
Dated:10.03.2023
NOTICE REGARDING DOWNLOADING THE OMR SHEET AND ANSWER KEY FOR THE POST OF PGTs, TGTs, PRT, ASSISTANT ENGINEER, FINANCE OFFICER AND HINDI TRANSLATOR IN KVS TO BE FILLED THROUGH DIRECT RECRUITMENT.
The candidates who have appeared in the KVS Direct Recruitment Competitive Examination held on 12.02.2023 to 01.03.2023 for the post of PGTs, TGTs, PRT, Assistant Engineer, Finance Officer and Hindi Translator are informed that the answer keys have been uploaded on the website. The candidates who are not satisfied with the answer key(s) may submit their challenge by following below mentioned procedure:
The candidates can download attempted question paper available in their login.
The challenge on answer keys will be accepted online only, through the link available
on the website latest by 10/0 '/2023 (upto 12 Noon). The challenges submitted by any other mode i.e. email/post or in person will not be accepted. The prescribed fee of Rs.1000/- per question challenged will be required to be submitted through Credit/Debit Card by 10/03/2023 (upto 12 Noon). The refund (if any) will be transferred online to the concerned credit/debit card account, so, the candidates are advised to pay from their own credit/debit card.
The challenges, against which the fee is received, will be verified by the concerned subject expert(s). If the challenge of answer key is accepted i.e. if any mistake is noticed by the subject expert(s) in the answer key, a policy decision will be notified on the website and the fee shall be refunded. The decision of subject expert(s) on the challenges shall be final and no further communication will be entertained.
(Shashi Kant Sharma)
Assistant Commissioner (Admn.)
Download Last Date Has Been Extended for Downloading KVS Question Papers for PGT, TGT, PRT Posts PDF