Kendriya Vidyalaya Aligarh Online Admission 2021-2022 | KV Aligarh Class 1 Merit List 2021-2022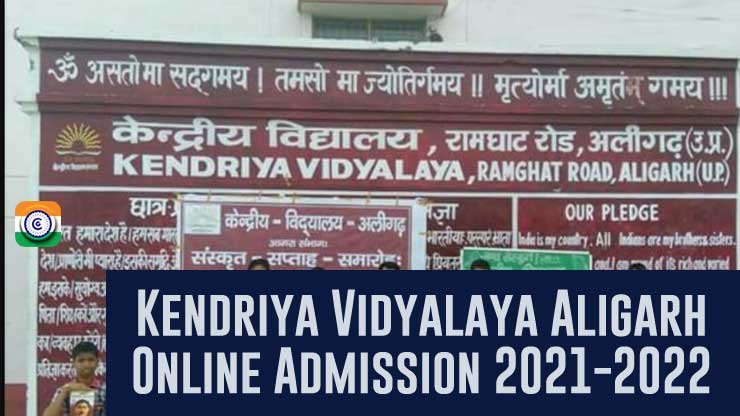 The Kendriya Vidyalaya Sangathan (KVS) will launch an online registration platform for all 1245 KV schools in India. After completion of registration, the selection list (Provisional Merit List) for the admission for the session 2021-22 will be published on the respective Kendriya Vidyalaya school website at the end of March onwards.
Kendriya Vidyalaya Aligarh online admission for session 2021-22 will be available from 1st week of March 2021 [Expected]. The online application link will be updated here after the publication of the official admission notification.
KV Aligarh Official Website: https://aligarh.kvs.ac.in/
KV Aligarh Postal Address: KendriyaVidyalaya, Village : Devsaini, Near P.A.C., Ramghat Road, Aligarh, Uttar Pradesh PIN – 202001
Phone No: 9084773474
E-mail of School: [email protected]
E-mail of Principal: [email protected]
All parents and students are requested to check regularly the official website of KV school Aligarh for admission latest updates. The official announcement for admission for class 1 and other classes is expected to release in the first week of March 2021. The Kendriya Vidyalaya Sangathan will provide the online admission form for the academic year 2021-22 for all Kendriya Vidyalaya located in India.
The KV Aligarh has announced selected student merit list for class 1 online admission during the academic year 2021-2022.
All parents are advised to keep the following documents ready with you.
a. Date of Birth Certificate of Child, Passport size photo of child
b. Service Certificate and Transfer Orders
c. Address Proof (In name of Mother / Father)
d. SC / ST / OBC(NCL) / EWS Certificate (In the name of child)
e. SGC Affidavit (for SGC applicants)
f. Non-availability of Married accommodation (If applicable)
Documents Required for KVS Admission
Kendriya Vidyalaya Aligarh Fee Structure 2021-2022
Admission Fee – Rs. 25.00
Re-Admission Fee – Rs. 100.00
Tuition Fee (Class IX & X (Boys) – Rs. 200.00
Tuition Fee(Class XI & XII Commerce & Humanities (Boys)) – Rs. 300.00
Tuition Fee (Class XI & XII Science (Boys) – Rs. 400.00
Computer Fund (Class III onwards wherever Computer Education) – Rs. 100.00
Computer Fund (Computer Science Fee. (for elective subjects) + 2 stage) – Rs. 150.00
Vidyalaya Vikas Nidhi (Classes I – XII) – Rs. 500.00 – To Check view in detail