Funds allocated for promotion of sports
Ministry of Youth Affairs and Sports
The Minister of State (Independent Charge) for Youth Affairs & Sports, Shri Sarbananda Sonowal has said that funds are being provided across the country for implementation of the Schemes/programmes for promotion of Sports as well as upliftment of youth. The details of scheme/programme-wise allocation/release/expenditure under the various schemes/programmes during each of the last three years and the current year is as below: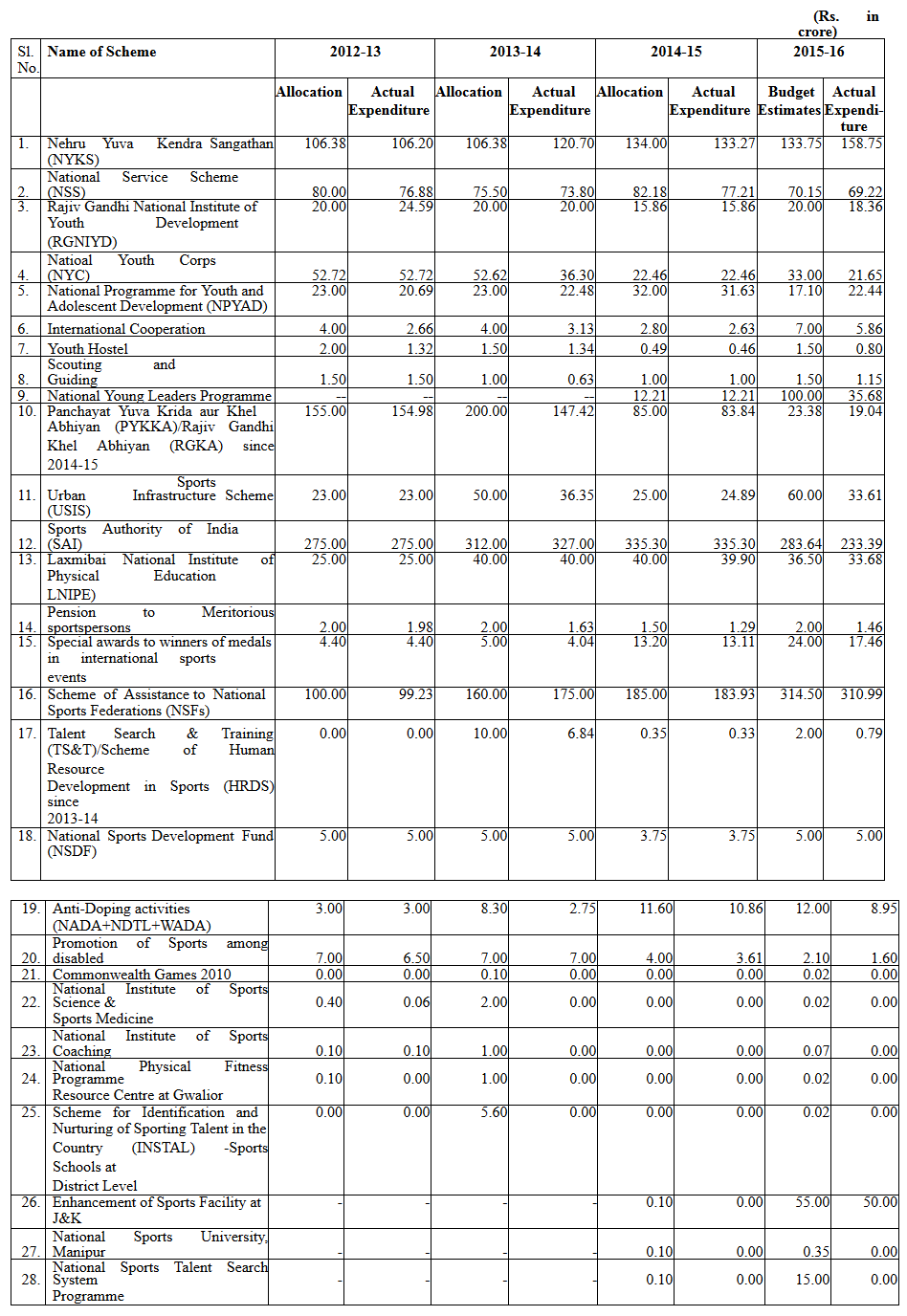 He said, the Department of Youth Affairs, Ministry of Youth Affairs and Sports, has taken several steps for spreading awareness about the National Youth Policy, 2014 and for its effective implementation.  The Policy recommends specific policy interventions for development and empowerment of youth in 11 priority areas, namely, education, employment and skill development, entrepreneurship, health and healthy lifestyle, sports, promotion of social values, community engagement, participation in politics and governance, youth engagement, inclusion and social justice. The implementation of the Policy is the collective responsibility of all concerned Central Ministries/ Departments, State Governments as well as other stakeholders. The Department of Youth Affairs is playing the coordinating/facilitating role.
The National Youth Policy, 2014 is applicable to all the youth in the country in the age-group of 15-29 years. The Department of Youth Affairs has constantly pursued the matter with all concerned Central Ministries/ Departments to take necessary steps for implementation of the Policy. The State Governments have also been requested to formulate/ revise their State Youth Policies, in line with the National Youth Policy, 2014.
In a written reply in the Rajya Sabha today the Minister said, schemes of the Department of Sports, aimed at achieving twin objectives of National Sports Policy 2001 viz., mass participation in sports and achieving excellence in sports, are being implemented impartially and with transparency.
PIB
Related to Your Search: