DA/DR unfreezing from 01.07.2021! What is the loss to pensioners?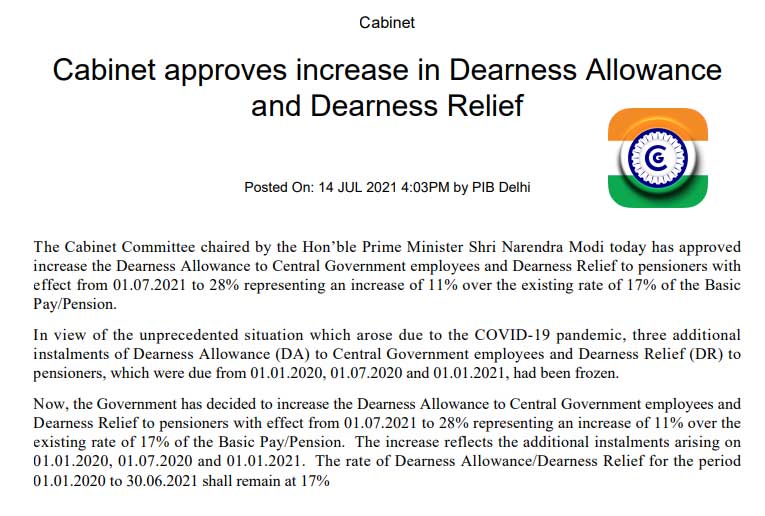 DR from July 2021 | DA Hike Latest News 2021 | DA from July 2021 Latest News | DA for Central Government Employees
The Central Cabinet has cleared the 3 instalments of DA/DR due to CG Employees and Pensioners from 01.01.2020; 01.07.2020 and 01.01.2021 (4%+3%+4% = 11%) with effect from 01.07.2021 as per the contention of the original OM issued in April 2020.
The effect of this decision is that the employees and pensioners / family pensioners will get an increased 11% of DA/DR from 01.07.2021, payable on 31.07.2021. A total of 28% of DA/DR will be paid from this month onwards.
The Central Government has naturally published the total cost of this increase from 01.07.2021. But the gain the Central Government had accrued by denying the arrears of DA/DR is huge. As per the calculation of NCCPA the DA arrears still due for 18 months to Employees is Rs.19127 crores; the DR arrears to Pensioners still due for the same period of 18 months is Rs.16235 crores. Therefore a total of 35362 crores of rupees is not going to be paid to employees and pensioners.
An individual pensioner drawing a basic pension of 10,000/- per month for example will lose a total amount of Rs.13200/- arrears for 18 months! For a Pensioners drawing a basic pension of Rs.20,000 per month will lose a sum of Rs.26400/-arrears for 18 months.
The Pensioners retired during the period from 01.01.2020 to 30.06.2021 (18 months) will get a reduced DCRG Gratuity only as the DA rise to the annual increments will not be included. Similarly, their leave salary also will not include the quantum of DA rise during this period.
AIPRPA CHQ is of the opinion that if the Central Government is adamant in releasing the DA/DR from the actual date of due (01.01.2020; 01.07.2020 and 01.01.2021) and continue to deny the benefits to the retired comrades during the past 18 months – the movement has to approach the Court in addition to launch the agitation appropriate to the pandemic. The judgment given out by the Andhra High Court and Supreme Court on the issue of reduction of pay and pension to the State Government employees by the Andhra State Government may come to our rescue. That judgment categorically states that the pay and pension cannot be reduced by the Government and ordered a rate of interest also for the period of non-grant of pay and pension. If our movement unitedly employs a constitutional lawyer and argues, there is every chance that we will win and the Central Government will be forced to pay the arrears and denied benefits to all.
AIPRPA
Related to Your Search: