CGHS Card on DigiLocker
44/35/2015/MCTC/ CGHS/DIRICGHS
Government of India
Ministry of Health & Family Welfare
Department of Health & Family Welfare
Nirman Bhawan, New Delhi
Dated the 27 January, 2022.
OFFICE MEMORANDUM
Subject: Storage of CGHS Card on DigiLocker platform for its access and use for CGHS Services
Central Government Health Scheme, in alignment with its vision of being the first choice in providing quality healthcare services and ensuring holistic well-being across clients entire life span, has found it imperative to adopt new technology and innovations in the delivery of quality healthcare.
In continuation of the these measures, it has now been decided to provide an option to store CGHS Card in DigiLocker. DigiLocker is a secure cloud based platform for storage, sharing and verification of government issued documents & certificates. It is available as a mobile application for both Android and iOS devices. Through DigiLocker Platform a CGHS beneficiary would be able to download his/her CGHS card on the mobile device.
The downloaded CGHS card shall be equivalent to the original CGHS card as per the provisions of Rule 9A of the Information Technology Rules, 2016, notified on February 8, 2017 via G.S.R. 714(E).
CGHS beneficiaries would need to download the DigiLocker App and login using their Aadhar and mobile number. A beneficiary can access only his own CGHS card at a time. In case his mobile number linked with his Aadhar is also linked with his dependent(s) Aadhar, then he will be able to access his dependents CGHS card too, only after fresh login to DigiLocker.
The steps involved for registering on DigiLocker and Application and Downloading the CGHS cards may be seen at the Annexure attached.
(Dr. Nikhilesh Chandra)
Director, CGHS
Annexure
Beneficiaries would need to follow these steps while Registering on the DigiLocker
Application and downloading the CGHS Card
Download DigiLocker Application either from Playstore or Apple store
Login through Aadhaar or Mobile Number and set 6 digits Security PIN
Enter OTP received in the registered mobile number (Mobile number must be linked with
Aadhaar Card.
Digilocker Home Page will open; search for CGHS at Central Government or Health
Section
Click on CGHS icon , and then click on lD card icon
Enter Beneficiary lD and click on 'Get Document
Click on ID card link, CGHS Card will open
The CGHS Card so available within the Digilocker Application can be used where
Original CGHS Card is required, for all intent and purposes.
STEPS TO FETCH CGHS ID IN DIGILOCKER
Step 1: Download DigiLocker Application either from Playstore or Appstore
Step 2: Login through Aadhaar or Mobile Number and set 6 digits Security PIN
Step 3: Enter OTP received at your registered mobile number
Step 4: DigiLocker Home Page will open; search for CGHS at Central Government or Health Section
Step 5: Click on CGHS icon
Step 6: Click on ID card icon
Step 7: Enter Beneficiary ID and click on 'Get Document'
Step 8: CGHS card will be fetched and stored in Issued Document Section
Step 9: Click on ID card link, CGHS Card will open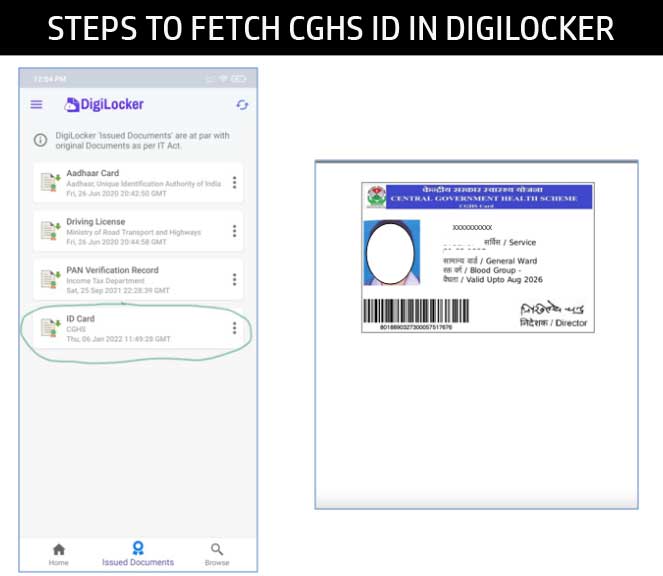 Download Storage of CGHS Card on DigiLocker platform for its access and use for CGHS Services PDF