Appraisal of Continuation of schemes beyond 31st March, 2021 – instructions – DoE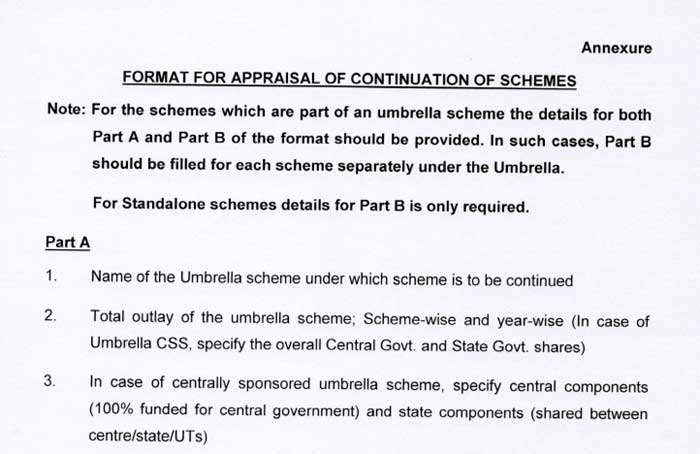 F.No. 42(02)/PF-II/2014
Government of India
Ministry of Finance
Department of Expenditure
[PFC-I Division]
North Block, New Delhi
Dated: 8th December, 2020
OFFICE MEMORANDUM
Subject: Continuation of schemes beyond 31st March, 2021 – instructions
regarding.
Reference is invited to this Department's OM No. 42(02)/PF-II /2014 dated 23rd February, 2017 on the subject of continuation of schemes beyond 12th Five Year Plan. In order to align the public funded schemes with the financial resource cycle of Central and State Governments, schemes have been made co-terminous with the Finance Commission cycles since then. The 14th Finance Commission period came to an end on 31-03-2020; however, as the final report of the 15th Finance Commission was awaited at that time, DoE vide its OM No. 42(02)/PF-II/2014 dated 10th January, 2020 approved an interim extension to all ongoing schemes till 31-03-2021 or till the date of recommendations of 15th Finance Commission come into effect whichever is earlier. Proposals for continuation of ongoing schemes beyond 31.03.2021 may be sent now, to reach this Department at the earliest, but at any rate not later than 15-01-2021.
2. In the following paragraphs general guidelines for sending proposals for
continuation of schemes beyond 31-03-2021 are elaborated. The proposals should be submitted as per enclosed format (Annexure), These guidelines are equally applicable to both Central Sector (CS) Schemes and Centrally Sponsored Schemes (CSS).
For continuation of schemes with estimated financial implications within the delegated financial powers of appraisal/ approval of the administrative Ministry, the proposals may be appraised and approved as per the extant guidelines. However, it may be kept in mind that total financial implications for the period 2021-22 to 2025-26 should be taken into account for deciding the appraisal/ approval authority. Exceptions in this regard will be available to ongoing schemes whose approved sunset date is before the completion of this 5 year period. It may also be ensured to complete such appraisal / approval before 31-03-2021 giving requisite cognizance to third party evaluation report and necessary rationalization of schemes.
As regards proposals for continuation of schemes with estimated total financial implications more than the delegated financial powers to Ministries/ Departments (i.e. more than Rs. 500 crore), the appraisal and approval will be done as per the laid down procedure through EFC. However, a list of CS and CSS schemes of the Ministry/ Department with the financial implication between Rs.300 crore to Rs. 500 crore over the 5 year period should be provided to DoE for information and annexed with the continuation proposals.
Umbrella schemes denote public funded programmes under which various schemes/ sub-schemes exist with a view to ensure convergence of resources across schemes with same or related objectives and similar set of targeted beneficiaries. The CSS umbrella programmes were formulated to provide flexibility to states to administer the admissible components in line with state specific requirements. Wherever possible, restructuring of umbrella schemes and consolidation into fewer schemes will be a priority for the ensuing exercise.
For standalone schemes, the estimated financial outlay for each scheme will determine the appraisal /approval authority in terms of DoE OM No. 24(35)/PF- 11/ 2012 dated 5th August, 2016.
In respect of the umbrella Central Sector Schemes (CS)/ Centrally sponsored scheme (CSS) of the Ministry/ Department, the overall financial implications for each umbrella pertaining to one Ministry/ Department should be taken into account for determining the competent authority for appraisal and approval. Accordingly, a single proposal for an umbrella scheme may be sent to DoE for appraisal /approval.
Keeping in view the minimum critical mass required for a central government scheme to have meaningful impact across States/UTs, it may be ensured that no standalone centrally sponsored scheme or scheme under an umbrella CSS should have financial outlay for five years below Rs. 300 crore.
With regards to Umbrella Central Sector scheme, it may be ensured that the financial outlay of each scheme under the umbrella is not less than Rs.25 crore for five years and financial outlay of any standalone Central sector scheme should not be less than Rs.50 crore for five year.
Schemes which have financial outlay less than Rs.25 crore for five year period should be categorized as projects or pilots with a definite sunset date and may be classified under Other Central Expenditure in the budget rather than a scheme/ sub-scheme.
The extant orders on the structure, categorization, architecture and funding
pattern of the schemes / sub-schemes should be strictly adhered to.
To eliminate overlap of activities /objectives for the same target beneficiaries, the proposal should reflect a clear convergence architecture with other similar or related schemes of Central Government. This is desirable for optimum deployment of resources. Further, the Ministries/ Departments should examine various ongoing schemes being administered by them / other Ministries to explore the possibilities of merger / dropping of schemes with overlapping objectives.
Unnecessary creation of Establishment, administrative expenses and thin spread of resources on these should be avoided. Emphasis should be on convergence of resources. As far as possible, a single monitoring body such as a PMU should be established at the Central Ministerial level/ state level rather than creating multiple PMUs/ monitoring agencies for different schemes in a Ministry /Department.
The Ministries /Departments should be conscious of the fact that common norms should be evolved and followed in all the Central Government schemes with similar activities / objectives in order to achieve better coordination and harmonization of effort. Approved common norms such as Skilling norms, UGC norms etc should be kept in view.
Staff requirement for the scheme may be reviewed and indicated in the proposal with annual financial implications.
For continued improvement in public Services delivery, the Government is placing great emphasis on identification of authentic beneficiaries, Aadhaar seeding and transfer of direct benefit to the same through Aadhaar authentication. The proposals for continuation of schemes should effect necessary modification in the implementation mechanism accordingly. Disbursement of the funds should be done through Aadhaar Enabled Payment system (AEPS) to ensure Aadhaar authentication, and not merely Aadhaar seeding.
Similarly, cashless and electronic transactions of financial resources should be incorporated suitably in the scheme design to promote the objective of digital and less-cash economy.
The flow of funds in all the schemes should be through PFMS in order to ensure complete tracking of funds up to "last mile'. The implementing agencies of the schemes at all the levels should be on-boarded on PFMS and Expenditure, Advance and Transfer (EAT) module / Receipt, Expenditure, Advance and Transfer (REAT) module should be used.
The total projected outlay of the schemes of the Ministry/ Department for five years should ordinarily be not be more than the 5.5 times the Actuals of the total scheme expenditure of FY 2019-20.
As per this Department's OM dated 10th January, 2020 it was directed that continuation of schemes would depend upon the evaluation and outcome review as per DoE OM dated 5-8-2016. The Ministries / Departments were requested to complete the evaluation process and submit the proposal of continuation of their ongoing schemes for appraisal and approval incorporating the findings of the evaluation. Accordingly Ministries/ Departments should ensure submission of their continuation proposals (draft) along with evaluation reports at the earliest and definitely not later than 15th January, 2021 to DoE. Ministries/ Departments should also circulate the draft proposals to all the stakeholders including Ministries / Departments/ NITI Aayog to incorporate their comments at the time of the appraisal.
The evaluation of the Centrally Sponsored schemes (CSS) was to be done by DMEO, NITI Aayog and the evaluation of the Central sector schemes was to be organized by the Administrative Ministries/ Departments. For those CSS /CS schemes, where the evaluation has not be done, appropriate budget cuts would be made in FY 2021-22.
The approval for continuation of the schemes may be sought if the evaluation report for the scheme shows positive results and brings out that though the scheme has been effective in achieving its previously laid down objectives 'targets, still there is need to continue the scheme in view of its mandate, performance and/ or scaling up of targets. Depending upon the findings of the outcome review of the schemes and also on resource constraints, schemes can be continued in its present form or with necessary modifications. (However, depending upon the resource constraints, fiscal space and evolving priorities of GoI, even schemes with positive evaluation reports may in some cases have to be discontinued.)
Recommendations of 15th Finance Commissions wherever relevant to the sector would also be considered as and when it is available. This will be taken into account while deciding the expenditure allocation for schemes pertaining to a particular sector.
It may be ensured that among schemes which are proposed for continuation, there should be no scheme where the competent authority specifically decided to terminate the scheme at the end of 14th Finance Commission cycle.
It has been constant endeavour of the Government to rationalize the scheme through merging, restructuring or dropping existing schemes / sub schemes that are duplicate or have become redundant or ineffective with passage of time. Before bringing the proposal for continuation of schemes, necessary rationalization of existing schemes should be ensured by administrative Ministries/ Departments. The Department of Expenditure reserves the right to merge, restructure or drop any existing scheme/sub scheme in consultation with administrative Ministry/Department to improve economy of scale for better
outcomes.
As per delegation of Financial Powers, Scientific Ministries/ Departments have been delegated the powers to appraise Projects/ Schemes through Departmental EFC(s) irrespective of their financial outlays (except those involving setting of new Autonomous Body, institutes of National importance, Central Universities or Deemed to be Universities, SPVs, etc.) chaired by respective Secretaries. However, the delegated powers are subject to 'in-principle' approval of DoE. Hence, these Ministries/ Departments may hold EFC meeting for continuation of their schemes beyond 31.03.2021 only after 'In-Principle approval' for the outlay of their schemes for the 5 year period (2021-22 to 2025-26) is accorded by the Department of Expenditure.
With regard to the Infrastructure projects of Ministries/ Departments such as Ministry of Road Transport & Highways, Ministry of Railways, Ministry of Shipping, Ministry of Power, etc., a review will be done separately for which communication will be issued subsequently.
The appraisal of the schemes of various Ministries/ Departments is expected to be scheduled in the months of February and March, 2021. The detailed schedule will be circulated subsequently. It may be noted that no scheme will be allowed to continue beyond 31st March, 2021 if the appraisal for continuation is not completed by then. Therefore, the Ministries /Departments are requested to complete all the due process
and get their scheme appraised, adhering strictly to the timelines.
This issues with the approval of Secretary (Expenditure)
(Dr. Shivalli M. Chouhan)
Director (PFC-I)
Tel: 23093109
Annexure
FORMAT FOR APPRAISAL OF CONTINUATION OF SCHEMES
Note: For the schemes which are part of an umbrella scheme the details for both Part A and Part B of the format should be provided. In such cases, Part B should be filled for each scheme separately under the Umbrella.
For Standalone schemes details for Part B is only required.
Part A
Name of the Umbrella scheme under which scheme is to be continued
Total outlay of the umbrella scheme; Scheme-wise and year-wise (In case of Umbrella CSS, specify the overall Central Govt. and State Govt. shares)
In case of centrally sponsored umbrella scheme, specify central components (100% funded for central government) and state components (shared between centre/ state /UTs)
Part B
Name of the scheme
Objectives of the scheme
Background of the scheme
Whether Central Sector (CS) scheme/ Centrally sponsored scheme
Total Proposed outlay (Component-wise and Year-wise)
Actual Expenditure of the ongoing scheme in last 3 years
Approved output/ outcome of ongoing scheme year wise and achievements (in a tabular form)
Existing and proposed funding pattern (in a tabular form) along with rationale.
Major findings of evaluation / outcome review and comments of the Ministry /Department on each observation of the scheme (Attach evaluation report)
Major changes / departure proposed from earlier scheme along with justification
Major changes in costing norms, if any
Convergence architecture with other central government schemes
Rationale for continuation
Proposed output/outcomes year-wise
Sunset date
Details of posts created for the Scheme (Regular/Contractual separately) and the number of persons engaged against them with annual financial implications
Any additional posts proposed to be created with annual financial implication.
Comments of other stakeholders including Ministries/ Departments/ NITI Aayog and response thereon (in a tabular form)
Source: DoE
Related to Your Search: